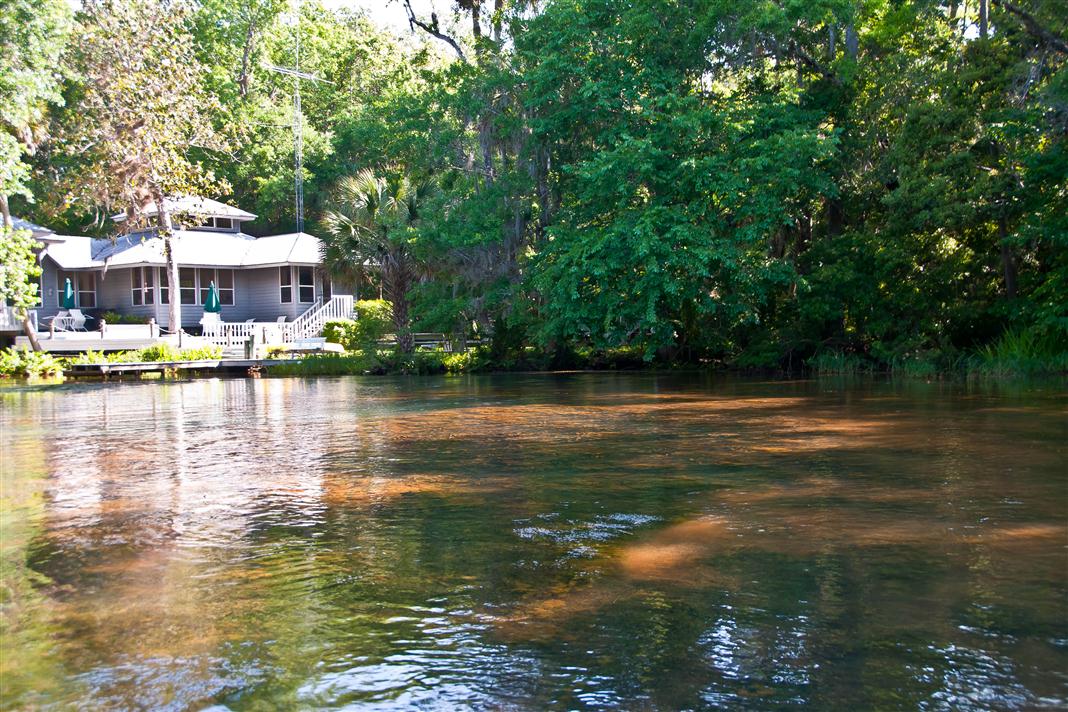 Portions of the following information were taken from Florida Geological Survey Bulletin 66.
From Homosassa Springs Wildlife State Park, drive south on US 19/98 5.8 miles. Turn west (right) on CR 480 and drive about 1.8 miles to the public boat access area. Crab Spring Run enters the north side of the Chassahowitzka River 400 ft downstream from the Chassahowitzka boat ramp. Crab Spring is at the head of the run near a private residence.
Description
– The Crab Spring pool measures 75 ft in diameter and it consists of at least four separate spring vents. The largest vent is on the east side of the spring pool with a depth of 8 ft. The water is bluish and slightly murky. Prominent boils occur over each vent. The spring pool bottom is sand and limestone near the vents but the rest of the pool is covered by aquatic grasses and exotic aquatic plants that have a thick brown algal coating. A private estate occupies the northern side of the spring pool with lowland forest surrounding the rest of the area. The spring flows 700 ft southwest to the Chassahowitzka River.
Exploration Report
- Crab Creek Spring Cave system located at the beginning of the Crab Creek in Chassahovitzka WMA. The access to the underwater cave is from the river only by a small vessel or kayak. In May-June of 2009 an exploratoin team replaced old line and surveyed the small but charming cave. The line ends at 58' in a very low and wide bedding plane. Visibility in the system is a good 60' before one disturbs a thick mat of jelly like orange sulfur eating bacteria. The cave aquifer fed with two sources - fresh water and a salt water that seeps into the system from deep sinkholes in a forest where brown warm water is saturated with hydrogen sulfide. The flow and salinity are tidally affected.
The cave has two relatively large main entrances. The upstream from the second of the three most noticeable openings is the deeper section and downstream is the unlined no-mount section (it exits in the first opening that you see while kayaking upstream). Relatively short 20 min sidemount dive includes the traverse between two main vents and a descend into cramped deep section which floor is layered with a bacteria jelly. Everywhere in this cave it has been observed a continuous caving-in process that perhaps closed the deep section and hopefully will open more passage in a future. Walls are very fragile and have that distinct scalloping pattern that you see in other sinkholes of the area. This dive site is definitely a cave dive, do not attempt to go there before you have done the cave training and bring enough equipment. Crab Creek cave claimed lives of open water scuba divers before.
| Date | Submitter | Visbility | Remarks |
| --- | --- | --- | --- |
| 1/14/2023 | Josh Aaron | 20' | Went to crab creek springs with a friend, water level in Chaz was lower so the flow was strong. We entered at the middle vent and did the traverse to the vent right by the dock then checked out the lower section. Lots of orange dust particles on everything, several T's bring markers. Cool short dive , expect limited viz on exit. |
| 4/23/2011 | Walter Pickel | 20 | Eric and I decided to visit this system after installing signs at Chaz Springs. We took turns diving the 2 primary passages. Viz was 20' undisturbed but the heavy bacterial sheets dilodge easily and create zero viz quickly. Max depth reached was 56'...After the 5th T it was enough. Very pretty cave that should only be dove if you are comfortable in zero viz, are a competent sidemount diver and have plenty of markers. |
| 10/30/2009 | ARY | 10-20 feet | We relined it this summer. If there was 100' ever it apparently not accessible now. There is an evidence of a breakdown. We surveyed it and Citracaver produced a map. Found two more unregistered before springs on the private property, few sinkholes and one apparently deep sink w (sulfur bacteria sediment did not allow to ultrasound it). Total number of vents in the cove is 5. They have two separate sources of water one - salt with hydrogen sulfate smell and sulfur eating bacteria sediments and other fresh. Cave has tidal influence. |
| 9/27/2008 | Jay Titen | 50 | Motored over the spring in the new Gheenoe today. Vis was clear, but alittle hazy. Could deffinetly see the spring boil and it looked like the flow was cranking. Didnt bring cave gear so I did not dive it, maybe next trip. Eel grass is very high so be careful with trying to access area by boat. |
Click here if you would like to contribute any information or resources for this system.
| Description | Type | Date | Author | Remarks |
| --- | --- | --- | --- | --- |
| Movie | YouTube | | | |
Sslect Search Radius:
| System | Depth | Cave | Cavern | OW | Last Report | Distance (mi) |
| --- | --- | --- | --- | --- | --- | --- |
| Buford Spring | 167 | True | True | False | 9/13/2023 | 5.8 |
| Warm Springs | 140 | False | True | False | 11/1/2022 | 5.8 |
| Little Gator Siphon | 180 | True | False | False | 1/3/2015 | 5.8 |
| Blind Spring | 180 | True | True | False | 11/29/2009 | 5.4 |
| Ryles Spring | | False | False | False | | 3.1 |
| Homosassa Springs | 67 | False | False | True | | 5.7 |