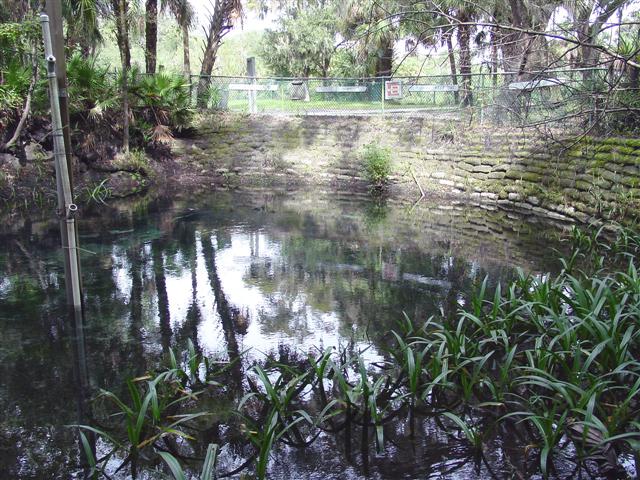 Portions of the following information were taken from Florida Geological Survey Bulletin 66.
The spring is within Lithia Springs County Park, 5.5 miles (8.9 km) southeast of Brandon. From the intersection of SR 60 and SR 640, drive south from Brandon on SR 640 (Lithia-Pinecrest Rd) approximately 6.4 miles to the bridge over the Alafia River. Travel 0.6 miles past the bridge over the Alafia River, and turn west (right) onto Lithia Springs Rd. and follow the road 1.5 miles to the park. Admission to the park costs $1.00 per person. There is no diving permitted.
To locate Lithia Springs Minor, follow the paved path on the southern side of the spring. The spring is located at the end of the paved path.
If anything this entrance would be side-mount or no-mount. The spring pool is monitered by a water level gauge similar to those seen in other SWFMD areas.
| Date | Submitter | Visbility | Remarks |
| --- | --- | --- | --- |
| 10/23/2005 | Walter Pickel | Clear | Stopped by today to look at the area and take some pictures. The entrance to this system is flowing very well and looks very clean. |
Click here if you would like to contribute any information or resources for this system.
| Description | Type | Date | Author | Remarks |
| --- | --- | --- | --- | --- |
| Home Page | Web Site | | | |
Sslect Search Radius:
| System | Depth | Cave | Cavern | OW | Last Report | Distance (mi) |
| --- | --- | --- | --- | --- | --- | --- |
| Lithia Springs Major | | False | False | False | 10/23/2005 | 0.1 |