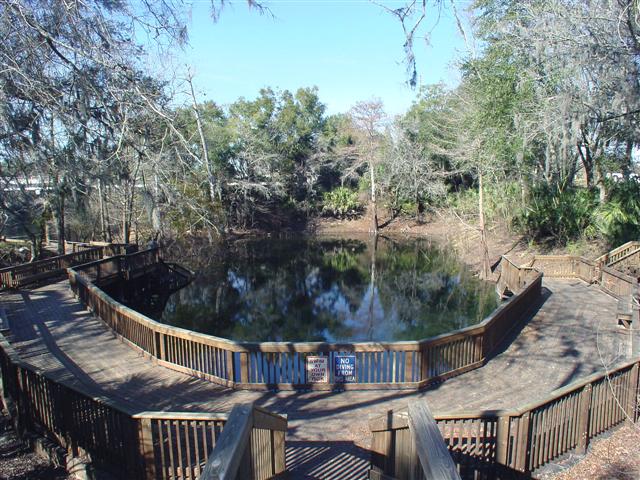 Portions of the following information were taken from Florida Geological Survey Bulletin 66.
Branford Spring is located within Ivey Memorial Park in the city of Branford, 500 ft southwest of the junction between US 27 and US 129 on the east side of the Suwannee River. The spring is just east of a dive/bait shop.
Description
– Branford Spring is situated in a steep-sided depression along the east side of the Suwannee River. The spring pool is nearly circular and measures 90 ft in diameter north to south and 84 ft east to west. There are small boils on the surface over at least two vents within the spring pool. The depth at the sampled vent measures 12.5 ft. The water is clear and has a blue-greenish hue. This spring has an abundance of long, filamentous algae covering nearly all substrates and waving in the currents. There is very little other aquatic vegetation. Its banks are nearly vertical, rising to approximately 18 ft above the water, and limestone is exposed in and around the spring. A wooden platform is built along the south and east banks. The shallow spring run travels approximately 100 ft northward, then turns sharply west and flows 100 ft into the Suwannee River. The spring run is sand-bottomed, and spills into the river over three consecutive man-made limestone walls. The walls are presumably intended to maintain water levels in the spring pool for swimming. Land around Branford Spring is developed into a city park.
Utilization
– The spring is within a city park and is a popular local swimming hole.
| Date | Submitter | Visbility | Remarks |
| --- | --- | --- | --- |
| 1/16/2010 | Mathew Bull | Flooded | Muddy riverwater completely inundates the basin. |
| 9/22/2005 | J | 100 | entrance covered with large boulders to prevent swimmers from entering narrow entrance- please replace if diving here. Low cavern leads to extremely low body tube with two 90 degree bends. (less than 8" tall). Do not attempt with sidemount gear- no-mount only due to length of restriction (100 feet or greater.) Segments of restriction subject to ceiling collapse. Leads to large room with upstream passage going to 101 feet with no flow. |
Click here if you would like to contribute any information or resources for this system.
| Description | Type | Date | Author | Remarks |
| --- | --- | --- | --- | --- |
| System Map | Map | | | |
Sslect Search Radius:
| System | Depth | Cave | Cavern | OW | Last Report | Distance (mi) |
| --- | --- | --- | --- | --- | --- | --- |
| Ruth Spring | 50 | True | False | False | 6/11/2023 | 4 |
| Little River | 110 | True | True | True | 4/30/2023 | 3.7 |
| Royal Spring | 50 | True | True | True | 11/15/2022 | 12.5 |
| Sunbeam Spring | 80 | True | False | False | 10/15/2022 | 9.7 |
| Troy Spring | 70 | False | True | True | 9/16/2020 | 5.4 |
| Owens Spring | 45 | True | False | False | 10/7/2019 | 9.2 |
| Suwannee Blue Spring | 40 | True | False | False | 6/28/2016 | 12.1 |
| Mearson Springs | | True | False | False | 6/6/2015 | 8.3 |
| Turtle Spring | | True | False | False | 12/26/2007 | 7.8 |
| Double Sink | | True | False | False | | 6.8 |