Rated 2.8/5 stars (212 ratings) Thanks for rating this cave system!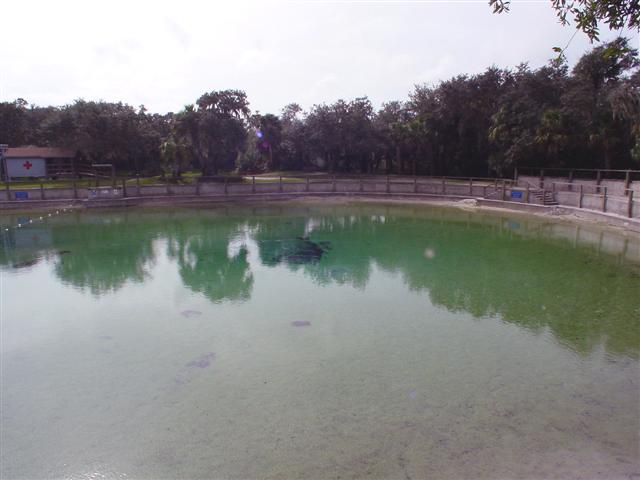 Portions of the following information were taken from Florida Geological Survey Bulletin 66.
The spring is within Lithia Springs County Park, 5.5 miles (8.9 km) southeast of Brandon. From the intersection of SR 60 and SR 640, drive south from Brandon on SR 640 (Lithia-Pinecrest Rd) approximately 6.4 miles to the bridge over the Alafia River. Travel 0.6 miles past the bridge over the Alafia River, and turn west (right) onto Lithia Springs Rd. and follow the road 1.5 miles to the park. Admission to the park costs $1.00 per person. There is no diving permitted.
Description
– Description – Lithia Spring Major is situated within a large, man-modified, spring pool. The pool measures 168 ft north to south and 180 ft east to west, and depth measured over the vent is 8.2 ft. The water is clear and blue-greenish. The pool bottom is sand with a limited exposure of limestone near the vent. The spring pool has steep retaining walls with several access stairways leading down into the water. The entire bottom of Lithia Spring Major is bare white sand with sparse algae resulting from use. The vent in the center of the pool is covered by a barred metal barricade to prevent entry. Spring water discharges through the bars and a boil was present on the pool surface in April 2002.
The clear, sandy spring run exits east and flows approximately 200 ft, then turns south flowing approximately 750 ft into the tannic Alafia River. There are some algae and other aquatic vegetation in the run. Land around Lithia Major is a developed county park. Lithia Spring Minor joins the Alafia River approximately 100 ft downstream from the mouth of Lithia Spring Major.
The only access to the system is via a 3' in diameter pipe that leads from the pump house to the spring. This pipes siphons water from the spring for the purpose of bottling water. The company with the bottling rights does routinely send divers down through the pipe. It is reported that there is no permanent line in the system.
| Date | Submitter | Visbility | Remarks |
| --- | --- | --- | --- |
| 10/23/2005 | Walter Pickel | Clear | Stopped by today to look at the area and take some pictures. The entrance to this system is flowing very well and looks very clean. Too bad diving is prohibited. This entrance looks to be around 4' in diameter and easily back-mountable. |
Click here if you would like to contribute any information or resources for this system.
| Description | Type | Date | Author | Remarks |
| --- | --- | --- | --- | --- |
| Home Page | Web Site | | | |
Sslect Search Radius:
| System | Depth | Cave | Cavern | OW | Last Report | Distance (mi) |
| --- | --- | --- | --- | --- | --- | --- |
| Lithia Springs Minor | | False | False | False | 10/23/2005 | 0.1 |