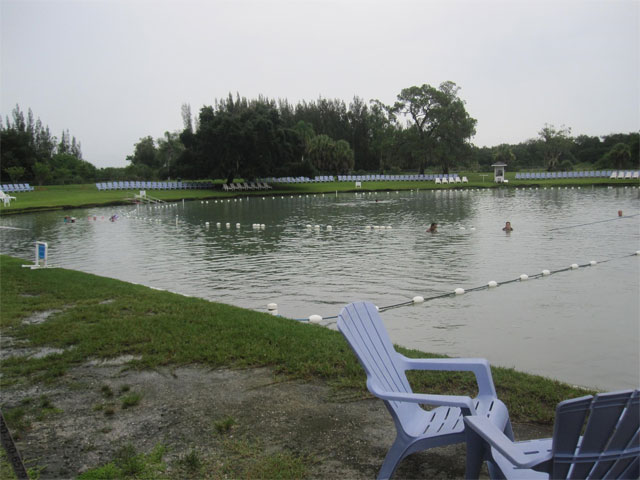 Portions of the following information were taken from Florida Geological Survey Bulletin 31.
Warm Mineral Spring is located within the town of North Port approximately 11 miles east of Venice. From the River Road exit on I-75, travel 5.7 miles southeast to the intersection of US 41 and River Road west of North Port. Turn northeast (left) on US 41 and travel 2.5 miles to Ortiz Road. Turn north (left) on Ortiz and go 1.0 mile to The Springs Spa and Resort.
Description
- The area surrounding Warm Mineral Springs is flat and about 10 ft above mean sea level. The soil is sandy and vegetative cover is sparse. Limestone crops out at the edge of the spring pool. Discharge is southwestward through a 20-ft wide run to Salt Creek end about 2 mi more to the Myakka River. The water is salty and has a sulfurous odor and taste. The spring pool has a surface diameter of about 250 feet, and water-surface elevation is about 6 ft above mean sea level. The bottom of the pool slopes gently to a depth of 17 ft, about 40 ft from shore, and then drops off sharply to a debris cone and depths of 124 ft to more than 200 ft below water surface.
A cave or recessed area containing large stalactites underlines a 43-ft ledge that extends around the full perimeter of what originated as a sink owing to collapse of a cavern in the Tampa Limestone. This 170-ft diameter opening is the orifice of Warm Mineral Springs. The 43-ft ledge and cave area is underlain by a sandy limestone and dolomite clay to 65 ft where there is a second ledge with small stalactites hanging to a depth of about 75 ft into the chamber. Clausen and others (1975) cite the presence of stalactites at that level as establishing a low water level during the Pleistocene glacial epoch, to at least the 75-ft depth. The area below the orifice widens into a cathedral-shaped chamber with a diameter of about 400 ft at the 200-ft depth. Total depth of the spring appears to exceed 240 ft along the north wall, where, according to Clausen and others (1975), temperature of the springflow is 73°F to 99°F.
F. A. Kohout and W. R. Royal sampled the spring on July 31, 1973 (Kohout, written commun., March 25, 1976) to determine the change in quality of the water with depth and source. Their 230-ft sample was collected from inside the north wall tunnel where 90°F. saline water was measured entering through a conduit at a rate of as much as 30 ft3/s. With long-term surface discharge only a third of this inflow, much of the remaining water must be leaving the spring by infiltrating the more shallow surrounding limestone.
Kohout suggested that inflow may fluctuate with tidal activity, as it is known to fluctuate with climatic changes. The source of the hot-saline-sulfurous water appears to be the 2,000- to 3,000-ft-deep Boulder Zone of the Floridan aquifer (Kohout, 1967; Henry and Kohout, 1972; Kohout, 1975).
W. R. Royal recovered human remains from the 43-ft ledge of Warm Mineral Springs which were radiocarbon age-dated at 10,000 +/- 200 years (Royal and Clark, 1960; Clausen and others, 1975). Florida State archeologists have excavated animal and human skeletal remains and artifacts from the spring that were similarly dated by associated leaf material (Cockrell, 1973: Anonymous, 1974).
Rolay reported considerable variation in underwater visibility -- caused by a form of cloudiness that begins at sunrise and becomes progressively worse as day continues, only to improve overnight. The water clears to a condition of "excellent" visibility after periods of heavy, extended rainfall -- a situation that may last for a week or so before the cloudiness again begins to form. When the water is clear, one can see across the spring and to the surface from depths of about 200 ft. Kohout (oral commun., March 25, 1976) suggested that the presence of sulfur bacteria in this oxygen-poor and hydrogen sulfide-rich water and the stirring of sediments are factors in the cloud growth. Surface mixing may also be a contributing factor: Florida State diver-archeologist A. L. Stanton (oral comnun., March 25, 1976) observed improving midday visibilities coincident with storm-associated darkening sky and departing bathers.
Utilization
- The spring is privately owned and has been developed into a swimming area and the surrounding land into a recreation area. The immediate vicinity of the spring pool has been landscaped and modified by the addition of two beach areas and several buildings; by elimination of two drainage channels that formerly entered the pool from the southwest and southeast, and by landscaping of the pool perimeter into a circular shape.
Warm Mineral Springs has been the subject of investigation by its owners in cooperation with State of Florida underwater archeologists, U.S. Geological Survey hydrologists, University of Florida geologists, Sarasota County Historical Commission, and the Florida Archeological Society.
| Date | Submitter | Visbility | Remarks |
| --- | --- | --- | --- |
| 2/28/2011 | Walter Pickel | 1'-5' | Worked on a night painting. Viz was crappy at best. It was fun doing a "big" dive in shorts and a t-shirt. Very warm...very stinky! |
| 9/20/2010 | Curt Bowen | 20' | Did a recon dive to the main vent (215'). Vis was 20 feet or less. |
Click here if you would like to contribute any information or resources for this system.
Sslect Search Radius:
| System | Depth | Cave | Cavern | OW | Last Report | Distance (mi) |
| --- | --- | --- | --- | --- | --- | --- |
| Little Salt Spring | 230 | True | False | True | 6/1/2005 | 2 |