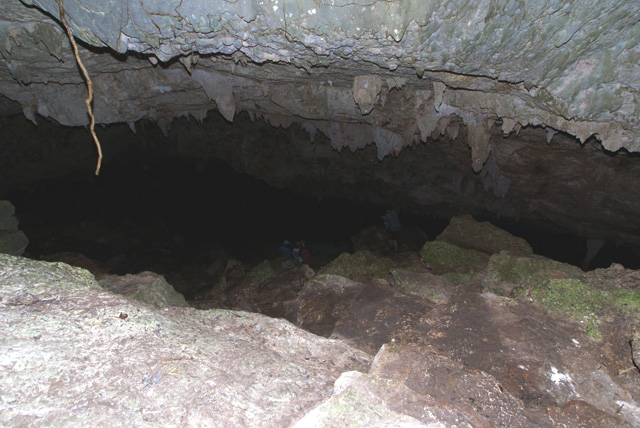 Data for this system is still being collected and analyzed. Click
here
if you would like to contribute any information or resources for this cave system.
| Date | Submitter | Visbility | Remarks |
| --- | --- | --- | --- |
| 3/16/2014 | jmaddox (via CDF) | 100 | El Chicho has a typical dirt parking lot gear up area in the jungle. The cave entrance is located down an improved trail approximately 100 yds from the parking lot. The trail is steep and slippery, two local boys were hired for $5 (each) to haul tanks to the water. After gearing up and quick safety checks, my guide Stephan ran the real from OW to the sign. The main line is in good shape and typical passage is large, approximately 30'x30'. After a bit of up and down, the line goes through a breakdown (minor) restriction which bypasses a large air filled chamber. After the bypass, the line surfaces where you actually have to pull yourself over some rocks out of the water then immediately back down to approximately 30í for the remaining 1/3 of the passage. Water was very clear 100í vis, water temp ~70 deg with no flow. I had some minor ear problems but nothing too bad. There is one T that could probably be cut back to a jump to avoid confusion, but itís clearly marked. The cave floor is all breakdown, virtually no silt. Overall, it was a really nice relaxing and easy dive. |
| 10/10/2009 | Walter Pickel | 100 | Dove Chicho again this trip. It is a chore to get your gear to the water but there is a nice 800' of cave to the first dry dome. Found a nice watch in the basin...anyone missing a heart rate monitor? |
Click here if you would like to contribute any information or resources for this system.
| Description | Type | Date | Author | Remarks |
| --- | --- | --- | --- | --- |
Sslect Search Radius:
| System | Depth | Cave | Cavern | OW | Last Report | Distance (mi) |
| --- | --- | --- | --- | --- | --- | --- |