Rated 3.1/5 stars (329 ratings) Thanks for rating this cave system!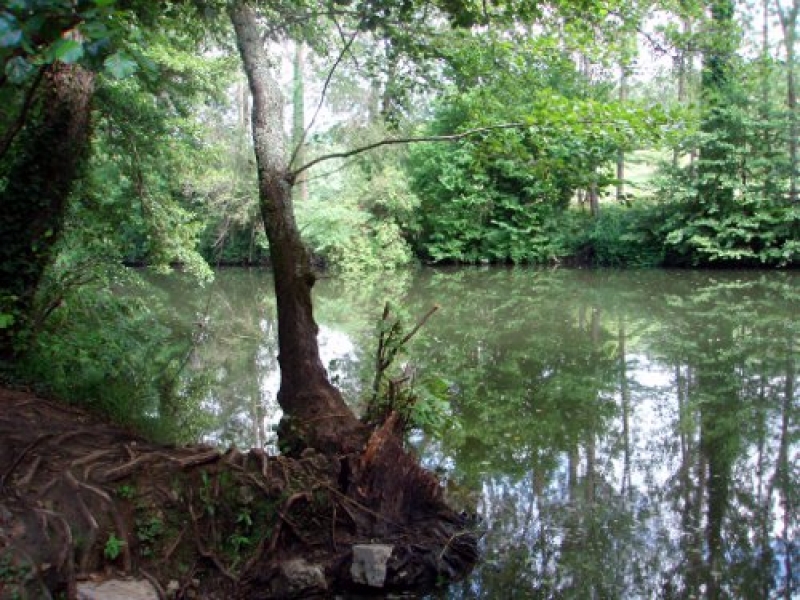 Emergence du Russel is a large impressive cave that starts in the bed of the River Céle as a clean washed passage of about 150 metres in length and with a cross-section at least the size of a double garage door. It then splits into two passages: one tunnel stays shallower at about 10 m depth whilst the other runs broadly in the same direction dropping repeatedly until it reaches around 18m. The two passages rejoin (making a nice round-trip for those new to cave diving) and, 300 m from the entrance, the cave takes the first of two dramatic plunges, eventually descending in a spectacular cavernous rift to about 45 m. To swim this far takes a round-trip of getting-on for an hour but for the members of the church of scootering in our party, emblazoned with the words "Forgive me father for I have finned", this is a trifling undertaking. From this point the entrance is getting towards half a kilometre away and the dive is increasingly technical, descending first to about 50 odd metres fairly soon, then, after some time to as much as 77 m before beginning to ascend and eventually entering into another rift that towers to a dry section of cave nearly two kilometres from the start. The whole trip through is a serious expedition of several hours and has been made by only a handful of people ever. In the last year sumps beyond this, running to more than 4 km in total, have been pushed by British divers Rick Stanton and Jason Mallinson.
| Date | Submitter | Visbility | Remarks |
| --- | --- | --- | --- |
| 6/17/2013 | Richard Dinon | 50-60 | No flow very clear. Vis in the river about 2 feet. |
| 9/6/2012 | Ron Freijer | >20m | Great visibility. |
| 8/3/2012 | R.Roethe | 30m | no flow, perfect viz |
| 8/17/2010 | Anton Van Rosmalen | 50' | The new line is not very handy is you're doing deco but gives you a very nice impression of the dimensions of the first part of the cave up to the first T. |
| 5/5/2010 | Christine Grosart | 100' | Infinite vizibility. Line good as far as we went to 550m. |
Click here if you would like to contribute any information or resources for this system.
| Description | Type | Date | Author | Remarks |
| --- | --- | --- | --- | --- |
| System Map | Map | 1995 | | |
Sslect Search Radius:
| System | Depth | Cave | Cavern | OW | Last Report | Distance (mi) |
| --- | --- | --- | --- | --- | --- | --- |
| Source De Landenouze | | False | False | False | 9/4/2012 | 6.9 |
| Le Cunhac | | True | False | False | 8/17/2010 | 8.7 |
| Dragonniére De Banne | | False | False | False | 8/17/2010 | 7 |
| Trou Madame | | False | False | False | | 7.6 |
| Gouffre De Lantouy | | False | False | False | | 8.2 |