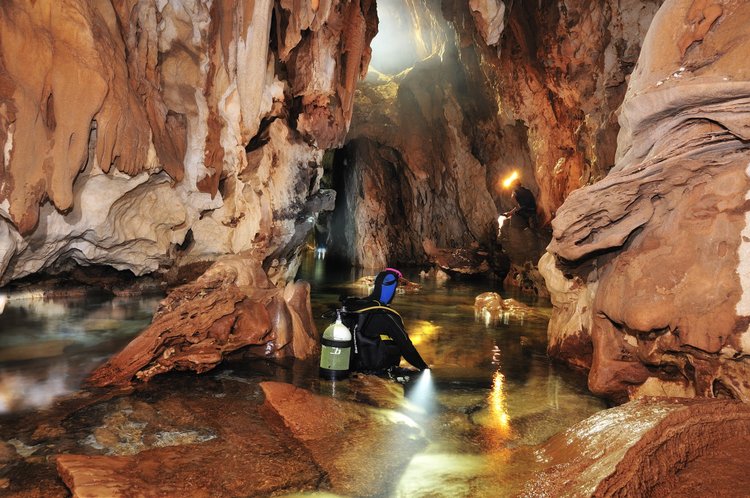 Portions of the following information were taken from www.protecsardinia.com
This entrance is spectacular. One dives into this system as if you were entering a Indonesian Temple. The bottom is covered with snow white sand and the inner walls get together in pyramid like shape. After a short time one ascents to the surface and finds him self in a massive dry cave. Depending on the water level, take off the fins and get to the actual entry. The entry is hard to find as the water is right on top of it and the cave narrows to a restriction.
A very appealing cave with rapidly changes depths, it is recommended to dive with a Nitrox blend. After a short while one approaches the main line, further through a narrow tunnel where the cave shows a side tunnel short after which leads to the right in to the deep. Further on the mainline to a opening in the bottom where the line suddenly falls down from 8 meters deep to 23 meters deep. One has to be careful not to disturb the sediment as the walls are covered with the finest cave dust. Without perfect neutral buoyancy there is a risk to the disturb the fine sediment resulting in a complete silt out. This cave system is complex in its shape. Shafts leading from 25 meters deep into sumps make this system very interesting, but only for the experienced cave diver.
Equipment configuration:
Back mount and Sidemount.
| Date | Submitter | Visbility | Remarks |
| --- | --- | --- | --- |
| 10/3/2010 | BMO & HOM | >20m | Excellent dive! |
| 5/8/2010 | ProTec Sardinia | 30-60' | Conditions are good. The flow is weak with clear water. |
| 4/20/2010 | ProTec Sardinia | 30-60 | New section with excellent visibility 20 meters plus. |
Click here if you would like to contribute any information or resources for this system.
| Description | Type | Date | Author | Remarks |
| --- | --- | --- | --- | --- |
| Home Page | Web Site | | | |
| Video | Vimeo | 2009 | Slawek Packo | |
Sslect Search Radius:
| System | Depth | Cave | Cavern | OW | Last Report | Distance (mi) |
| --- | --- | --- | --- | --- | --- | --- |