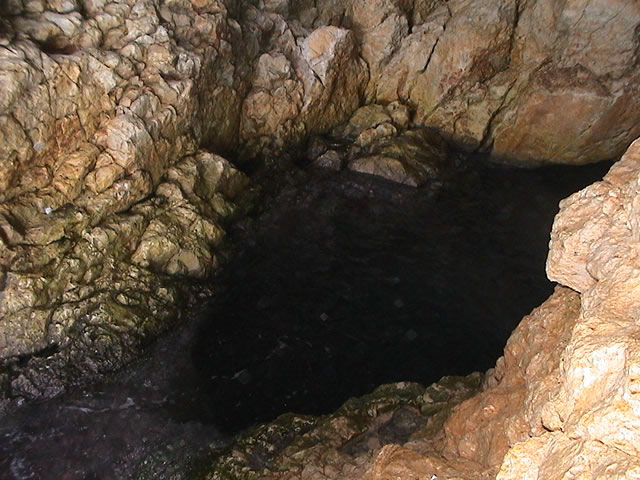 Easy access, although you need to swim a while in the sea to get to the entrance (no boat is needed - depending on conditions / exposure). No entrance fee
The unique feature of this fresh water cave is that it starts in the Mediterranean Sea. In the beautiful village of Benitachell, to the right of the car park near the beach, there is a little basin protected from the waves, that one can use to get into the water and avoid the swell and sand from a traditional shore entry. From here one needs to swim some 100m along the cliff face to find an opening in the wall (clearly visible from the surface); inside one gets a beautiful view of the cliff rising some 100m up and one then needs to find water conduit pipes and hoses that lead into the cave.
The first 200m of the cave are large (some 5m diameter tunnels) and not very clean; a lot of human debris and junk has been left in the cave and it is considerably damaged in some places. The cave only drops below 30m after 600m of penetration.
| Date | Submitter | Visbility | Remarks |
| --- | --- | --- | --- |
Click here if you would like to contribute any information or resources for this system.
| Description | Type | Date | Author | Remarks |
| --- | --- | --- | --- | --- |
Sslect Search Radius:
| System | Depth | Cave | Cavern | OW | Last Report | Distance (mi) |
| --- | --- | --- | --- | --- | --- | --- |