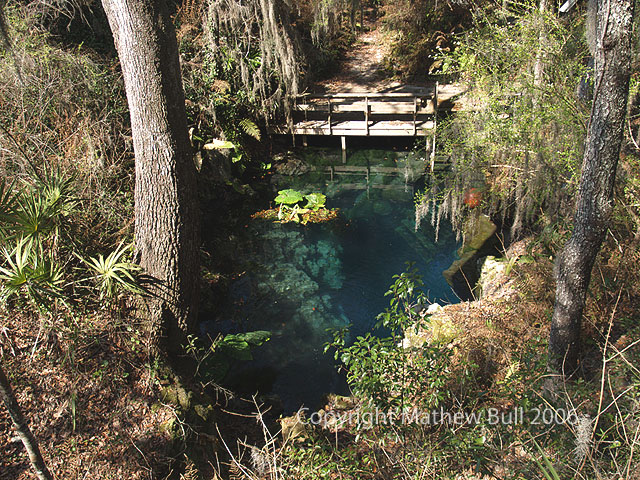 Portions of information from Underwater Florida
Paradise Springs is a sinkhole that is privately owned and operated. The sink is open to the public and admission is around $30 to dive. Air fills are also available on site.
Upon entering the water, a large cavern is encountered. At about 20 ft, you follow a large tunnel down at a 90 degree angle. Open water divers should stop at 99 ft., where they'll see a sign warning them "prevent your death." After 99ft. you loose all surface light and enter a small shaft that continues down to 140 ft. Visibility is generally good. Careless divers make it worse. Some fossils can be seen in the walls of the cavern.
Directions: Take I-75 south to exit 69. Go east 3miles to SR 441(Pine Ave) and turn right. Follow the road for 8.5 miles until the road splits in two.(trees will be in the middle). Take the first u-turn heading on 441. Look for a black mailbox w/ a dive flag on it and turn right on the dirt road. Follow the road 1/2 mile until you come to a yellow trailer w/ the Paradise Springs sign next to it.
| Date | Submitter | Visbility | Remarks |
| --- | --- | --- | --- |
| 2/23/2023 | Jason Miller | 100' | Only 2 other divers present when we started our dive. Temp was great, between 74-75 degrees. Visibility was excellent. Dock and stairs are newer and easy to enter water from. |
| 2/27/2020 | Mark Janson | 100 | We were only crew here on a Thursday. Water was pristine and 75 deg warm on a cool February day. Virtually no detectable flow and a new training platform to boot! Beautiful day of diving! |
| 11/16/2019 | Mark Janson | 60í | Only about 8 divers here today. Water level only slightly elevated and is now below the deck. Viz was excellent! Nice warm 74 deg Water. Sure beat the 55 deg air! |
| 1/12/2015 | Josh Durst | 100' | The vis was excellent even with the rain. Got to see an Albino Crayfish. Did two dives and had the cavern to ourselves. |
| 12/2/2012 | Brandon | 60' | Great dive as always, owner told me they might open for night diving on Friday nights starting in Jan. |
| 5/26/2012 | Travis Emrich | 100' plus | Hard to believe we were the first team in the water on a holiday weekend. Vis was top to bottom. Ran line drills at the bottom. Three 30 minute dives and only saw three other divers all day. Paradise is a perfect place to practice, lots to see and seldom traveled by other divers. |
| 9/9/2011 | Brandon Carmack | 80ft | Very clear, had a great dive. Water was 75 degrees. It was raining so there was not much natural light but still overall a good dive. |
| 5/8/2011 | Dan Sledge | 90 feet | Excellent conditions. You can almost see the cave sign (at 100ft) from the water surface. |
| 4/27/2011 | Jason | 200 | Air clear to start the day. Kicked up a little bit later on. Never worse then 100 other than small local spots (oops!). |
| 3/19/2011 | K Mejean | 60' | I was there on Saturday. We had several divers but the vis was really good. Temp was at 74 degrees. |
| 11/19/2010 | Jason | 100 | Conditions were near perfect. Only 5 divers total, in 2 groups. Neither group silted it out, so it stayed perfect the entire day. |
| 2/22/2010 | Shirley Kasser | Great early on | Our first dive here was also the first dive of the day. The cavern and cave were beautiful and clear. We exited as another group entered. Things were silting up pretty quickly, but after an hour or so surface interval, things had cleared back up nicely. Very nice facilities topside and excellent cavern dive. |
| 9/26/2009 | Adam | 40-50 | Arrived at 10:30. There was one group of 3 divers, and another group of 4 AOW students. Place was cleared out by 3:00. Awesome dive. I got to 144 ft in the cave. It continues a little further, but back mount gets tight and there is ALOT of silt. Cavern is fairly large. Viz was pretty good even with traffic. Theres a few spaces to crawl/swim through near bottom. Found some minor flow on right side if looking up from bottom. Maybe betwen 80-90 ft. Man who owns property is very nice. Well worth the money. $30.00 when I went. |
| 5/17/2009 | Fed | 100 | Omar, myself, Jeff, Jeremy and Jeremyís wife Kimberly met at the Dayo shop at 8:00 a.m. yesterday. We headed off to Paradise Springs for the day. We arrived around 10:30 a.m. and there were only 2 other dives there. We ended up having the entire place to ourselves as no other divers showed up and they other two guys left soon after us arriving. They didnít silt it up either! Omar and Jeremy had never been there and were very excited to check it out. Our first dive was about 50 minutes. We dropped all the way down to the grim reaper sign and circled around the area. We spent most of the dive in the shallower portion around 50-60 feet. I was using my side mount setup and trying to get more comfortable in it. I still need a lot of practice in it, my buoyancy is far from perfect in it still. I practiced running the line a bit as well. The guys told me I didnít silt the place up while doing it so that was a good sign! During our surface interval I inflated my drysuit almost completely and used my nomad fully inflated as a pillow and floated on the surface. I almost fell asleep it was so peaceful! The second dive went just as great. Temps were the standard 74 degrees. |
| 11/8/2008 | Fed | 100 plus | Arrived around noon. We were the only divers there. Vis was great you could see everything even at a depth of 100ft. I highly recommend this site. There was no flow to speak of when we dove. The rooms are huge. Bring a good light and don't go past the sign unless cave certified. |
| 7/4/2008 | Danny | 30-40 feet | Got there at 9:30. We were the first team in the water, but due to equipment malfunctions after the S-drill, some open water divers got in before us and mucked up the visibility pretty fast. This place can have awesome viz, just make sure you're in the water first. Did two nice cavern dives down to the sign and back. I love this place, and would reccomend it highly. Be careful of the silt though! It gets nasty quickly. |
| 5/2/2008 | Tony Daly-Crews | Excellent | Very interesting dive! I live about 10 minutes from the site. Decent line installed that will lead down to about 100' foot level and it is tied off there. Very large cavern area to explore, if entering the cave it is a minor restriction and leads down to atleast 140' as far as I know, I believe it goes further but we already had acquired some deco and it was time to turn the dive. Next time we go we will check it out again and see if it goes any deeper. Just inside of the cave there is a grave placed for someone who died in the cave a couple years ago. Site can be silted out very easily if there are any open water divers that do not have proper form. Dive platforms for doing deco if you wish. Very easy access to water, bring your own stuff and don't expect alot of "commodities". Very nice owners, you will watch the safety vid in their garage. |
| 6/16/2007 | Perrone Ford | 50 | Fun dive. First time here. Nice, natural looking site. Basin is quite small, and overall the place can get silty in a hurry. Cave goes nowhere. I got to 131ft before I decided to turn around. Gets a bit tight for backmount after that. |
| 3/19/2007 | martin dulaney | 30-40 | Nice dive no crowds, one other pair of divers. really nice fossils! would recomend dive to anyone |
| 1/6/2006 | Bob Schulte | 80' | 30$ dive fee collected, privately owned. Ropes lead down to 105' depth in the cavern for open water certified, deeper section for cave certified. |
Click here if you would like to contribute any information or resources for this system.
Sslect Search Radius:
| System | Depth | Cave | Cavern | OW | Last Report | Distance (mi) |
| --- | --- | --- | --- | --- | --- | --- |
| Mammoth Spring | 77 | True | True | False | | 8.2 |