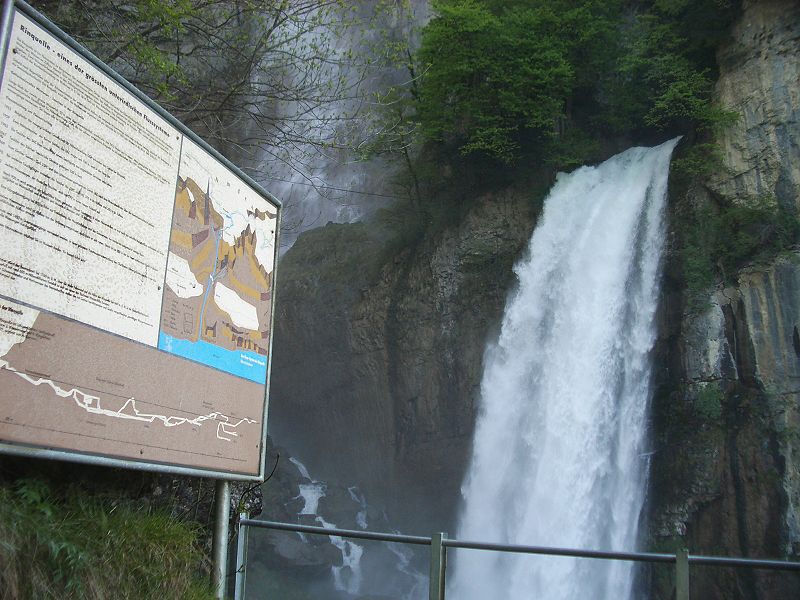 Portions from ShowCaves.com
The Rinquelle (Rin Spring) is the biggest Karst spring of the karst area Churfirsten-Säntisgebiet. The spring is part of a 600m high drop of the Serenbach (Seren brook). With three subsequent drops the waterfall of the small river is not the highest single waterfall, but still one of the highest waterfalls in Europe. At the foot of the steep cliff the Serenbach forms a gorge, the Serenbachschlucht. Soon after it flows into the Walensee. The Rinquelle is located at the foot of the drop, the lowest segment of the waterfall. 48m high in the vertcal cliff is a cave entrance, where an enormous beam of water leaves the mountain.
Locally the biggest spring, the Rinquelle is also one of the biggest karst springs in Switzerland. During snow melt and after high precipitation it produces 10 cubic meters per second. But as typical for karst springs, it depends very much on the weather, and during dry periods, or in winter when all water forms snow, the spring has a very low production. During those times cave divers are able to explore the extensive cave system behind.
| Date | Submitter | Visbility | Remarks |
| --- | --- | --- | --- |
| 3/12/2011 | BMO, DBO, MOSL | 10m, little bit milky | Good dive |
| 7/11/2010 | Bdan | 25' | Line up to the mailbox torn in one place, but otherwise very good. |
Click here if you would like to contribute any information or resources for this system.
| Description | Type | Date | Author | Remarks |
| --- | --- | --- | --- | --- |
| Video | YouTube | 2011 | John Volanthen | |
Sslect Search Radius:
| System | Depth | Cave | Cavern | OW | Last Report | Distance (mi) |
| --- | --- | --- | --- | --- | --- | --- |