Rated 2.3/5 stars (310 ratings) Thanks for rating this cave system!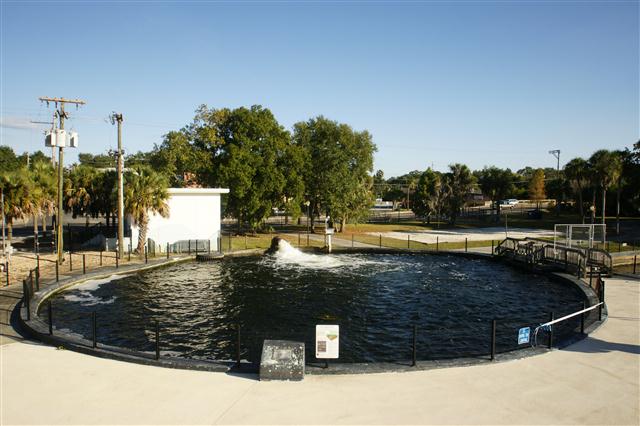 Portions of the following information were taken from Florida Geological Survey Bulletin 66.
Sulphur Spring is located in a city park within the City of Tampa. From the Sligh Avenue exit on I-275, drive 0.12 miles east on Sligh Avenue to US 41 (Nebraska Avenue). Turn north (left) on US 41 and go 0.8 miles to Bird Street. Turn west (left) on Bird Street and go 0.1 miles to the Sulphur Springs parking lot entrance which is on the south side of Bird Street.
Description
- Sulphur Spring has been highly altered from its natural condition into a circular pool enclosed by concrete walls. The diameter of the pool is 90 ft. The pool is uniformly about 15 ft deep with a limestone and sand bottom. Rosenau et al. (1977) report a maximum depth of 30 ft. The water is slightly murky and greenish colored. Algae are abundant in the pool. Spring outflow is southeast, cascading over a 7 ft high weir. The falls continue for approximately 50 ft, and the rest of the run travels approximately 600 ft to the Hillsborough River. The spring run is sand-bottomed and algae-laden. A hydrogen sulfide odor is associated with the spring. There is a City of Tampa water pumping facility on the west side of the pool where a large metal pipe discharges water forcefully into the spring. The facility pumps a portion of the spring flow for municipal use, and the other portion is rerouted out the pipe into the pool. The spring itself is closed to swimming, but the surrounding area is developed into a swimming and recreation park with a large swimming pool just a few feet east of the spring pool. Park personnel report that the spring's cave system has been explored by divers and heads northward under the city. Divers have connected the cave system to several nearby sinkholes. No swimming is allowed in the spring or spring run.
Utilization
- The actual spring pool is fenced and a portion of the spring water is extracted for municipal uses. The area around the spring has been developed into an urban recreation area.
| Date | Submitter | Visbility | Remarks |
| --- | --- | --- | --- |
Click here if you would like to contribute any information or resources for this system.
Sslect Search Radius:
| System | Depth | Cave | Cavern | OW | Last Report | Distance (mi) |
| --- | --- | --- | --- | --- | --- | --- |
| Last Spring | 35 | True | False | False | 6/16/2012 | 6.7 |
| Trout Creek Spring | | True | False | False | 5/1/2012 | 8 |
| Little Blue Sink | 280 | True | True | False | 8/18/2009 | 8.3 |
| Chicken Farm Sink | 200 | True | True | False | 8/18/2009 | 8.1 |
| Double Spring | | True | False | False | 7/4/2008 | 6.7 |
| I-75 Sink | | False | False | False | 1/2/2006 | 6.9 |
| Spider's Web | 75 | True | False | False | | 7 |
| Pipe Spring | | True | False | False | | 6.7 |
| Lettuce Lake Spring | | False | False | False | | 6.2 |