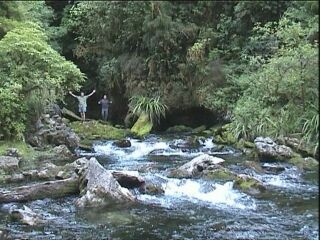 Nettlebed Cave is a limestone cave located in the Mount Arthur region of the northwest South Island of New Zealand.
Until April 2010, when the nearby Ellis Basin cave system was found to be deeper, Nettlebed Cave was thought to be the deepest cave system in the southern hemisphere. It drops 889 metres below its upper entrance Blizzard Pot to its lower exit Pearse Resurgence, and its 24 kilometres of cave passages make it New Zealand's third longest cave.
Nettlebed Cave was first explored by cavers in 1969 through the dry overflow passage of a large spring pouring into the Pearse River. By 1973 1.3 kilometres of passages had been mapped. It was not until 1979 that a flowstone squeeze known as the Hinkle-horn-honking-holes was passed, making further explorations possible. Five successive Christmas expeditions (1979-80 through 1983-84) utilizing an underground camp at Salvation Hall led to the exploration and mapping of a further 20 kilometers.
In 1986 another cave Blizzard Pot was connected with Nettlebed Cave, providing an upper entrance to the system.
On 21 March 2007, a team of international cave divers set a New Zealand cave diving record by reaching a depth of 177m (581 feet below ground level) in the Pearse Resurgence.
| Date | Submitter | Visbility | Remarks |
| --- | --- | --- | --- |
| 11/30/2010 | Richard Harris | gin! | In 2009 we added just a few metres to make the Pearse 182m deep...Australia and NZ's deepest dive. The cave continues and exploration is ongoing...we'll be back in early 2011. Also of interest, some new invertebrates have been discovered in the cave which are also being investigated. Harry www.divedoc.net |
Click here if you would like to contribute any information or resources for this system.
| Description | Type | Date | Author | Remarks |
| --- | --- | --- | --- | --- |
| 3D Model | Web Site | | | |
| Video | Vimeo | 2011 | Richard Harris | |
Sslect Search Radius:
| System | Depth | Cave | Cavern | OW | Last Report | Distance (mi) |
| --- | --- | --- | --- | --- | --- | --- |