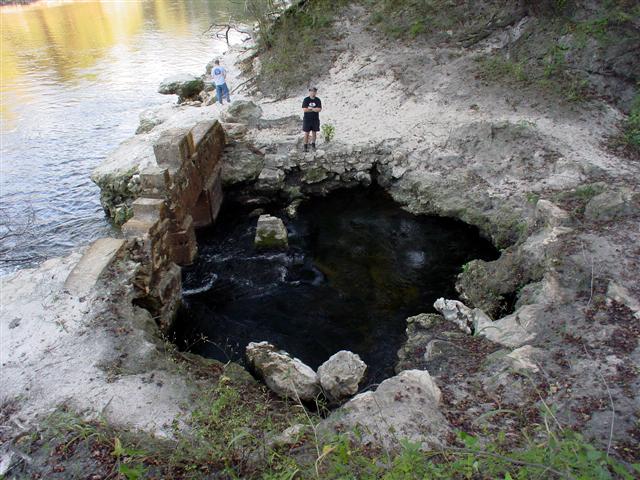 Portions of the following information were taken from Florida Geological Survey Bulletin 66.
The spring flows into the Withlacoochee River near its confluence with the Suwannee River, 13 miles northwest of Live Oak. From the intersection with I-10northwest of Live Oak, drive northwest on US 90 approximately 6 miles to the Suwannee River. Cross over the river and turn north (right) on NE Drew Way. Follow the road to the Suwannee River State Park Picnic Area Annex. Follow the gated track in the picnic area southeast under the railroad trestle to the spring. Suwanacoochee Spring is situated on the southwest bank of the Withlacoochee River within view of the riverís confluence with the Suwannee River.
Description
Ė The single vent opening on the west end of the pool runs down into the bank to a line of sight depth of 10 ft. The small spring pool has a 15 ft diameter. Limestone is exposed around the pool and sand covers the bottom. The water is clear and greenish. Algae are prevalent on submerged surfaces. This spring was discharging tannic water during April 2002 in response to a late March heavy rain. The water didnít entirely clear up until early August 2002, at which time the spring was barely flowing. Suwanacoochee Spring discharges from the base of 25 ft high banks along the river through the remains of a late 1800ís rock bath house intended to pool the water for swimming. The rock structure has rectangular window openings and has become disfigured with age. Both sides of the river have high forested banks with limestone overlain by sand. Also, in August 2002, the adjacent Withlacoochee River was at a historically low stage and was an estimated 2 ft below the spring pool surface. Cave divers report that Suwanacoochee and
Ellaville (Edward's) Springs
are connected by an extensive underwater cave system that extends underneath the Suwannee River bed.
Utilization
Ė The spring was historically used for bathing in the 1800ís, but is currently undeveloped on state park property.
| Date | Submitter | Visbility | Remarks |
| --- | --- | --- | --- |
| 4/9/2006 | Jay Titen | Clear | Just wanted to see where the cave was. Flow was ripping out of the entrance. The water was clear, but my guess is its not currently diveable due to extreme flow. |
| 10/29/2005 | Walter Pickel | Clear Discharge | We went out to take a look at the cave entrance. The walk is pretty easy from the gate. Definitely flowing...Although dark, the discharge was clear from the cave. |
| 10/3/2005 | Cindy Butler | 5 | This cave is on a state park and is closed. Access by the river is not possible without trespass on the park. River intrusion at this time. |
Click here if you would like to contribute any information or resources for this system.
Sslect Search Radius:
| System | Depth | Cave | Cavern | OW | Last Report | Distance (mi) |
| --- | --- | --- | --- | --- | --- | --- |
| Madison Blue Springs | 130 | True | True | False | 2/17/2019 | 7.8 |
| Edward's Spring | 145 | True | False | False | 7/9/2017 | 0.1 |
| Anderson Spring | 80 | True | False | False | 7/2/2017 | 2.5 |
| Pot Spring | 70 | True | False | False | 6/18/2017 | 6.9 |
| Lineater Spring | | True | False | False | 12/8/2016 | 2.4 |
| Cathedral Sink | 200 | True | False | False | 12/29/2014 | 3.1 |
| Falmouth Spring | 200 | True | False | False | 1/1/2014 | 2.8 |
| Morgan Spring | 208 | True | False | False | 9/4/2011 | 3.2 |
| Adams Spring | | True | False | False | 8/4/2010 | 3.5 |
| Owl's Eye Spring | 40 | True | False | False | | 3.3 |
| Alapaha River Rise | | True | False | False | | 6.2 |
| Tanner Spring | 130 | True | False | False | | 6.1 |
| Holton Creek Rise | | True | False | False | | 7.7 |
| Aquarius Sink | 128 | True | False | False | | 2.9 |
| Big Bamboo Sink | 148 | True | False | False | | 1 |
| Jade Hole | 162 | True | False | False | | 1.5 |
| Firecracker Cave | 120 | True | False | False | | 10 |
| Goul De Tannerie | | False | False | False | | 6.1 |
| Lime Spring | | True | False | False | | 0.4 |