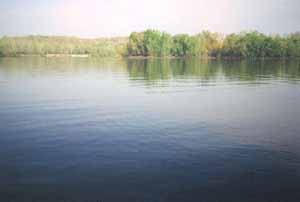 Locals called the spring, Davidson Spring. It has also been called Davidson's Blue Spring (cf. pp. 60-61 of book "The Large Springs of Missouri"). The name came from a family who homesteaded near the spring. Their cabins were still standing until just a few years ago uphill and slightly north of the spring.
Before the construction of the dam by the Corps of Engineers the spring issued from the base of a rock cliff and then flowed about 300 feet to the St. Francis River. Measurements taken from 1932 to 1939 showed it with flows of between 27 and 51 million gallons per day. John Davis, a local, has a great deal of history and photos of the spring and the building of the lake (if you are interested in contacting him I can get you a phone number and address).
Divers began calling it Cannonball cave because of an old round-shot cannonball that was in the mouth of the entrance. It had apparently been used as a boat anchor and had broken off and fallen at the base of the cliff where the cave entrance was.
There is little viable cavern zone. The entrance is a restriction c. 2.5 feet high and 12 to 15 feet wide. Only the center portion can be used by back mounted divers. After about 15 feet the cave opens up into a large tunnel which leads to a pit a little over 700 feet from the entrance. Along the way there are several jumps, but each leads back to the main tunnel. There is also a short jump off of the pit itself.
There are absolutely stunning clay formations throughout the cave--especially in the upper tunnels. There are some instances where there are 15 or more layers of colored clay (black, orange, white, gray one after the other and repeating themselves). I haven't seen the like anywhere else--not either in Missouri or Florida.
The pit drops sharply down through a series of concentric rings to the mouth of a restriction at 280 feet. Larry Hodges and I put a 1/2" rope through this restriction to make getting through it possible without expending copious amounts of gas. The flow can be rather mild in the fall, but for a good part of the year it can be like trying to swim into a fire hydrant. I was attempting to get through the restriction, before we installed the rope, some years ago when the flow was fierce and I saw Elvis frog kicking in front of me--and he was wearing a thong bikini bottom--it wasn't a pretty sight.
Beyond this restriction is the "Mud Room". It is a wide, low silty room c. 30 feet in width and 3 to 5 feet high. We spent several dives exploring this room for leads, but there were none. There is a slight incline as you swim toward the center of the room, then it begins to drop and opens up into a large tunnel at a depth of 277 feet.
This "Deep Tunnel" is 10 to 15 feet in height and width and travels for a little more than 250 feet where there is a third restriction at a depth of 365 feet. The cave honeycombs at this point and once through the restriction you cannot go more than 20 to 25 feet. There is no flow at this point and it is impossible to crawl through the restriction without reducing the viz to zero.
Where the Deep Tunnel begins there is another tunnel off to the south (left as you are facing the Deep Tunnel) which I explored for about 50 feet a few years ago. I think this is where the flow is coming from and it is at a depth of c. 270 to 280 feet. You can reach this part of the cave swimming in less than 30 minutes. I have made it to the end of the Deep Tunnel in 32 minutes (when I was not exploring or laying line).
The spring water temp doesn't vary all that much c. 55 to 57 f. on the guages I have. The lake water goes from 80 f. something in the summer to 40 f. something in the winter. The short diving season (at least the diving season with good viz and low flow), hinders exploration a great degree. Dive teams like the OCDA (Ozark Cave Diving Alliance), have the best resources and skills for pushing this system. Skilled team work will take you further, and with greater safety, than either single divers or a few divers pushing it on their own.
| Date | Submitter | Visbility | Remarks |
| --- | --- | --- | --- |
| 1/28/2023 | Tanked Monkey (via CDF) | 15-20' | Today the viz at Cannonball was a milky 15-20'. The lake viz was 3-5' It was a beautiful day. |
| 9/16/2022 | Eric Hahn | 30 feet of milky vis | The flow was moderate in the short entrance "crawl" and just high enough not to pass through the restriction. The pull rope is still there and has a thick plastic insulator around it. Great for abrasion protection, too slippery on dry gloves. Minimal flow everywhere between the restriction (56f) and entrance. The lake above the entrance was very warm (74f) with 1-2 feet of vis. Deco was very comfortable to say the least, I stayed for an extra 10 minutes to finish up a show I was watching and make up for the exertion at the restriction. Hopeful to return when the flow could drop just a tad. The thick down line is excellent with tie offs for stages and a large weight at the bottom to keep everything nicely in place. Well done setup |
| 12/4/2021 | Matthew S Fishwick | 35 | A 4th magnitude earthquake not far from the cave had us wondering if there'd be a lot of damage. Didn't notice anything major... lake water was right up against the mouth of the cave so finding the entrance was a bit more difficult.......Once inside diving was good, vis was good too. Some of the line was slack, we thought maybe some rock used to tie the line off on had broke but didn't see anything obvious..... |
| 11/12/2020 | Matthew S Fishwick | 20-30 feet | Dove this cave for four days 11/12 thru 11/15. Vis on day 1 was about 15-20 ft but got better on subsequent days, probably up to 30 ft. Flow was a bit straong at the entrance but no problem once inside. |
| 11/1/2019 | Ryan LeBrun | 30 feet | It was my first time diving this site and the conditions were nice. Good visibility, at least 30' and mild/moderate flow. It was noticeable but getting in was really the only area you had to swim a littler harder. Stopped at 150' in the pit so I don't know how things are past that point. |
| 10/21/2018 | Kyle Nevins | 50 plus | Low flow 58deg water temp |
| 1/28/2017 | Jeff Rouse | 10 | Lake level is way down and flow way is up. Vis was 10'at best and flow was increasing during our dive. Cave entrance is only 20' depth due to lowered lake level. |
| 9/18/2016 | Ray W Wilson | 20-25ft | Flow was down compared to last time I was here, I would say it was "moderate". Visibility was about 20-25ft in the cave. |
| 6/3/2012 | scott scallion | 50 | Flow was down as compared to past dives here. Entrance took very little effort. The first two main jumps were nice as well. Great dives... |
| 4/7/2012 | Captain Bob | 15' | Flow is up but we were still able to get in. Viz was 15' or so until about 1000' where it opened up to 30' or so. |
| 2/12/2012 | Bob Bost | 10-15 foot | 4 of us made an attempt to get in, only 2 was able to get in, I was not one of the two. Their report was 10-15 foot vis once inside, but the flow was very strong at the entrance, like a fire hydrant. Lake levels are way down as well. |
| 9/18/2011 | Rob Neto | 50' | Great dive! Visibility was better than expected. Water temp was 58F. Flow was up, but tolerable. Although we decided to not try the 2nd restriction as it wasn't so tolerable there! Looking forward to diving here again soon! |
| 4/28/2011 | Scuba Coop | Varies | If you contact Ozark Dive Company in Poplar Bluff, MO, they can assist you with information and current dive conditions on Cannonball. You can find them on www.ozarkdive.com. Some of the cave divers from that shop dive keep a pontoon at Holiday landing. That's the easy way if you can catch a ride with them. The other way is to drive around the other side of the lake by going north on Hwy 67 and making a right on Hwy D. When you get to the parking lot, you walk the big hill down to the water. There is a clear path from the parking lot above because people fish there frequently. That is also what creates one of the worst hazards of diving Cannonball…The fishing line and fish hooks. You can easily end up in the middle of mess when you are dropping down into the murky waters blindly. Once you feel the rush of water coming from the spring, you know you are home free. There is a bucket filled with concrete in the spring pool that the main line is tied to. This sits at about 30' during summer lake levels. From there you will pull your way in the mouth of the cave. The entrance is about 2.5' high and floor is loose rock, so it takes a little bit to get through the flow. After about 20' it opens up and you are greeted with a sign with a couple Cannonballs sitting in front of it. There is good size tunnel where the main line is. The average depth is about 50'. It goes back to 500' where you will find a couple natural arches. At about 800' you will reach the pit. The top of the pit has a diameter of about 100' In the ceiling of the pit, someone has inflated some large tire tubes and attached a down line that will take you on a straight shot to about 165' deep. From there the line starts to follow the tunnel down at around a 45 degree angle. It's not too far from that point that you will reach the restriction at 285'. From there it continues on about the same slope to the end of the line at 355' deep. Even if you don't make it to the deep tunnel, there are still several jumps off the main line at shallower depths. Cannonball has a lot of silt in the floor, but because of the flow, it's not really a problem. The side tunnels that you can reach by making a jump has little flow, so you can stir yourself into a silt out quick if you don't keep the fins up. Over all, Cannonball is a really nice little cave to dive especially for the Midwest. |
| 4/10/2011 | diverdarren | 50 | Lake temp. is 55 degrees F, quite tolerable for deco. Lake is down nearly 10 feet right now and vis in lake is quite remarkable (15 -25 ft.) as is the vis in the cave (nearly 50 feet!) We carefully inspected the condition of the gold line, and the condition of the downline room the roof of the pit to the axle. Everything looked good for this season, although we are discussing the replacement of the white line past the axle to 280 ft., as there was a break in that line last season that we were told that Tamara Thomsen repaired last fall. Thanks Tamara! Oh, by the way the flow is up a little, so eat your Wheaties before you go. |
Click here if you would like to contribute any information or resources for this system.
| Description | Type | Date | Author | Remarks |
| --- | --- | --- | --- | --- |
| System Map | Map | | | |
Sslect Search Radius:
| System | Depth | Cave | Cavern | OW | Last Report | Distance (mi) |
| --- | --- | --- | --- | --- | --- | --- |