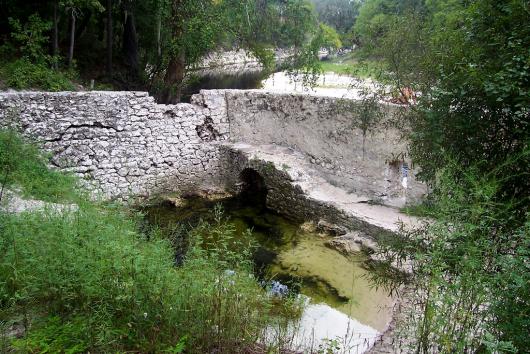 Portions of the following information were taken from Florida Geological Survey Bulletin 66.
Suwannee Springs flow into the Suwannee River from the southwest approximately 7.5 miles northeast of Live Oak. From the I-10 and US 129 intersection north of Live Oak, travel north on US 129 approximately 4.3 miles. Turn northeast (right) on old US 129 at the solid waste collection site. Travel 0.5 miles and turn east on a graded road that leads to the spring parking area.
Description
– At least six springs comprise Suwannee Springs. All are clustered in a sandy 100 ft stretch at the base of a 35 ft high bank along the south side of the Suwannee River. The main spring, which was sampled for water quality, is within the rock walls of a late 1800's bath house. The spring pool measures 17 ft north to south and 25 ft east to west. The depth near the vent on the south side of the pool is 7.8 ft. Limestone is exposed in the vents and sand covers a large part of the spring pool. Clear, yellow-greenish water is pooled behind the wall and spills out through an opening at the base over algae–covered limestone boulders into the tannic Suwannee River. Algae are abundant in the pool. The spring water exudes a sharp odor of hydrogen sulfide. On the east side of the pool, wooden stairs lead down from a parking lot into the spring. Water levels of both the spring and river were very low in August 2002. The stairs were 10 ft above the water level. Remains of the old US 90 bridge over the river are just upstream. Land along the river is forested with hardwoods and pines.
Utilization
– In the late 1800's the springs were a popular bathing area, health spa and tourist destination. Today, the spring is located on SRWMD land with public recreation and interpretive areas.
| Date | Submitter | Visbility | Remarks |
| --- | --- | --- | --- |
| 1/8/2023 | Thomas L Johnson | 20 | Rock blocking the cave at 40ft. Very high flow. Restriction at entrance around 15ft . |
Click here if you would like to contribute any information or resources for this system.
| Description | Type | Date | Author | Remarks |
| --- | --- | --- | --- | --- |
Sslect Search Radius:
| System | Depth | Cave | Cavern | OW | Last Report | Distance (mi) |
| --- | --- | --- | --- | --- | --- | --- |
| Holton Creek Rise | | True | False | False | | 7.9 |
| Alapaha River Rise | | True | False | False | | 9.7 |