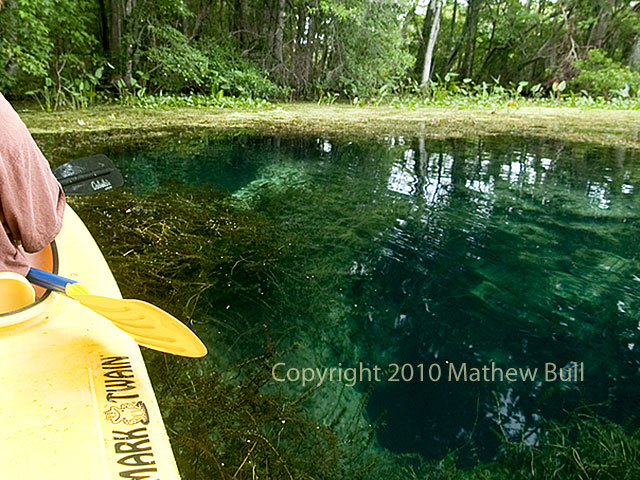 Portions of the following information were taken from Florida Geological Survey Bulletin 66.
Cassidy Springs is located in a small cove on the west bank of the Wacissa River, 0.5 miles downstream from the public park
Description
– Cassidy Springs (also know as Cassida Springs) is on a short, 100 ft side channel and forms a spring pool that is 45 ft in diameter. Water issues from a vertical limestone shaft 27 ft deep and 6 ft in diameter. Two additional vents are within 10 ft of the main vent to the northwest and northeast. The average depth of the spring pool is 1.5 ft. All three vents create prominent spring boils on the water surface. The spring bottom is sand with some exposed limestone. The shallow spring run is choked with Hydrilla and flows 90 ft southeast into the 300 ft wide Wacissa River from the west. Cassidy Springs is surrounded by a thick hardwood and palm hammock that rises gently to 5 ft above the water level to the west. Land around the spring is state owned and undeveloped. Discharge measured June 4, 1999 was 44.36 cfs.
Equipment Configuration and Notes
- SM entrance, several hundred feet of BM cave, EOLs are at no mount squeezes and it is not known if it goes. There is a tannic water source into a SM crack.
| Date | Submitter | Visbility | Remarks |
| --- | --- | --- | --- |
| 9/11/2011 | Tegg | 80' - 100' | First time here. Good dive, flow wasn't to bad, entrance wasn't that bad to get in... |
| 9/6/2010 | Mat | 80' | Flow was up, vis was up, still no problems pushing the entrance restriction. Lots of life in this one, very nice, short dive. |
| 6/12/2010 | Mat | 40' | Flow was apparent, but not a hinderance at all. Didn't go far, but looks good enough to come back to. |
| 9/6/2008 | Guy Bryant | 5'-8' | My girlfriend and I went canoeing on the Wacissa River. I took my side mount gear and two aluminum 80's just incase any of the springs were diveable. The river water was very tannic with vis about 5-8 ft so I figured the springs would be about the same considering the river is spring fed. We canoed over to Cassidy, and man was it pumping! Vis was about 5-8 ft and very tannic. I decided to have a look anyway. While gearing up I blew an o-ring on one tank and didn't have a replacement o-ring with me so I just dove one tank. I made it to the "no mount" restriction fighting a very strong current. It blew my regulator out of my mouth a few times and I had to wedge myself against the walls just to keep from being blown out. The no mount restriction complete with huge log is at 41 feet of depth. I tried to get through but the current was ripping so bad that I couldn't push my tank in front of me so I abandoned that idea. |
Click here if you would like to contribute any information or resources for this system.
| Description | Type | Date | Author | Remarks |
| --- | --- | --- | --- | --- |
Sslect Search Radius:
| System | Depth | Cave | Cavern | OW | Last Report | Distance (mi) |
| --- | --- | --- | --- | --- | --- | --- |
| Little Blue Spring | | True | False | False | 8/21/2010 | 0.1 |