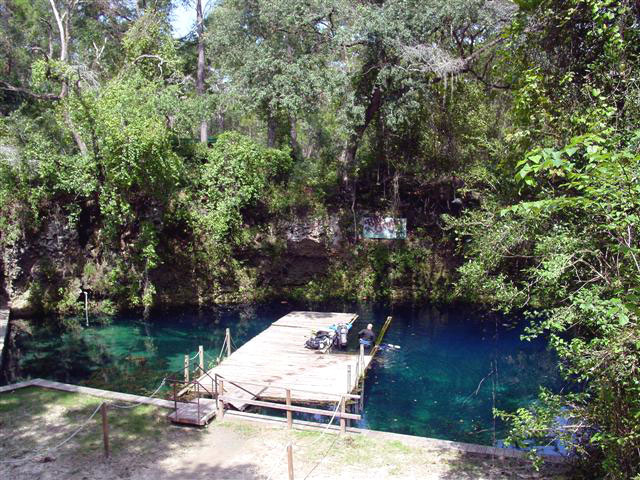 Blue Grotto is a cavern system that is a perfect spot for training as well as OW divers. The entire system is a cavern with a breakdown area starting at 60' extending to 100' that nicely emulates a cave environment for training.
The grotto is commercially run and has several nice features. It has a lightening system as well as an air bell at 30'. The air in the bell is pressurized as well. I have only poked my head in once and it was pretty noisy. Some might find it of us.
Although the entire system can be dove with just OW certification, divers should take note that the bottom is pretty easily kicked up. In addition is is fairly dark down there. Lastly, there are heavy guidelines permanently installed throughout the entire system.
The best time to dive this site is early morning or late afternoon. Their hours are 8 AM until 6 PM with the last dive starting no later than 5 PM. Also, the weekends see numerous OW classes in the basin and the viz becomes pretty cloudy after the classes get finished.
Click here
for the official web page. The entrance fee is currently $37.38 ($40 with tax) per diver. For facilities, there is a large area for picnics and outdoor sports, although the tables are usually used to set up your dive gear. There are showers, changing areas, and a full service dive shop on site.
| Date | Submitter | Visbility | Remarks |
| --- | --- | --- | --- |
| 3/8/2021 | Mark Janson | 100' | Dove Cave and Cavern on this Monday. Water level has returned to normal. Viz in Cave excellent. As usually, grey silt covers all surfaces. Heman is still on top of the debris cone. Cavern side crystal clear with only a few divers. Virgil was very active greeting my buddy when he entered the water. |
| 2/26/2020 | Mark Janson | 80' | Water still a little high, but below platform for easy entry/exit. Training platforms are in excellent condition and water was clear. Underwater vegetation down so fish are easily spotted all the way to the bulkhead. Great dive! |
| 11/15/2019 | Mark Janson | 80' | Water level is still a few inches over the deck so depth is a few feet deeper than normal. Viz was great. Not too many divers. No Virgil sightings. I've heard they currently have a population of 4 Florida Soft Shell turtles. |
| 8/1/2019 | William Ruble | 40-50 | We arrived right at 8:00am and were the first two divers in the water. The algae bloom has made the top of the water a hazy blue/slightly green color, but once you get into the cavern zone it's clear as gin. Max depth on both dives for me today was around 70 feet as my friend I was with is only Open Water certified. I'd estimate a max of 6-7 divers in the system today overall, so there was plenty of room for everyone and no issues with silting. |
| 12/11/2016 | buhlz | 45 plus | First time diving here. Met up with Andy and Justin.. Quick dive..nice little place to learn to dive cavern. Airbell pretty cool but my interest is beyond this especially for the hefty 56$ entrance fee. Geesh..98 ffsw 45 min....21% |
| 10/3/2014 | Cameron Whitehead | 40-50' | We were there for our open water certification Saturday and Sunday. We noticed that when the bottom silt was kicked up, it quickly dissipated due to a system to pull it out like that of a pool skimmer. The platform were great for us and all of the routines that we had to complete to get our certification. we will visit again very soon, even with the 3 hour drive from home |
| 7/1/2012 | Brandon Carmack | 40ft | Water is down about 8ft according to staff. The water was clear but vis was low. There was 5 orgs there teaching OW so about 75 divers were in the water. Overall not to bad. |
| 2/26/2012 | Brandon Johnson | 25' top, 30' bottom. | Lots of OW divers up top before the drop off causing lower visibility in the upper section. Once you got down to depth around 50' (start of the guidelines) it cleared up a bit. No thermoclines, consistent water temperature of 72F and a fun dive. Cave goes down to about 90' feet depending upon water level if you get off the guideline. The silt is really easy to kick up. Fun dive to practice basic cavern and cave diving with a few decent squeezes and overhead environment all around. Bring 2 good lights, and remember always dive with a buddy. :) |
| 6/26/2011 | Justin Berke | 30' top / 10' bottom | Pretty heavy particulate from top to bottom. Large groups of divers were in the water all afternoon. It was pretty neat to look up and see a train of lights moving across the line through poor vis when we were at the bottom, about 15' off the line. We ran a jump off of the main line just in case because it was pretty dim down there. |
| 5/21/2011 | Dan Sledge | 20 feet | The visibility was very low but it was mainly because of the number of divers that were doing drills for classes. |
| 11/20/2010 | Jason | 60 Ft | Decent Vis (Paradise was 2x the vis). Not too many people, but was getting silty quickly. Vis in the lower portions sucked. A female diver broke her ankle walking down the stairs, I assume just after signing all blue grotto's liability away. Owner was as "pleasant" as usual. Fills are $10 for air, and $18 for EAN. Don't think I will be going back any time soon. There are too many nicer and cheaper dives around. |
| 10/15/2010 | Jason | NA | Talked to the Owners. There is a full cave system on site, that they don't let just anyone in. They did say they recently let some people in for some research... anyone have any data on this other cave system? Contact me. |
| 4/21/2010 | Eric Deister | 100' | Took a day off to dive this great site. Only 1 other diver there besides my buddy during the whole day we were there. Got 3 dives in. Serveral very large catfish were seen but the turtle count was zero. Max depth was 91 feet! Doug, thanks for making me go there. I had a great time! |
| 4/25/2009 | JC | 100 ft | Avoid this place on the weeknds. There were at least 30 people there taking a class, and everyone kicked up the bottom. 40 dollars plus 12 for an air refill is not worth the dive IMO. Still makes for a easy cavern dive w/ some overhead. |
| 11/15/2008 | Fed | 100 ft | Dove BG right after a good cold front came through. We were the only divers in the water. Viz was perfect no silt whatsoever. Outside temp was around 50 degrees. Did two dives to 100ft and 85 ft. Perfect conditions. |
| 9/7/2008 | Deb | 60 | Crowded, got a late start. Brought two friends that had never been there before. Saw the turtle...friendly little guy. Tested out new camera case, video turned out better than photos under the ledge. Flash bounces off silt in darker areas, even with difuser. Advise photos be taken in the brighter basin area w/o flash. |
| 1/26/2008 | Anthony Tedeschi | 60 | Vis was good, even though it was crowed. My first time there and is a very nice dive. The water was clear all the way to the bottom. Great place to bring someone interested in cave diving. |
| 5/25/2007 | Orlando Dive & Snorkel Tours | 60ft or better | We had 4 divers, they were fairly new divers and loved the spring. We got there early and were the only ones there. |
| 5/20/2007 | Bert Wilcher | 60 | Not a lot of divers today, visibility from 60 feet and above very clear. |
| 10/10/2006 | Mike Edmonston | 100' | Excellent dive, if you get there before the classes. good intro for students into cavern. Nice catfish photo opportunities. Didn't see the turtle. |
| 9/12/2006 | manda | 100' | Great dive, Crystal Clear water and a friendly turtle looking for a hand out. Visibility was best on the first dive in the A.M. before all of the classes kicked everything up. |
Click here if you would like to contribute any information or resources for this system.
Sslect Search Radius:
| System | Depth | Cave | Cavern | OW | Last Report | Distance (mi) |
| --- | --- | --- | --- | --- | --- | --- |
| Devils Den | 60 | False | True | True | 3/2/2021 | 1.6 |
| Peanut Cave | | True | False | False | | 4 |
| Matthew's Sink | | True | False | False | | 5.1 |