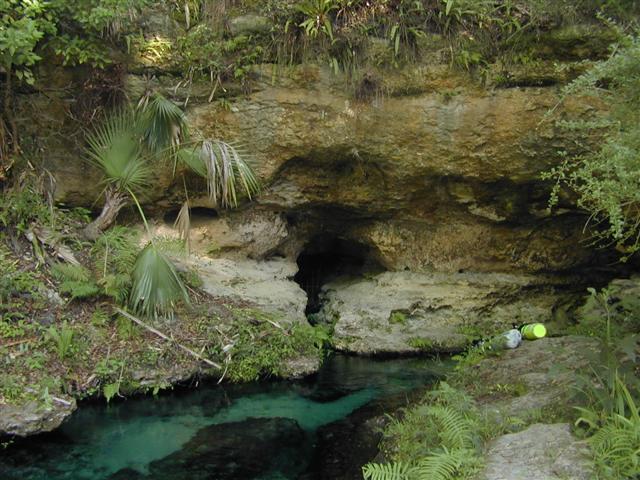 Portions of the following information were taken from Florida Geological Survey Bulletin 66.
Rock Springs is located within Dr. Howard A. Kelly County Park, approximately 6 miles north of Apopka. From the junction of US 441 and SR 435 in Apopka, travel 5.9 miles north on SR 435. Turn east (right) on Bay Bridge/Rock Springs Road and travel 0.3 miles to the park entrance and parking lot. The spring is southeast of the parking area.
Description
- Rock Springs emerges from a horizontal cave at the base of a 20 ft high vertical limestone and sand bluff. The water is clear and bluish. For a few hundred feet, the stream cuts into limestone, and its bottom has sand and marine fossil shells that eroded out of the limestone. There is no vegetation and only minor algal growth. Lush ferns and moss blanket the bluff and upper stream banks. The upper part of the run averages 15 – 20 ft wide and 5 ft deep. Rock Springs Run flows north, east, and south, eventually into the Wekiva River approximately 8.6 miles downstream. Approximately 120 ft downstream, a boardwalk arches over the stream. About 1,000 ft downstream from the springhead, the run has been pooled for swimming. The cave and immediate vicinity are closed to use, but the rest of the run serves as a swimming, snorkeling and tubing hotspot. A dense cabbage palm and oak hammock occupies lands adjacent to the cave and upper part of the run. The spring is bordered on all sides by high, rolling sand hills that are owned and maintained as a county park.
Utilization
- The spring is developed into a park with swimming, picnicing and camping facilities.
| Date | Submitter | Visbility | Remarks |
| --- | --- | --- | --- |
| 1/28/2011 | Atedeschi | Na | i want to check this out but heard it's mo mount. Is this True? |
| 2/6/2009 | Anonymous | 80' | Flow is very high. Visibility is good for the first 800' and starts degrading... |
Click here if you would like to contribute any information or resources for this system.
| Description | Type | Date | Author | Remarks |
| --- | --- | --- | --- | --- |
| System Map | Map | 2009 | Andy Pitkin | |
Sslect Search Radius:
| System | Depth | Cave | Cavern | OW | Last Report | Distance (mi) |
| --- | --- | --- | --- | --- | --- | --- |
| Apopka Blue Sink | 110 | True | False | False | 7/30/2023 | 1.2 |
| Sanlando Spring | 45 | True | True | False | | 7.9 |