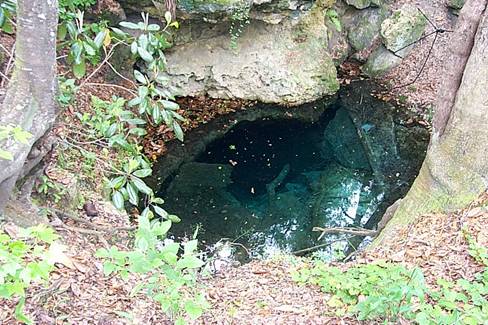 Portions of the following information were taken from the Cambrian Foundation
Apopka Blue Sink lies in the forest on the outskirts of the City of Apopka, about 12 miles northwest of Orlando. As is the unfortunate case for many sinkholes, this karst window has become the repository for litter, trash, and other waste. Thanks to The Cambrian Foundation for removing the debris from the bottom of the sink. Garbage removed included a burned sofa, Christmas trees, a car engine block, bottles, fencing, etc.
Apopka Blue Sink is home to a species of aquatic cave crayfish known only to this system, the Orlando spider cave crayfish (Troglocambarus sp.). Given the rare species that rely on these habitats for survival, maintaining these karst environments free of litter and external debris is critical to their success.
| Date | Submitter | Visbility | Remarks |
| --- | --- | --- | --- |
| 7/30/2023 | Katy | clear | Came here to pick up trash (lots of it) seated lawn mower trashed in the sink... Need help getting it out. |
| 7/3/2023 | Mark thrush | fair | help needed some one has jumped a riding lawn mower in blue hole. I got a rope on it. but it has slipped in under the edge. also 6 months ago the massive oak tree above the hole lost a branch and the hole is covered |
| 7/19/2021 | Josh | 2-5 | Visited in 2019 to check if reports of being filled in were true, found nothing but a great depression at the GPS marker that looked like it could have been a filled-in Apopka Blue. Returned today after the last post saying it was not filled in, all I will say is that it is indeed NOT filled in, the GPS marker is incorrect. Extreme thunderstorm prevented any recon but I could see beautiful blue water going under the large limestone overhang. |
| 6/30/2021 | Andrew | None | The hole is in fact not filled in |
| 4/7/2021 | PJ | 0 | Totally filled in and no longer exists. Proof: https://youtu.be/17gFkslpztA https://youtu.be/-hXao2OIIp0 |
| 8/23/2017 | Matt | None | Went to check out the hole today... completely filled in. Disappointed to say the least. |
| 8/23/2017 | Matt | None | Went to check out the hole today... completely filled in. Disappointed to say the least. |
| 6/17/2015 | Justin | 50 ft | Both the upstream and downstream sections are filled in with debris and sand. Sidemount might be possible downstream, but still very tight. |
Click here if you would like to contribute any information or resources for this system.
Sslect Search Radius:
| System | Depth | Cave | Cavern | OW | Last Report | Distance (mi) |
| --- | --- | --- | --- | --- | --- | --- |
| Rock Springs | 25 | True | False | False | 1/28/2011 | 1.2 |
| Sanlando Spring | 45 | True | True | False | | 8.8 |