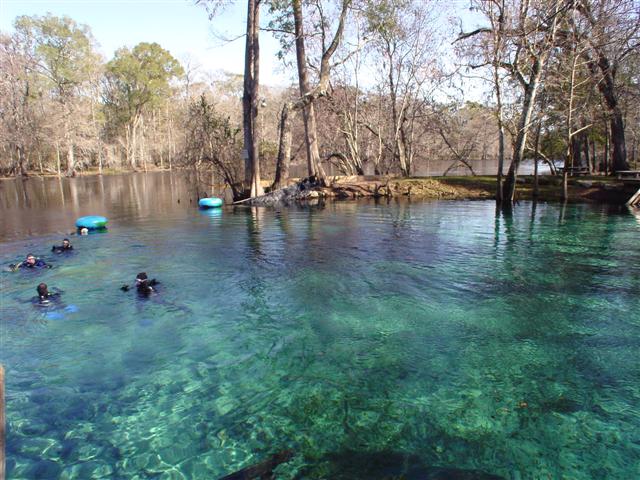 Portions of the following information were taken from Florida Geological Survey Bulletin 66.
Devil's Ear Spring is located among a complex of springs on the south bank of the Santa Fe River. The spring is approximately 6.5 miles northwest of High Springs and can be accessed either by river or through the privately owned Ginnie Springs Resort. From the junction of US 441/41 and US 27 in High Springs, drive southwest on US 41/27 for 0.8 miles. Turn west (right) on SR 340 (Poe Springs Road), drive 6.6 miles west on SR 340. Following the signs to Ginnie Springs, turn north (right) on a graded road and go 1.2 miles to the Ginnie Springs Resort entrance. Follow the road around to the back of the office and towards the river. Turn right just before the bathhouse and follow the sand road to the parking area. Devils Ear Spring is part of a complex of three vents and is the vent nearest the Santa Fe River.
Description
- Devil's Ear Spring is situated at the mouth of a 375 ft long spring run that enters into the Santa Fe River from the south side. It is an elongated limestone fissure that discharges directly into the adjacent Santa Fe River. The spring pool measures approximately 105 ft east to west and 60 ft north to south. The vent is an oval shaped opening in limestone with steep sides leading down to a depth of 34 ft. There is a large boil over the spring vent. Dark water from the river contrasts distinctly with clear, bluish water issuing from the spring along the side of the river. Native aquatic grasses are common around the vent opening, and some algae are on grass blades and limestone walls. The banks on the south side of the river rise steeply to approximately 3 ft above water level, then levels off. On top of the bank, a mesic hardwood forest with interspersed clearings is present. An underwater cave system has been mapped at Devil's Ear Spring.
Utilization
- Devil's Ear Spring is part of the privately-owned Ginnie Springs Resort. The spring is heavily used for swimming and scuba diving and is a hotspot for cave diving. Full facilities are located nearby to the east.
Date
Submitter
Visbility
Remarks
9/28/2021
Alex
100
river is up from rain, and the canvas is ran across the run completely. 21' at base of the eye. flow is extremely low. very little traffic in the weekday evenings as local season is tapering off.
1/15/2021
George
Great
Strong flow - great ride out
3/18/2020
Joe Bosquez
Great
Flow seems normal, visibility great, getting busy again as spring is in full swing!
12/5/2019
Alex
100
Good viz, low(ish) flow
4/14/2019
Courtney
Great
Flow is normal, cave is clear, lots of idiots around the entrances with summer coming! Won't go on the weekends anymore.
1/12/2019
FÉLIX LEDUC
perfect
The river is still high but the conditions in the cave are perfect. I dove the whole week. On Monday the flow was lower than usual but it tended to pick up a little bit as the days pass by.
12/24/2018
Matt
50 ft
The river is high. Water is up to the top step of the deck at little devil, and the ear is closed off. The eye and gallery are green, but viz slowly improves as you head back. There's still a hint of green to the water at stage bottle rock. Run a line - light is not visible from the gold line Flow is down though, so that's a plus.
9/25/2018
Tim
perfect
Brought my newly certified 13-year-old son down from Missouri to dive the clear waters of Ginnie/Devil's ear/Eye. We were not disappointed. Since he is newly certified, the dives were open water. We were the only divers in these springs and the first of the day. Helps to come on a week day.
8/5/2018
Jeff Hawes
varied
Platform at the beginning of the run was surrounded by water. It had risen perhaps 18" from the day before, and may continue rising for another day or two. Vis in the run was zero due to all the runoff. Vis in the gallery was 40-50, kind of hazy. When I exited the far end of Roller Coaster back to the mainline vis was markedly better. By the time I got to Sweet Surprise, it was back to the typical Ginnie Gin. High water was intruding on many of the campsites and parking leaving very little room for divers to park. BUT the dives were awesome.
7/10/2017
Elisha Gibson
100
Went up in the tunnels north of the whale bone. Smoky water in places back here, not as clear as a few months ago. Rest of the cave was typical Ginnie.
9/18/2016
buhlz
ginnie good!
Basically solo check out dive. MAX depth 97 feet.made to hinkle turned. left cookiue on line for new buddies but beat them out.. nice dive!45 min 8 min deco 21%
4/27/2016
buhlz
GINNIE LIKE
Met up with andy and justin! Had a great dive but accidently turned neat bone room jump.48 min 86 ft
4/27/2016
buhlz
be utiful
Met with andy and justin! did main line to test out new buds.. Good little dive.. no issues. I turned due to exhaustion.43 min, 88ft no deco..great dive
2/25/2016
Mer
100ft
Blue with only a touch of haze. Consistent conditions in all areas of cave. Water level getting back to normal and flow back to "recent" norm.
2/21/2016
Niko
80
Water is up, flow down and vis great. Nice time to dive if you don't mind the crowd
1/10/2016
Niko
100
Great conditions at Ginnie. Vis was crystal clear and even the Bone Line was looking very good. Flow is down a little - great time to dive!
10/25/2015
Walter Pickel
100'
Had a great working dive (shooting videos for a manufacturer product). Viz is beautiful with little to no particulate. Flow is positive and makes for clean exiting. Pretty tanic intrusion over the ear.
8/19/2015
Rich
unlimited
Beautiful, river's up, flow is down... :)
3/24/2015
Rob McGann
100ft
Flow is still manageable. Did a swim up Hill 400 and did the double lines circuit. Great vis, 100ft. Lots of classes going on, but we never saw another team past The Lips.
3/6/2015
Louis
80ft plus
Flow is down and with just a bit particulate in some areas the cave is nearly flawless.
2/14/2015
Lalcorn
100'
Vis on the bone line, bone room, big room and wonder tunnel was 100 . Great clear dives and flow was nice an easy.
1/1/2015
Jason
100
Flow is down, vis is up! Great time to dive Devil's. Tannic water is over the Ear, but the tarp is not up.
8/18/2014
Jason Knepper
50'
Semi Permanent line has been pulled from the Eye. The Ear is still a little murky on the surface though. Flow is still down, great visibility. Easy swim up the Bone Line to the Maple leaf jump.
8/16/2014
buhlz
infinate
Unbelievable great bday present to myself. Traveled slightly up to hinkle and costed back through devils ear. Nice little dive by myself.. Met some great peeps!! 73' 49 min. no deco!
7/17/2014
Mer
100'
Blue. Great vis. Very clear and blue in mud tunnels, slightly milky in Wonder Tunnel area. Moderate flow for Ginnie.
5/8/2014
MacLeod
70'
Visibility is great, and the flow is way down. The lips is an easy swim right not. Really nice diving.
4/5/2014
Niko
80-40, varies
Water level is still up about the same as a week ago. The flow is still down. Currently there is a tarp blocking the river which makes the Eye the main access point with a semi-permanent line installed. The visibility on the mainline is slightly better than a week ago, about 50ft. The roller coaster was fairly clear at about 70ft, Hill 400 Line had limited visibility of 30ft. Hillier Tunnel was clear with around 80ft. Bone Line was around 60ft until you get to the Bone Room where the vis gets milky. Wonder Tunnel had major river intrusion with cold, dark tannic water - visibility around 3-10ft.
3/29/2014
Niko
40
The water level has risen a lot. It is now 10ft at the rim of the eye. The flow is also noticeably up and the visibility in the main passage around 30-40 feet. Still crystal clear is low/no flow parts like the Lips and Keyhole bypasses and the catacombs.
3/15/2014
Niko
50-80
Flow at Ginnie is noticeably down. The main passage appears to be clear and around 80-100ft visibility. The Hill 400 Line was milky with about 50-60ft all the way to Double Lines where it was crystal clear again. The Lips and Keyhole Bypasses were also clear.
2/3/2014
bri
60'
Medium flow, little percolation
12/29/2013
MacLeod
70'-80'
Training dive, so spent all my time in the gallery. Visibility extended as far as the cave allowed. Busy weekend, with MANY divers in the system. Flow seems to be up.
9/29/2013
Niko
50-100
Water levels now have dropped a few feet since the flooding. The mainline is very clear without percolation. The bone line is very clear until you hit the big rooms, there the visibility turns milky and ~50ft and a bit less on the way back. The Hill 400 line was very clear for the first few hundred feet and turned a bit milky after p.1000. Dove the Roller Coaster for the first time and the visibility was crystal clear, beautiful jump.
9/9/2013
Niko
40-60'
Water levels are still up as well as flow. Clear visibility ~ 60ft on the main line. Hill 400 was milky ~30-40'. Still great conditions
7/8/2013
Mer
50-100'
Santa Fe is up 3' ish feet above recent normal. Tannic water is past the barrier log and almost over the Eye. Flow down a touch. Slight green tinge and milkiness to water on mainline and down Boneline/Big Room. Blue and clear water in White Room.
6/29/2013
Niko
90
Flow is down compared to a few weeks ago. Visibility is crystal clear for the most part. Hill 400 was a bit lower, I suspect due to scooters. Great conditions.
6/8/2013
Niko
80
Great visibility all throughout the goldline & Catacombs. Tannic water over the ear was not bad. Flow is up, also flow out of the Eye was VERY high, Ear is the better entry point.
5/12/2013
Justin
50
Same conditions as below (Mer, 5/8/13), possibly a little better. Tannic water over the Ear was cloudy. Slightly milky in the cave from the Eye back to around 800'.
5/8/2013
Mer
50
Tannic water over Ear to 20' (top of log). Santa Fe river is up. Milky and vis reduced a bit in system to even upstream of river intrusion tunnel.
2/16/2013
Mer
100'
Flow moderate for Ginnie, blue tint to water. Eye to Hill 400 to Double Lines all clear with no tannic water pockets.
1/27/2013
ltowles
80
Every thing looks great with just a bit of fine particulate in the water.
8/1/2012
Mer
30-50', 2-4'
Same as yesterday although spring water punching a slight "hole" in the tannic water over the Ear. Slightly brighter in the Ear than yesterday.
7/31/2012
Mer
30-50', 2-4'
Flow up to how it was before TS Debby flood or slightly stronger. Water level 1-2 feet deeper than before flood. Vis is down from normal, no blue tinge to water. Rather green to tan of dilute tannic water. Don't notice the reduced vis too much while swimming and in smaller passages (other than it makes your HID/LED look the color of an older Halogen). Scootering here is more difficult than normal with current vis. 40-50' of vis in following areas: Mainline to 1800', Eye, Hill 400/Hillier, Double Lines area. 30' of vis: Big Room, Bone Line, first half of Double Domes. 2-4' of vis and strong/warm tannic: Double Domes (tannic water in ceiling of both Domes, tannic water at level of the line in last dome). No water movement here, your bubble will mix it at bit and degrade vis. Eye is clear, temp mainline extension in place in Eye. Curtain is down. Ear is covered with tannic water. 2' vis above Ear down to 8' depth, then 30' of vis and little/no ambient light below that. Removed a lot of beer cans from bottom of Ear/Devil's Porch area... there may be more there.
7/28/2012
Steve
30'-50'
Hill 400' to Bats to short cut and roller coaster then out the main line. Hill 400' was very improved (even over the night before), i'm calling it 50' until about 900'. Cleared up again around 1300' and stayed that way on to the bats. Short cut viz was hazy at best - my guess is someone met the floor rather than just hazy. Roller coaster cleared up since the night efore
7/18/2012
Mer
20-40'
Devil's Eye reopened to full cave divers yesterday. Water level up 2' above early June levels. Flow up considerably. Little Devil basin is much clearer than Eye and rest of Devil's. Vis is dilute tannic all the way back to Heinkle. Slightly better past Bear Room and in the Hill 400 area (but not much better). You can see another divers light from 40' away but seeing details on wall or the line is 20-30' vis. Thin layer of fine silt (river silt?) on top of the sand on the mainline passage and on lines themselves. Lots of new organic material in the cavern and half way down Gallery.
6/30/2012
Kristi Draper
unknown
Ginnie is closed to all water activities until further notice. I was there on 6/30 but could not dive. Water was up to bottom of "Dangerous Cave" warning sign near basin/Ballroom stairs. The dirt road to Devil's Ear/Eye was under at least 6' of water.
6/27/2012
Mer
0-100'
This is day after 15" inches of rain in area from TS Debby: River is black and flowing fast. Only two steps showing at Little Devil and still rising. Curtain is up, Ear closed, full cave only per GSO. Eye still flowing, albeit slightly, but is clearing out the run a bit with aid of curtain. 10' vis in run and dilute tannic, 30' vis over Eye, 50-60' vis on mainline green and some milkiness, some side passages much lower (river intrusion 30', white room nearly 0'). Intrusion from several side tunnels even if it doesn't siphon through entrance. Very clear (almost normal) around Sweet Surprise area. Flow way down throughout, cannot see daylight from bottom of Ear but still slight positive outflow from cave. Everything 5' deeper than normal. 20' stop at Eye is now in OW, 10' deep at rim of Eye. Conditions may degrade as the river rises towards a predicted crest on 7/1.
6/24/2012
Avery Z Chipka
100'
Flow up a bit more today then the last two days. Vis holding nicely.
6/23/2012
Avery Z Chipka
100'
Flow up a bit from yesterday. Conditions inside are perfect as normal. American Eel has taken up residence in the area at the base of ear entrance. Absolutely no divers in the cave today but the weekend frat party is in full swing like I have never seen before!
6/22/2012
Avery Chipka
Good
Flow is way down! Visibility on the inside is good but a bit milky. Tannic above the ear entrance.
6/18/2012
Mer
100'
Cloudy tannic water over the Ear, clear below 8' depth. Boil punching clear hole in tannic water. No milkiness on mainline, slight milkiness in Big Room. White Room clear. Flow up a touch?
5/26/2012
Don Six
100'
Hill 400 jump and made my way to the Whale Bone. Very few divers on site for this holiday weekend. The locals were abundant and the bikinis were optional.
4/27/2012
Mer
100'
Good vis as usual, flow down as has been norm recently. Some milkiness in Big Room/Bone line and Double Domes area.
4/5/2012
Walter Pickel
100'
Did the Bone Room circuit and some other passages. Had a nice long swim. Noticed the Hill 400 jump had been cut back considerably.
3/28/2012
Aaron
100' ish
Normal Ginnie viz, flow into the ear seemed down from my last trip between X-mas and New Years. Either that or my workout program is effective :). We only passed one other diver on the way in despite there being a number of deco bottles tied off to the mainline at the sign. Great dive, can't wait for my next trip to cave country!
3/3/2012
Avery Z Chipka
Unlimited
Flow and water level are way down but expect increase of levels in the next 24 hours due to incoming rain.
2/13/2012
Claudia Milz
100
Good dives and photo shoots along main line. Flow is low and vis great like many places right now. Had the cave almost to ourselves, only one other diver sighted all day.
2/5/2012
Garrick
100'
We went into the bone room on the 1st dive and on the 2nd dive jumped off the Hill 400 line to the July Spring line and conditions we great. Flow was moderate.
12/31/2011
buhlz
awesome
Met up with Jean (BEANO) @ Ginnie today also dove with her friend Pat that we met at CE east. Great dive to the bone room circuit but cut it early due to my heavy breathing.. Out of shape say ! Thanks again Jean for everything and sorry to cut short.. Cavediver.net and gang we giving away cool stuff and foodS!!! Good times.. 72' 30% 63 minute dive!!
11/1/2011
Paul V
Excellent
Flow seem higher than October 28 or just a feeling. Dove double-line Sherwood split. Scooter run after.
10/28/2011
Paul V
Excellent
low flow, easy to swim. Dove Roller-Coaster, the Bat, Hiller-Tunnel till double dome. Excellent dive in CCR.
8/31/2011
Cary
100
Hi to all divers. Made a weekend trip and did several dives. I hope this post may be helpful to divers who like caves but are not cave certified. Let me explane. I am the type of person who can tell my self I know what I am doing and it will be fine. You see, I was poking around in caves with out proper training. I am sure I made a few cave divers who truly understood the risk angry at my bravado. Well let me offer this public apologies. Especially to Walter. I am sorry, I did offend. I am wrong. I can now say I truly don't know it all, and I will get the training. Proper training is not expensive. Average is 500 dollar for cavern and intro combined. What made me have this change of heart? It was my last dive in the devils eye and ear system. Any divers out there who think like I used to, which is " It won't happen to me " please read this. It did happen to me. I am not lecturing here. just sharing. Well I started the dive entering the eye and was supprised to find no line. I poked around the in the cavern zone and hung out buy the danger sign looking around the cave. I got my bearings and went in further. Followed the eye slowly till I came to the danger sign at the ear. I thought COOL, I know where I am at. Checked my air and was time for me to call it with a good reserve. When I turned, and please pay attention, I made this mistake, I went into the catacombs instead of back into the exit tunnel that lead to the eye. Took me some time to find my way back out of them. I was lucky I had the air. I burned up 1000 psi getting back to the sign at the ear. It was there that I made the exit. I was so close to the exit I could the whole time but was so far a the same time. So when a trained cave diver tells you you should not do that. Give them a listen. He or she is not being difficult and trying to keep you out of the secret cave diving club. But rather they are offering advice that falls on deaf ears like mine were. I mad it out of this cave because I got lucky. Next time I make it out of a cave it will be because I got some proper training.
8/14/2011
Jeff Hawes
Typical & Excellent
Several dives over the weekend, no extreme penetration as I was working on SM skills. Really enjoyed the Bypasses, the Wormhole, and a little jaunt through the Manhole on a trip to July Spring. Did not see too many divers. Diving wet due to the heat, but really comfy in the water
7/17/2011
Jason Greenwood
100
Clear as usual. Flow was up from a month ago, still not "epic Ginnie flow".
6/25/2011
Justin Berke
8 (Cavern)
Clear as can be in the cavern. The river as blue as the spring water; not tannic at all.
5/18/2011
Don Six
80 foot until it wasn't
4 dives with scooters. Vis was excellent with just a bit of particulat. We were all over this place; Hill 400, maple leaf circuit, white room, whale bone (i silted it out here), hinkle restriction
5/5/2011
Dan Sledge
100 feet
Excellent conditions. We did a night (8:00 pm) dive so there were no other divers. We also got to see a fresh water eel.
3/12/2011
Walter Pickel
60-80
Hazy thoughout the system. Thought someone had eaten it on Hill 400. We scootered out to the Hinkle, can back via the Double Domes/Hillier Tunnel, did the Double Lines circuit then back down Hill 400 and up the mainline. Made the jump over to the Bone Room and jumped over to the White Room for a while. Finished the Bone Room circuit, went back down the mainline to the Roller Coaster and back down Hill 400. Needed some time on the breather.
3/7/2011
buhlz
200'
...... Beautiful dive but very short..mamy divers in there today. I hung out mainly because my primary would hold a charge. Also, configuring sidemount arrangement once again.. Great weekend to say the least!
12/26/2010
Don Six
80' -100'
We had a nice dive here today. Due to the cold weather and occassional snowflakes, not many divers were there. We did a photo shoot in the gallery before heading up the Hill 400 to the Bats. We turned at around 1400'. The flow was not a bad as I have seen it, but it was still very noticeable. The vis varied alot depending on the section of cave we were in, but for the most part it was 80' or so.
12/17/2010
Walter Pickel
80
Had a couple of really good dives today..mostly near range (Lips Bypass, Junction Room Bypass, White Room, Catacombs). Some time cool dives are within 500' of the entrance.

Flow was positive to good and visibility was not as cloudy as I have seen it lately.
12/6/2010
Atedeschi
Over 60'
]After a long few months (since may), I finally got back to go cave diving at Ginnie. Since no one wanted to dive peacock For dive 1 we decided to make it easy and just do  a single stage and if we had enough time check out I passage we had not been into yet. We entered through the ear, flow defiantly felt down. I could hover in the entrance with barely having to kick.  We dropped our O2 at the sign and swam up to the hill 400 jump.  Here we placed a spool for are return and then got back on the goldline where we left our stages a little past the jump.  Continuing up the GL we reached the roller coaster and placed our line next to but out of the way of some other diver's line we had not seen yet today.  Heading up the roller coaster line I noticed a line off to the left, is this the sm tunnel on berman's map and does it connect back to mainline? Vis at this point seemed great no haze or anything in the water. Reaching the shortcut, we followed it to the bats.  At this point we still were under are turn pressure, so we rode the flow to what i am calling the bat circuit.  I placed a spool over the 1ft gap and we followed this line back to the bats. Very cool part of the cave and gets alil low but not bad.  After making it back to the bats we rode the flow out picking up the spool at the start of the bats circuit, we continued back just checking things out on our way back to the goldline.  I split from my buddy at the double lines and took that to the July springs line while he continued down the hill, where we eventually met up before the goldline. At this point we pulled are spool, went back up GL, grabbed stages and headed out. BT: 1hr 7min Avg Depth: 82' Deco: 7min Speed out: 71 fpm SI 2 hr 12 min After eating some lunch and refilling our tanks, we decided on a plane of attack.  This time we went in with no stages, in through the ear again, dropped O2 and continued up the GL.  We went up to the rollercoaster to pull my spool from the first dive, then we went with the flow to the mud tunnels jump.  Making a hard left we jumped into the smaller of the two mud tunnels, reaching the eol we jumped to the big room. At this point we rode the flow down to the wonder tunnel jump.  The vis in the big room- bone room was wall to wall with a 10 watt light.  Jumping to the wonder tunnel line we made are way to the Eol and a tiny lizard greeted us (don't remember seeing him last year but gave a good laugh).  The vis was good in the wonder tunnel but there was brown globs all over the floor which I thought was unusual. The dive was turned and we headed out exiting by the park bench.  Back on the mainline I took a small detour and exited through the keyhole bypass, meeting my buddy before the lips.  The rest of the dive was relaxing and uneventful. BT: 56 min Avg Depth: 79 ft Deco: 3 min
11/22/2010
James Garrett
100ft
viz slightly hazey if you're shooting with video lights, otherwise it's wall to wall all over.
11/7/2010
Walter Pickel
100'
It is always nice being the first team in the water. We did a nice long tour before the NACD Rebreather Summit. Wet up Hill 400 and took the Hillier to Double Domes. Came back out through the Bone Room. Viz in the Bone Room was actually wall-to-wall. I hadn't seen it like that in a long time. Flow is pretty standard (historically low but average of late).
10/11/2010
Jason
60
Visibility was excellent. Flow was incredible. Had a very hard time descending in to the Ear. At 50' down I was blown back out. Flow at the Eye was still manageable.
9/11/2010
Walter Pickel
80'
Interesting day at Ginnie. We got there around 12.30 and Turkey Roost was empty...Did a scooter dive up the mainline to the Hinkel (other did Double Domes, Hill 400). Viz was a little hazy but still good and the flow was normal (of late).
8/15/2010
Walter Pickel
80'
Did a nice early swim to Double Domes before the CDS board meeting. Flow is positive and normal. Viz was as expected but a little hazier than normal up Hill 400.
7/28/2010
Tony Flaris
100
Dove Ginnie Main Line to Bone Line. *Short visit to the White Room. Continued on to Maple Leaf at Main Line and drifted out to the Hill 400 line. *Jumped onto Hill 400 and traveled in a ways. Turned and exited on the Gold Line. 3 man CCR team - Roberto, Pierre and myself. Some tannic tint on the Bone Line after the White Room. *30-40' Vis...Moderate Crowds.
4/18/2010
Buhlz
awesome
Did two wonderful dives w/ Kev, Jean, and Fred. First dive was awesome but I had probs w/ my deco bottle. Fred tapped me on the shoulder as I was getting myself in order entering the hall handing me my bottle. O joy. We pushed to 400 hill and turned. Second dive was better and played around the catacombs and tried to access a little v shaped hole on the way back to 400 hill. awesome dives and cant wait to go back. Thanks guys..!!
3/21/2010
Walter Pickel
50-60
The tarp is no longer installed. Flow was nice and positive but viz was around 50 in the front part of the cave. We dove later in the day so that might have degraded the visibility. Scootered out to the Hinkle, coming back we parked the scooters and swam out to the Mainland jump at the end of Sweet Surprise.
1/31/2010
Flyczek
80
The tarp is up, along with the semi-permanent Eye to Ear reel. No noticeable river intrusion, water slightly milky, flow slightly down.
12/22/2009
Bil Lindstrom
100
Typical flow and great viz all the way to the Henkel. Line looks in good shape all the way.
12/13/2009
Elisha Gibson
100 ish
Flow has steadily increased the past few weeks and viz even better than usual.
10/18/2009
Scott Pulliam
100'
Ginnie is very clear right now and we had a great dives. Hill 400 has new line and looks great. Still not many dive teams today.
7/19/2009
Walter Pickel
30-80
Ended up doing a scooter dive on Sunday. There were a few swim teams but not many people in the cave. The water level is the run is noticeably up - about 8".

We scootered up the mainline to the Hinkle (viz 60'). Checked out a it on Mainland (viz 80'). Then back down the mainline and out the Bone Room (viz 30'). Went up Hill 400 (viz 40') to the Bats (viz 60') then headed out. Spent about 75 minutes on the trigger.
6/27/2009
Walter Pickel
100-40
Did a nice dive through the Mud Tunnels, Bone Tunnel, Lips Bypass and Key Hole Bypass. Flow seems low but was noticeably positive. . Visibility in the gallery was 100 but decreased in the mud tunnels to 40 (or less) in the Bone Tunnel..
5/2/2009
Nathan S
100-50
Flow is very much up...vis is good, got milky around the Bone Room & at about 1100ft on the Gold Line, Hill 400 line to 1800 was clear. The Ear was tanic / brown color but cleared once inside, the Eye was clear.
4/13/2009
Bob Cree
60 (Emerald)
Wow - what a cool way to dive Ginnie. Hovered easily in the lips. Vis was a bit hazy, but now nothing clears out very fast, so any stirring of the pot sticks around. Water was an emerald green and we just scootered, swam and had a ball. Only non-mix thing in town. LOT'S of divers in and out, 9 in the eye cavern at one time trying not to kick each other silly. Never seen so much traffic. Laughed myself silly...
4/11/2009
DogDiver
80
The river is up but Ginnie is still very diveable. Main passageway seems "smokey" and a little green but the flow is way down. No tarp up over the end of Little Devil run yet. The ear is very tannic and the permant line is now extended to the eye.
3/23/2009
Lori
100 plus
Dived the main line. Flow was significant. Met a few other teams exiting, otherwise no "traffic" issues.
3/6/2009
Raphael Tremblay
80
Clear water. Only two other teams diving on Friday night. Flow appears to be normal. River is low.
1/31/2009
Walter Pickel
60 (Hazy)
We dove late and had a nice leisurely dive up Hill 400. Viz was returning to normal from what seems like a busy day.
1/17/2009
Ryan Battles
60-70
Flow was good, vis was good. Same as usual.
12/29/2008
scububa
100
My first trip here. Was briefed well by my buddies about getting thru the Lips and having some gas left. We went in the Eye. The flow was very strong in my unlearned opinion. But, we got thru okay and did about 1400' (Sand Dunes area, I think) on the mainline. What a fabulous system. 2nd dive jumped to the left to Hill 400. Did the water actually get clearer?
12/6/2008
Billy Fowler
60 - 100
Great dive vis was about 60 ft until about 2k then it opened up and after 3k vis was 100ft , flow seemed to be down
10/26/2008
Walter Pickel
60'
Did a few dives in the Bone Room...hazy at best.
9/22/2008
Ryan Battles
60
Ear was tannic but diveable. Once you got below the log the vis opens up and is good from there on. Temp line still in the eye. Gallery and mainline up to Roller Coaster has great vis. The Hill is a bit smoky but clear. Manattees have been hanging out in the spring run, we saw one on Saturday.
9/13/2008
Jim
60 feet
Flow is up a little bit. Still great cave diving!!!
9/9/2008
Rick Palm
60 feet
Compared to last week, conditions have improved in the Devils Eye system measurably, with flow back up (but not back to normal flow) in the main tunnel, and visibility increasing to about 60 feet, with the greenish tinge abating moderately. I swam the Bone Tunnel circuit, which had less visibility, but still reasonable (and fun). Water is down in the Santa Fe, with half the ball showing over the surface over Devils Ear, and six steps above water on the stairs at the Eye.
9/7/2008
Raphael Tremblay
40-50
Brown water. Did not see any improvement further inside the cave (1800'). Hill 400 and main line had same vis. Permanent line from the Eye to the gold line. Water depth about 23-24' at the bottom of the Eye. Water level about 7' at little devil.
8/30/2008
Jim Wyatt
50 feet
Same as yesterday, water has receded slightly. Vis was less today than the past two days.
8/29/2008
Jim Wyatt
50-60
Same as yesterday except less vis. Water is higher but the cave is easily diveable.
8/28/2008
Jim Wyatt
100
Low to no flow. Good vis. Water is up. 1 step dry at Turkey Roost landing/steps. Mid calf water depth at Little Devil's landing/steps.
8/27/2008
Rick Palm
Good
The Santa Fe is rising, and a torrent. There's only one or two steps above water at the Eye. GSO has blocked access to the Ear, and that's a good thing. The Eye is fine, but seemed like the Long Island Expressway at rush hour yesterday. In the cave, flow is way down to the point where I could swim leisurely through the Lips. I swam the Catacombs, which were as clear as always. The Gallery is a bit smoky, and so is Hill 400. I tied a jump reel in to tour the Lips Bypass and Keyhole Bypass, but chickened out as both passages seemed awfully low and narrow (I've never been in either, and I was by myself). It was spooky at the sign, seeing zero light from the Ear. At the end of the day, the water had risen considerably from the morning. The Turkey's Roost is probably flooded by now.
7/7/2008
Barbara Dwyer
excellent--80-90 est
I've done a number of dives at Devil's over the past week and a half. The flow's nice and brisk, not quite "normal" as I remember it many years ago. After july 4th it was deserted. All's well in the water, but someone burned down a 2500 year-old cypress tree in the campground. Positively criminal.
6/17/2008
Admin
Unknown
Diver expired due to complications in this system.
4/26/2008
Walter Pickel
50-60
Lots of teams today!!! We did a dive out to the Scrapper and another to the Ice Room. Viz in the main parts of the system were hazy. However, viz up above the Hill 400 line were clear. The temporary line from the Eye to the Ear is still installed.
4/20/2008
Dave
80 Excellent
Went back to the Mud flats today, entered through the eye. Vis was great, Flow is much harder than last time I was there which was last year some time. Lots of dive teams coming in and out.
3/17/2008
DogDiver
80
Slight green tint to the water in the main passage but otherwise normal Ginnie. The Ear is in tannic riverwater until you get below the log, then it clears right out.
3/12/2008
John Naschek
10
The Ear is now Tannic with viz under 10 feet. Due to a combination of things, the viz on the gold braid is very poor (maybe 10 to 15) back to 2600 ft then clears right up. Sweet suprise is starting to get dark. Double lines and Sherwood split look normal to me.
3/10/2008
Admin
Unknown
Mark Fyvie expired in the system
3/8/2008
Rick Hartman
5-10
Swam up Hill 400 to the Hillier Tunnel to the double domes line and back out to the mainline. Past the bats, the viz got progressively worse and by the time we got back out on the main line it was under 10 feet.

Vis didn't clear back up until the downstream jump to the roller coaster line. I'd never seen it anywhere close to that bad in there.

3/2/2008
Walter Pickel
30-50
Viz was a bit cloudy -- especially in Double Domes on Sunday (thanks Brett). Over the weekend we hit much of the system between the Hinkle and the entrance. It was a nice alternative to driving around all weekend.
12/30/2007
Walter Pickel
80
Did a great dive up Hill 400 and in the bypass tunnels. Flow is still nicely positive (seems like it might even be up). There were a lot of divers so viz was not pristine...
11/18/2007
Walter Pickel
50
Scootered up the main line to the Berman Room. Viz was cloudy and hazy until about 2,500' back.
11/9/2007
Robert Pawlak
50
Flow still down although slightly higher than in October. Visibility a bit cloudy and getting progressively worse from Friday to Sunday.
11/8/2007
Admin
Unknown
Jeff Thompson expired in the system.
10/6/2007
Robert Pawlak
80
Flow moderate (low for Ginnie); perfect time to enjoy the cave without scooters. Viz a little bit cloudy.
8/11/2007
Walter Pickel
60
We scootered out to the Hinkle ad dropped scooters. Swam passed the Scrapper. You could definitely tell we were diving late in the day. Viz was cloudy. Flow is light.
6/21/2007
Mike Huff
100
Same old conditions here, despite the lack of rain. Did a nice dive to the end of the Wonder Tunnel.
4/27/2007
John Young
70 Plus
Swam out Bone Room to Main Line and the some up Main Line. Flow seemed to be up a bit. Was really noticable in Bone Room. Vis was very good.
3/31/2007
Walter Pickel
100
Did some nice calm dives (White Room, Bats). Flow seemed up bit. Line is positioned perfectly!
3/20/2007
Bert Wilcher
100'
Ginnie is Ginnie, flow managable in gallery through the lips. Seems to be down a bit in the bone room tunnel. Gold line has now been moved back down the wall in the gallery to about 3' off the floor.
2/3/2007
Mike Huff
100
The usual in the devil's system. With the cooler air, the site wasn't especially busy either.
1/13/2007
Walter Pickel
100
We did a couple dives here today...We swam the mainline out to about 1,500' and then did Hill 400 towards the Bats. Flow is up from my last vist but the viz was actually more clear than I have seen it in a while. Water is blue without the normal haze. It was a mob today but I would say it is a great time to dive it.
11/29/2006
Barbara Dwyer
100
Dives up the main line to the coat hanger/weights (not there anymore)? past Maple Leaf. Dive 2 to the Bone Room...very nice. Flow is not bad for Ginnie.
10/14/2006
Walter Pickel
100
First team in the water...Viz was great! We did the Grand Tour and did a jump to the White Room. What a great little room. Far less traffic around the water there now as the temperatures are getting cooler.
8/14/2006
Bert Wilcher
100
Class dives to the bone room tunnel, manageable flow with very few divers.
7/18/2006
Walter Pickel
100
Did a dive via the Ear and one via the Eye. Flow is typical. Catacombs look like they haven't been dove much recently.
7/5/2006
John LaManna
100
My first dive beyond the Hinkle restriction was a really cool dive. We entered and exited thru the ear, dropped our deco bottles on the ledge close to the ear, and scootered main line/rollercoaster/mainline to the Hinkle where we dropped our scooter's and stages. It was really rocky and close right before the restriction, and it was tricky scootering thru there. It took 32 minutes to reach that point due to my scooter is not the most powerful one out there. After swimming thru the Hinkle, I stopped a moment at the monument for the Rouse's, and then we went upstream into a very strong flow. We slowly pulled and glided along thru some very pretty passage. There was another memorial on the wall in the Berman room. I could not read it, and thought I was a little narced, but found out later it was in German. After go thru the scraper restriction we reached the end of the gold line in 52 minutes. We were going to take the siphon tunnel back, but I decided to return the way we came in so I can get a little more familiar with landmarks and what not along the way. We passed two "T"'s on the way in and out that I will check out on later dives. We got back to our scooters and grabbed our stages, and enjoyed the benefit of the flow from behind. We did a deep stop at 50' for a few minutes, and started a long deco. Total time 2 hrs, 16 minutes.
5/21/2006
Walter Pickel
100
Did some great scooter dives back to 3,000'. there was one dive were a RB/SS diver was able to silt out the entire cave around the Maple Leaf...Amazing...Flow was nothing on the scooter. Dove the Lips bypass using sidemount as well, the flow seemed about normal for Ginnie.
4/22/2006
Mike Huff
100
Typical flow. Viz was stellar in both the bone room, and up hill 400.
4/8/2006
Scott MacLean
100
Normal Ginnie conditions. Dove to the wonder tunnel and still had good vis. Hill 400 line is in good shape also. Flow is back up to normal.
3/14/2006
TJ
100
Great dive to park bench then a jump to the bone room. Vis was excellent, flow was "normal" for the Devils System. The Ear is back in clear water once again and the tarp is gone. The temporary line in the Eye has been removed.
2/9/2006
Jim Wyatt
100 feet
The rivers are rising. The Ear is covered by river water but I saw several teams of divers going in and out the Ear today. There were 3 temporary lines in the Eye today. They were well placed and did not cause a problem like we have all seen in the past. The flow is down a bit, as to be expected when the river rises.
2/1/2006
Jim Wyatt
100
River is dropping. The Ear is clear. The tarp is still up & the temporary permanent line is still in the eye.
1/15/2006
Jim Wyatt
100
Tarp is up still. Excellent vis.
1/7/2006
Walter Pickel
80
The tarp is up. Entrance through the Ear is difficult to locate. Overall visibility was good but cloudy.

First dive we did the Grand Tour; viz was reduced around the Roller Coaster. Second Dive we did the Bone Room tunnel and viz was cloudy there as well.
12/31/2005
Bert Wilcher
100ffw
Made two long dives in the Devils Eye/Ear system. Water clarity was much better than the last visit we had with over 100ffw of clear visibility. Flow was down and manageable. We made two long swim dives as set up for an upcoming cave 1 class, very few divers on Saturday AM.
12/23/2005
SLIM
100
River was cold and dark. Went in the Ear and came out the Eye. A chain and tarp were up to keep river out of spring run
12/1/2005
Martin P.
150'
we entered through the ear and made our way down the bone tunnel a little ways.
11/11/2005
Walter Pickel
150'
We entered through the eye and headed up Hill 400. We made the jump over to Parallel Lines and went down to July Spring. Made that jump and wet up July for a while. The siphon seemed a little stronger than normal but I haven't been in July Spring for a while so maybe it isn't. As usual, the overall conditions were good in Devil's.
10/14/2005
Walter Pickel
100 '
Medium flow...viz is great (as always). Hill 400 passed The Bats is in great shape!
8/26/2005
Rich
150'
Devil's is "crackling" past 2000', best I've seen in a couple of years.....as far as your light shines sums up the vis....:) The run has dropped about a foot in depth since Monday, the Ear is clear and flow is UP.
8/22/2005
Jim Wyatt
100'
Excellent vis & high flow - Typical conditions inside. A little river intrusion at the ear but not much. Lots of tubers & drunks on the surface.
8/20/2005
Rich
100'
Devil's is the usual great vis :) Little bit of river intrusion in Mainland but not much. Tannic water is still intruding over the Ear but washes in and out with the flow. Lots of tubers on the weekend still....be careful with your gear!
8/26/2004
Admin
Unknown
Diver expired in the system. IUCRR Report
Click here if you would like to contribute any information or resources for this system.
Sslect Search Radius:
| System | Depth | Cave | Cavern | OW | Last Report | Distance (mi) |
| --- | --- | --- | --- | --- | --- | --- |
| Jug Spring | 80 | True | True | False | 1/12/2023 | 10.7 |
| Sunbeam Spring | 80 | True | False | False | 10/15/2022 | 7.8 |
| Syphon Creek - Myrtle's Fissure | 95 | True | False | False | 2/29/2020 | 2.7 |
| Treehouse Spring | 65 | True | False | False | 9/1/2019 | 5.8 |
| Gator Hole Spring | 115 | True | False | False | 6/7/2019 | 4 |
| Gator Hole Sink | 115 | True | False | False | 5/18/2019 | 4.1 |
| Ginnie Springs - Ginnie Spring | 60 | False | True | True | 9/25/2018 | 0.2 |
| Jess's Hole | | True | False | False | 7/4/2017 | 3.8 |
| Wilson Spring | | True | False | False | 7/18/2015 | 5.8 |
| Ginnie Springs - Dogwood Spring | 43 | True | False | False | 9/7/2014 | 0.5 |
| Ginnie Springs - Little Devil's | | True | False | False | 7/1/2011 | 0 |
| Syphon Creek - Resurgence | | True | False | False | 6/23/2011 | 2.6 |
| Vampire Sink | | True | False | False | 11/21/2010 | 5.6 |
| Whippoorwill Sink | | False | False | False | 1/31/2010 | 7.1 |
| Darby Spring | | True | False | False | 4/7/2009 | 5.6 |
| Old Bellamy - Sweetwater Lake | 150 | True | True | False | 9/15/2007 | 7.9 |
| Hornsby Spring | 190 | True | True | False | | 6.3 |
| Old Bellamy - Pfc | 150 | True | False | False | | 10.7 |
| Old Bellamy - Pfv | 150 | True | False | False | | 10.5 |
| Syphon Creek - Swallow Hole | 188 | True | False | False | | 2.3 |
| Old Bellamy - Big Blue Sink | 160 | True | False | False | | 8.6 |
| Old Bellamy - Two Hole Sink | 160 | True | False | False | | 8.5 |
| Syphon Creek - Lil' Awesome | 80 | True | False | False | | 2.1 |
| Old Bellamy - Alligator Sink | 160 | True | False | False | | 8.4 |
| Old Bellamy - Mae Callie Pond | 160 | True | False | False | | 8.8 |
| Old Bellamy - Bee Tree Sink | 160 | True | False | False | | 8.6 |
| Syphon Creek - Big Awesome | 110 | True | False | False | | 1.9 |
| Sawdust Spring | | True | False | False | | 0.5 |
| Syphon Creek - Track One | | True | False | False | | 2.5 |
| Sante Fe River Rise | 150 | True | True | False | | 6.8 |