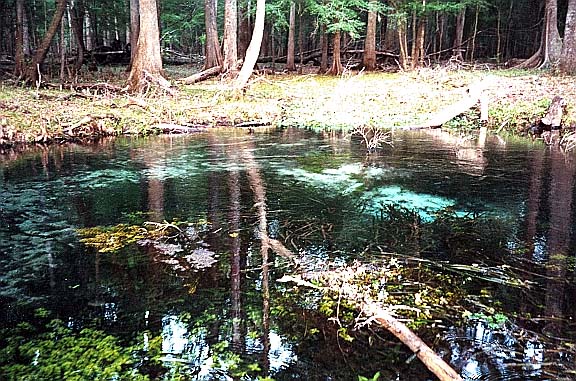 The spring is in a low area about 100 feet from the Santa Fe River. The spring and its run are 40-50 feet wide, a few feet deep, and the run is partially blocked by logs and aquatic vegetation. The spring pool is circular, and a strong boil is present above an opening in the limestone. Water in the spring is clear and blue or green depending on lighting and other conditions. The inteconnected cavern systems associated with other springs at Ginnie Springs have been mapped for 33,000 feet. Water in the spring is around 72 degrees. Studies show that the springs are fed by two watersheds that encompass 300 square miles (Rauch, 2003).
| Date | Submitter | Visbility | Remarks |
| --- | --- | --- | --- |
Click here if you would like to contribute any information or resources for this system.
| Description | Type | Date | Author | Remarks |
| --- | --- | --- | --- | --- |
Sslect Search Radius:
| System | Depth | Cave | Cavern | OW | Last Report | Distance (mi) |
| --- | --- | --- | --- | --- | --- | --- |
| Jug Spring | 80 | True | True | False | 1/12/2023 | 10.2 |
| Sunbeam Spring | 80 | True | False | False | 10/15/2022 | 7.3 |
| Ginnie Springs - Devil's Ear / Eye | 173 | True | True | True | 9/28/2021 | 0.5 |
| Syphon Creek - Myrtle's Fissure | 95 | True | False | False | 2/29/2020 | 2.2 |
| Treehouse Spring | 65 | True | False | False | 9/1/2019 | 6.1 |
| Gator Hole Spring | 115 | True | False | False | 6/7/2019 | 4.3 |
| Gator Hole Sink | 115 | True | False | False | 5/18/2019 | 4.5 |
| Ginnie Springs - Ginnie Spring | 60 | False | True | True | 9/25/2018 | 0.3 |
| Jess's Hole | | True | False | False | 7/4/2017 | 3.9 |
| Wilson Spring | | True | False | False | 7/18/2015 | 5.3 |
| Ginnie Springs - Dogwood Spring | 43 | True | False | False | 9/7/2014 | 0.1 |
| Ginnie Springs - Little Devil's | | True | False | False | 7/1/2011 | 0.5 |
| Syphon Creek - Resurgence | | True | False | False | 6/23/2011 | 2.1 |
| Vampire Sink | | True | False | False | 11/21/2010 | 6.1 |
| Whippoorwill Sink | | False | False | False | 1/31/2010 | 7.5 |
| Darby Spring | | True | False | False | 4/7/2009 | 5.9 |
| Old Bellamy - Sweetwater Lake | 150 | True | True | False | 9/15/2007 | 8.1 |
| Sante Fe River Rise | 150 | True | True | False | | 7.1 |
| Hornsby Spring | 190 | True | True | False | | 6.6 |
| Old Bellamy - Two Hole Sink | 160 | True | False | False | | 8.7 |
| Old Bellamy - Alligator Sink | 160 | True | False | False | | 8.6 |
| Old Bellamy - Mae Callie Pond | 160 | True | False | False | | 9 |
| Old Bellamy - Big Blue Sink | 160 | True | False | False | | 8.8 |
| Syphon Creek - Track One | | True | False | False | | 2 |
| Syphon Creek - Lil' Awesome | 80 | True | False | False | | 1.6 |
| Syphon Creek - Big Awesome | 110 | True | False | False | | 1.4 |
| Syphon Creek - Swallow Hole | 188 | True | False | False | | 1.7 |
| Old Bellamy - Pfv | 150 | True | False | False | | 10.7 |
| Old Bellamy - Pfc | 150 | True | False | False | | 10.9 |
| Old Bellamy - Bee Tree Sink | 160 | True | False | False | | 8.9 |