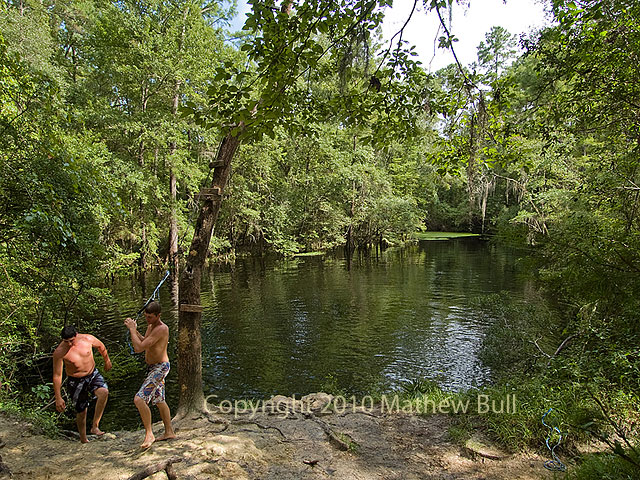 Portions of the following information were taken from Florida Geological Survey Bulletin 31.
River Sink Spring is about 12 mi SSW. of Tallahassee. From the intersection of State Hwys 61 and 369, south of Tallahassee, take State Hwy 369 SW. for 5.6 mi to a sand road that heads south as the highway bends more southwest. Go 0.4 mi S.; 0.8 mi E., along a tree-lined lane; and 0.2 mi N. to River Sink Spring.
Description
- The spring is in a relatively flat sandy woodland, predominantly pine. The spring pool is about 65 ft wide and 160 ft long. It is about 30 ft deep near the vent at the north end of the pool and 31 ft deep near the south edge of the pool. The bottom of the pool slopes up- ward to 5.5 ft where the pool narrows to 57 ft, then deepens southward to a sinkhole about 65 ft wide and 120 ft long. Debris collects at the sinkhole end of the pool as at Kini Spring nearby.
Utilization
- Swimming.
| Date | Submitter | Visbility | Remarks |
| --- | --- | --- | --- |
| 2/9/2012 | Mathew Bull | Probably good | FWIW, Wakulla County Dive Club has closer access into the National Forest lands containing the sinks than the public access which is over a mile away. The sinks that were regularly dived now have "No Scuba Diving" signs up. The WCDC does not have any permit or otherwise to legally dive the posted Leon Sinks, nor does it advertise otherwise. |
| 2/7/2012 | brian | 10000 | so did you walk right past the no diving sign, Ken? diving is not permitted at cream, for anyone reading this. |
| 12/4/2011 | DogHouseDiver / Ken Fleming | Clear, 60 ft | Nice dive with Sheila to Cream to just shy of Clear Cut today. Conditions EXCELLENT. Used Landowner Negotiated access through Wakulla County Dive Club, to the short walk to steps built by Wakulla County Dive Club at Cream Sink, and followed the NEW Gold Line installed by members of the Wakulla County Dive Club. Open Plea, contact Wakulla County Dive Club dot com to participate in an upcoming meeting to review the policy for opening Wakulla Spring to Diving. Equal Access! :) NOW is a GREAT TIME to dive the Leon Sinks system. |
| 3/19/2011 | sinkholeswimmer | Clear | I used to swim here a lot 2 summers ago, but since then the locals have put up A LOT of "No Trespassing private property" signs so getting here is a little creepy, to say the least. The directions on the page are not correct either. What you wanna do is if you're heading from Tallahassee, head south on Crawfordville Highway (US 319). You'll see a water tower eventually that says "WAKULLA COUNTY", when you see this you'll be near Lonnie Raker Lane, veer south on that street. The first left turn you hit, make that left (Thornwood) go straight and the road will kind of fork (at this point it'll be dirt road), stay to the left and follow the road to the end and there is parking space on the side of the dirt road. Only go down here if you want to deal with the locals and be careful about getting your car towed. Just driving down here recently and seeing all of the no trespassing signs gave me the heeby jeebies so I turned around and didn't even get to see the sink. This is really the best sink in the area, super beautiful and clean and CLEAR. The water is always at 72 and its really beautiful. |
| 10/10/2009 | Mathew Bull | Clear from the surface | Looked clear and blue from the surface, made me wish we had land access to dive this hole in the ground. |
Click here if you would like to contribute any information or resources for this system.
| Description | Type | Date | Author | Remarks |
| --- | --- | --- | --- | --- |
Sslect Search Radius:
| System | Depth | Cave | Cavern | OW | Last Report | Distance (mi) |
| --- | --- | --- | --- | --- | --- | --- |
| Cherokee Sink | 80 | True | True | True | 6/18/2023 | 5.1 |
| Harvey's Cave | 280 | True | False | False | 10/13/2021 | 9.9 |
| Leon Sinks - Emerald Sink | 180 | True | True | False | 8/9/2021 | 1.3 |
| Mcbride's Slough | 90 | True | False | False | 6/22/2017 | 5.2 |
| Indian Springs | 110 | True | False | False | 10/20/2016 | 2.3 |
| Church Sink | 67 | True | False | False | 8/17/2015 | 8.3 |
| Leon Sinks - Promise Sink | | True | False | False | 6/15/2012 | 0.5 |
| Leon Sinks - Whiskey Mill Sink | 220 | True | False | False | 6/11/2011 | 0.4 |
| Leon Sinks - Go Between Sink | | True | False | False | 1/19/2011 | 0.5 |
| Leon Sinks - Big Dismal Sink | 250 | True | False | False | 1/18/2010 | 2.6 |
| Leon Sinks - Gopher Hole | | True | False | False | 1/18/2010 | 2.1 |
| Leon Sinks - Little Dismal | 250 | True | False | False | 1/18/2010 | 2.5 |
| Leon Sinks - Innisfree Sink | | True | False | False | 12/5/2009 | 0.4 |
| Leon Sinks - Cheryl Sink | 110 | True | True | False | | 1.4 |
| Sally Ward Spring | 350 | True | False | False | | 3.3 |
| Chip's Hole | 120 | True | False | False | | 1.3 |
| Leon Sinks - Wakulla Springs | 320 | True | True | False | | 3.9 |
| Leon Sinks - Turner Sink | | True | False | False | | 1 |
| Meeting House Sink | | True | False | False | | 1.5 |
| Charcoal Sink | | True | False | False | | 9.9 |
| Ames Sink | | True | False | False | | 3.9 |
| Kelly Sink | | True | False | False | | 3.9 |
| Leon Sinks - Split Sink | 45 | True | False | False | | 1.4 |
| Leon Sinks - Sullivan Sink | 225 | True | False | False | | 2.3 |