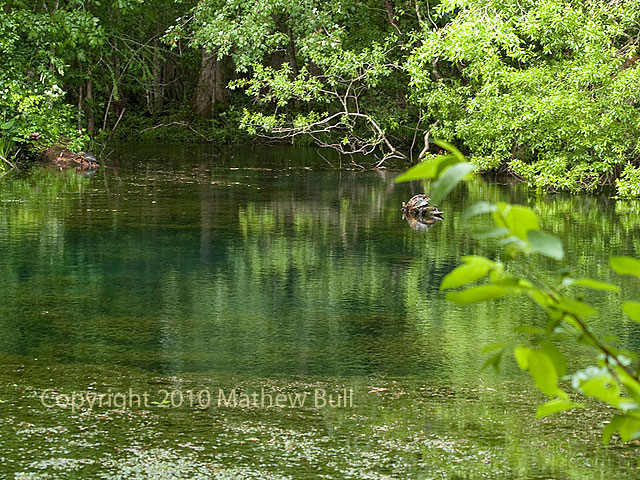 Portions of the following information were taken from Florida Geological Survey Bulletin 66.
Sally Ward Spring is an undeveloped spring along the east side of the entrance road into Wakulla Springs State Park. It can be accessed by a short trail from the east side of Wakulla Spring Drive, less than 0.2 miles from the Park's Bloxham Cutoff Road entrance.
Description
– Sally Ward Spring discharges into the center of a pool 120 ft in diameter and surrounded by dense swamp forest. Access to the spring pool is limited therefore no depth or vent descriptions were obtained. Hydrilla and other aquatic vegetation are abundant in the pool. The spring run flows almost 0.75 miles southwest into a braided channel due north of Wakulla Spring. Sally Ward Spring is within Wakulla Springs State Park and the entrance road runs along the northwest side of the pool. Indian Spring Run flows under a bridge and into the spring pool from the northwest. Swimming is prohibited but there are short trails leading from a grassy area on the roadside down to the spring. The spring's extensive cave system has been mapped and the conduit system reaches depths of over 250 ft.
| Date | Submitter | Visbility | Remarks |
| --- | --- | --- | --- |
Click here if you would like to contribute any information or resources for this system.
Sslect Search Radius:
| System | Depth | Cave | Cavern | OW | Last Report | Distance (mi) |
| --- | --- | --- | --- | --- | --- | --- |
| Cherokee Sink | 80 | True | True | True | 6/18/2023 | 2 |
| Harvey's Cave | 280 | True | False | False | 10/13/2021 | 7.6 |
| Leon Sinks - Emerald Sink | 180 | True | True | False | 8/9/2021 | 4.5 |
| Mcbride's Slough | 90 | True | False | False | 6/22/2017 | 2.5 |
| Indian Springs | 110 | True | False | False | 10/20/2016 | 1 |
| Leon Sinks - Promise Sink | | True | False | False | 6/15/2012 | 3.6 |
| Leon Sinks - Upper River Sink | | True | False | False | 2/9/2012 | 3.3 |
| Leon Sinks - Whiskey Mill Sink | 220 | True | False | False | 6/11/2011 | 2.9 |
| Leon Sinks - Go Between Sink | | True | False | False | 1/19/2011 | 3.6 |
| Hatchet Sink | | True | True | False | 4/9/2010 | 7.9 |
| Leon Sinks - Little Dismal | 250 | True | False | False | 1/18/2010 | 5.5 |
| Leon Sinks - Big Dismal Sink | 250 | True | False | False | 1/18/2010 | 5.7 |
| Leon Sinks - Gopher Hole | | True | False | False | 1/18/2010 | 5.2 |
| Leon Sinks - Innisfree Sink | | True | False | False | 12/5/2009 | 2.8 |
| Meeting House Sink | | True | False | False | | 2.3 |
| Chip's Hole | 120 | True | False | False | | 3.9 |
| Ames Sink | | True | False | False | | 5.4 |
| Shepherd Spring | 180 | True | False | False | | 8.1 |
| Leon Sinks - Wakulla Springs | 320 | True | True | False | | 0.6 |
| Leon Sinks - Sullivan Sink | 225 | True | False | False | | 5.5 |
| Kelly Sink | | True | False | False | | 5.3 |
| Leon Sinks - Split Sink | 45 | True | False | False | | 4.6 |
| Leon Sinks - Turner Sink | | True | False | False | | 2.5 |
| Leon Sinks - Cheryl Sink | 110 | True | True | False | | 4.7 |
| Charcoal Sink | | True | False | False | | 7.7 |