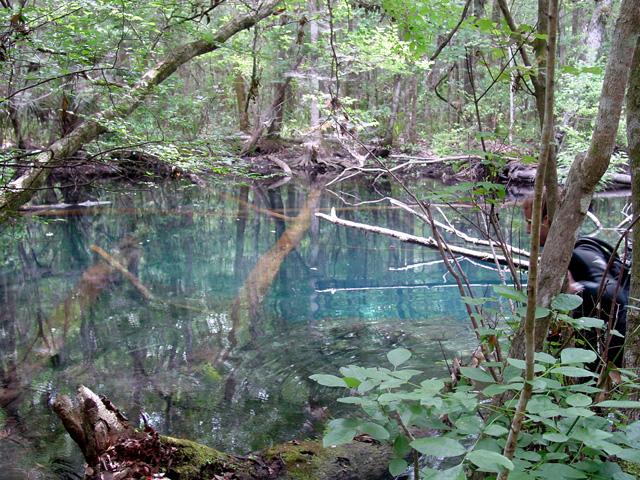 Buford Sink is probably one of the most beautiful cavern dives in Florida. Situated almost a quarter mile from the access road it is
not easily gotten to
. However, the
reward
is well worth the effort.
Buford Sink was discovered in 1973 by Will Walters, who also discovered the DiePolder Sinks. I have been told that Buford Sink was named after Buford Register, an old cracker logger that Will talked into showing him the sink. It was off-limits/hunting property for years, but with the WMA now open, it is accesible. Many say that this is the second largest cavern in Florida, after Wakulla.
Access is via Chassahowitzka Wildlife Management Area. Divers must check in at an iron ranger at the entrance and pay the $3.00 daily fee, or you can purchase a yearly Wildlife Management Area pass for $26.50 at most hunting supply stores, Wal-Mart or on-line at:
www.wildlifelicense.com
. Either the day pass stub or the Management area pass should be displayed on the dash so that law enforcement can see them while you are in the water.
The access road to Buford Sink is closed. There is a cable gate that ensures there is no vehicular traffic. Please leave the cable gate in place. The walk sucks but it is worth it.
The dive is awesome. The maximum depth is 165' at the siphoning downstream end of the main cavern/cave. The inflow comes from some outflowing areas at 140'. on the right side of the cavern, all this area seems to be a collapse zone that has eroded its way open to a small degree over a long time. There is also some slow flow from some low
bedding planes
on the left side of the cavern at 60-70'. The water that flows out of the sink goes 50 yards or so as a run, then syphons back down into a no-mount/sidemount crack that corkscrews its way down to 180 ft, where a large area of breakdown makes further passage difficult (but not impossible). It gets tannicy down there, and is flowing noticeably through a large room to the breakdown.
When entering and exitting the system, make sure to do so by the cypress tree at the end of the spring run. This will not only keep the visibility clear over the entrance but also protect the fragile entrance.
Date
Submitter
Visbility
Remarks
9/13/2023
Fred Stratton
15-20'
The tannin was diluted from the week before but free divers bottoming out at 80' stirred up lots of silt. The visibility cleared to 30' below the depth of 100'.
7/30/2023
Russ W.
Inches
Same as below. Tannic water, near zero via below a few feet.
7/16/2023
David Maruca
6 inches
Blood red water when looking at the surface from 2-3 ft, anything lower than 5ft was totally black. No visibility. Tanins making the site nearly undiveable.
6/10/2023
Russ W.
40 feet
Buford was as busy as I've ever seen it this weekend. Lots of buddy dive teams and some larger groups (8 people) as well. Many freedivers and families with kids and dogs there to swim. Vis fluctuated in the ballroom because of all the activity up top but improved at greater depths once you got away from the mouth and further in.
6/5/2023
William Ruble
100 ft
Viz was fantastic top to bottom on 6/5/23. Did two dives, 122 feet and 109 feet respectively. Only other divers present were a KISS Sidewinder class and even with a handful of freedivers present, the system stayed very clear all day long.
5/29/2023
David Maruca
100 ft
Visited 5/27 and 5/29. Above average traffic due to Memorial Day weekend, but excellent conditions. Visibility is as far as your light will reach, easily over 100'. The further down and back you go, the clearer the water becomes due to less particles falling down the mouth, disturbed by the freedivers between their drops.
4/21/2023
Steve S (via CDF)
80
80 ft. viz. in the cavern, no flow from the little spring vent area at 140, which was expected due to the extreme drought in Central Florida. This info from Will Walters , who is 80 years old and the original explorer of Buford, in 1973. He
1/23/2023
Christopher Brown
80 to 100 Feet
Spring was beautiful plenty of Vizibility.
1/21/2023
buhlz
100
Great dive with Jim Hurin. Many free-divers today-- busy busy.. First dive with Jim, ropped off stage at bottom and did a complete circuit taking video.. Practicing carrying stage and video shooting. Very clear- no one mucked up spring was a great day shooting free divers and practiing side mount- 151 ffs 58 min- 10 min O2 100% deco- Nice day
12/26/2022
David Maruca
80'
Beautiful clear water, could almost see to the bottom. Water level was very high, water inches from the bottom of the platform where the cylendar clip-off points are upon entry.
11/15/2022
Konstantinos Mouzakitis
40 ft
40 ft at the surface let's hope for some dry weather. Mosquitoes are out in force towards the late afternoon, but nothing earlier during the day.
11/14/2022
Konstantinos Mouzakitis
30 ft
30ft at the surface better at the bottom.
11/11/2022
Konstantinos Mouzakitis
20
After hurricane/tropical storm nicole came through the area bringing winds, rain and a storm surge of ~ 2 feet visibility is down. It's a littler clearer deeper into the cavern and may get worse before it gets better as things start to settle again. With current visibility light can help one see further even at noon.
10/22/2022
Konstantinos R.M.
100
As clear as I've ever seen it. Flies are minimal. A fat water moccasin chilling across the water towards Little Gator siphon.
9/6/2022
Konstantinos R.M.
6 feet
Freediver. Went to check if the water was nice and clear. I was not expecting it to be, in august. Beautiful day. The water is tea colored. With the sun out you can't even make out your feet unless your eyes adjust a little. If you look down all you see is black. If you look up you see a reddish yellow. Water level is a little higher than usual too.
3/6/2022
Jesse
100
Excellent visibility today, dove down and circled around the stone pillar at around 120'. Came back up to around 60' to do some exploring. Wasn't super crowded for a weekend although there were quite a few spectators that were just taking up space at the end of the boardwalk.
1/7/2022
David Ternes
90 ft
Spectacular vis today!! limited only to your lighting system. Great conditions, wonderful dives (2) down to around 115 feet. Water temp 71F.
7/19/2021
Josh
0
Came to recon with the wife, found a completely black sink, divers turning around. Still beautiful we will be back after the rain!
3/9/2021
Mark Janson
80'
First dive here. As with previous comments, fair number of people coming to just take a look. Hit it a little late at around 2pm. Swimmers, free divers, open water divers, and some side mounters were all present. Four wheel cart very helpful since it's about a 1/4 mile walk. Sun light would be best between 1100-1400. Viz today was about 80'. Bring bug spray because the biting gnats can be bad. Ladder is a bit short to get out of the water. Stacking u/w cinder blocks help but can be tricky. Trail is currently level and dry. Massive cavern! Some training lines but no main gold line noted.
6/13/2020
Chris
2ft
All these rains have finally caught up to the visibility. Tanic water has browned it up. After the first 45 feet it clears up. If your not cave trained I wouldn't suggest going. The entrance is hard to see at this point with little light penetrating.
1/29/2020
WEPIV
100 feet plus
Did a dive yesterday at Buford with one of my dive buddies. It was our first since the new boardwalk was built. We didn't know you have to enter now at the south entrance road. We tried the old way but found a locked gate. We filled out the required State forms at the new entrance (off US 19) using our phones, and paid the three dollar entrance fee. The walk to the new boardwalk (and spring) seems very similar to walking to Jug Hole to me, and of course the boardwalk makes it much easier! Word must be out about the boardwalk as we saw numerous tourists who just drove by to see Buford, (and not dive). That didn't happen much in the old days.... Conditions yesterday were as perfect as could be with fantastic water clarity, beautiful sunlight and even the bugs (gnats/no-see-ums) were just about non-existent. A great afternoon dive and classic Florida adventure. We did see some fellow named Bob apparently felt like he needed to scratch his name into a large boulder right down from the vent entrance. My dive buddy spent a few minutes using his arms and wetsuit to erase it.
1/1/2020
Mike Macdonald
75-100ft
Fantastic visibility. The new boardwalk and stairs are awesome but make sure you bring a cart / two-wheeler. Lots of gnats/bugs in afternoon but
11/27/2019
Alex
100
Great viz, tinged emerald green at surface but otherwise gin clear.
10/9/2019
Brandon
100
Beautiful dive!! Nice walk down the road with little bugs. The boardwalk and deck are perfect. The water had some particulate floating but you could see the trees from 135ft.
7/28/2019
Chris
0'
Beautiful boardwalk and makes the trip so much easier, and selfishly, I hope people never find it. Swamp is full, surface of spring completely dark. No signs of gators or snakes.
6/23/2019
Walter Pickel
0
Went out on Sunday and the basin is black. Like Don said, the boardwalk is nice (sucks they put it in IMO). Saw one gator and no snakes. The swamp is very full right now so the boardwalk helped with that.
6/15/2019
Don Six
0 at surface
The basin was tannic and the vis was about 0-6" down until 40' where it opened up at bit to 10', maybe 15' in some of the deeper areas. This was my first trip there and thus I have no history of how it can be. The water was high due to the recent rains. The boardwalk was extremely nice and made the trek something that even my old arse could do now.
12/18/2018
Cody Doran
8 ft viz at the surface
8 ft surface viz, once inside the cavern zone dropped to about 2 ft, spring was not well defined and had muddy water flowing in from all sides. Viz did not get better with depth, 0 flow.
7/24/2018
Billy
0
0 ft visibility.
1/7/2018
buhlz
100 excellant conditions
Great dive with Jason! Met some good peeps out here today.. Someone made beautiful trail of limerock through most of the muck way but never the less still mucky!! Thank you to whomever that is!! Anyway.. Dive 163 foot checked out everything with my single 120! New light! Awesome day! 57 min 16 min deco. Had the sun right in there with us!!! Great day!
7/6/2017
MItch
0
Water was black. 0 viz. I don't know what has happened.
1/3/2017
buhlz
WOW!
Took a trip out today to check for possible ankle swampage but not too bad.. Basin extremely untouched! Very nice and divable
7/7/2016
Brett
100
Did a dive down to the restriction at 165 feet. Great visibility. For anyone that hasn't done Buford, I highly recommend bringing a wagon or something to transport your gear. I lugged my doubles and stage cylinders all the way from the road and it was a work out. But I loved the dive absolutely remarkable. I can't wait to do it again.
5/15/2016
Chris
100
Took a swim 2 days ago, very clear. But with the rain and storms coming in I worry it might not be worth it to head back for a few days.
5/6/2016
Steph
Fair ~40-50 ft
Trekked through the muck with my boyfriend on Friday hoping to set some personal depth records. Unfortunately the spring was flooded with tannic water. Visibility was very limited after the first shelf.
1/18/2016
Chris
100
The hike for the first part was dry as usual. Once we got in the swamp, it was very wet. Most of the hike in the swamp was through standing water. This is likely due to the severe weather and torrential rain we have had over the past several days. There were a couple of spots where we sank down to our thighs. The spring was pretty easy to find since there are numerous markers of different colors on the trees leading you there. Once at Buford, the water level was definitely higher than I have seen in the past. Despite the high levels and flooding, the water in the basin was clear. Once in the cavern the water had a green tint to it until about 50 feet at which point it seemed to clear up. Although the water had a green tint, it was still clear with vis in the 100' range as we were able to see the tree from around 100' to 110'. It has been a couple of years since I have been there but it seemed as if there was more silt on the walls than what I remembered. We didn't encounter a single mosquito, probably because the air temperature was 46 degrees. Overall it was a nice dive, however, anybody wanting to go now should be cautious of all the flooding in the swamp.
5/9/2015
Tyler
100
Conditions were amazing today. The area around the tram out there wasn't visibly wet but there was still areas of mud going out to the spring. Great weather and visibility. The deer flies were out in force however.
2/16/2015
Josh Durst
80-100
This is a great time of year to dive here weather is prefect for the hike. Viz was good swamp wasn't to high and easy to find, follow the blue markers. This is one of the larger caverns that Florida has to offer. Any experienced diver looking for an adventure and a great dive should consider this site. Make sure to bring off the No-See-Ums were insane.
1/7/2015
drz
80
Swamp is relatively wet, but only a few spots are crotch-soaking deep. No-see-ums were out in force after about 15:00. Head pool was clear and there was little to no current out & in to spring run, so enter well downstream. Vis wasn't "cracking clear" (to paraphrase Jack), but it was good enough.
1/3/2015
Charles Read
Very good
Right now the Suwannee caves are mostly closed by flooding, but Buford is almost as clear as ever, just not quite as blue a tint to it as I've seen. Correct bearing [use a compass] is 270 degrees from track end to the spring thru the swamp. Mosquitoes not so many at this time of year too.
1/3/2015
Charles Read
Very good
Right now the Suwannee caves are mostly closed by flooding, but Buford is almost as clear as ever, just not quite as blue a tint to it as I've seen. Correct bearing [use a compass] is 270 degrees from track end to the spring thru the swamp. Mosquitoes not so many at this time of year too.
11/2/2014
Kimbery Godding
100
Perfect air temperature to hike with wetsuit and heavy gear. The swamp was do-able. I recommend letting your buddy go first so you can see how deep they sink into the Squish! Robert Brooks encountered a Cottonmouth that he had shoveled onto his own bootie while stepping onto a "dry" spot. While deciding on the next place to step, he saw it laying across his foot. After some yelling and stomping it left his foot without taking a bite, and slithered into the swamp. The sun was overhead and the water was "warm". 100 vis and bright sun shot an amazing column of light into the cavern. I could see the trees at the surface from 110 feet. I love to look for shells and fossils in rocks, so some of the boulders could provide unlimited entertainment for me! A big bass hung out around our deco spot. The grueling hike with more than half my weight on my back was well worth the extra bottom time. Had steel 104 instead of the 80 I had last year.
9/10/2014
Lobster'n Snorkelin' Dale
80ft (but depending a large part upon the clouds)
Alright, so from a lobster'n point of view, Buford is pretty cool. I saw a 3" crawfish by chance, following my friend to buford once we realized we had gone way too far past it (mislead north). It would be easy to have a spring-fed-crawfish dinner out there, from what I saw. Yes, we did go out in the beginning of September this year, 2014. The most valuable thing I can say about Buford (spring/or sink?) at the end of summer is; the clouds can control all of the light. When you are in a swamp, direct sunlight is a necessity, and when a cloud blocks your view of it, everything around you gets cloudier. So snorkeling over the vent in summer is way different from winter. In summer you rely on the tiny shaft of light that makes it through the tree canopy, and it gets pretty scary when a big cloud crosses the sun. Visibility everywhere goes down to about 5ft. Simple plan: Waders, Full skin coverage including long sleeve shirt or jacket, face net/mask, gloves, Mosq. Spray, and maybe a deer fly sticky patch. Also I would add that neither my friend, nor I, saw neither snake or alligator, making our way through 600ft of swamp. I do want to stress, THE FLY'S OF CHASSAHOWITZKA are RELENTLESS!
5/25/2014
Dave Jones
80-100
While my buddy and I each hauled two LP-85 sidemount cylinders and an AL-40 deco bottle through some pretty muddy and buggy conditions, we kept asking ourselves "So, why are we doing this?". However, once we got in the water is was pretty clear why we were there. We dropped down to the floor of the sink, took the left line at the "T", and deployed a jump spool once reaching the end. A maximum depth of 163' and total in-water time of nearly 1 hour more than made up for the efforts required to reach this site.
4/27/2014
Otto
80
The vegetation has grown a lot and there are new grey markers that make finding the spot a little easier if you haven't been there. I have been to Buford about 15 times and no matter how much you think you know how to get there you have to always be very careful. We found a group of 5 divers that got lost heading back to their car and were walking on the swamp but along the main trail until we saw them and guided them back to the right path. The swamp wasn't as dry as we thought it would be. We saw a person from the Florida Wildlife Commission at the end of the trail. She was guiding 3 other people that were taking photographs. We found no trash at all and that was awesome. Please keep helping maintain this beautiful spot the way it is and leave only footprints behind. Dive safe.
4/18/2014
Robert Brooks
100
The Swamp is dry!!! I would have never thought the walk would be dry but it is. Just the normal spots to watch for. The spring is blue sweet dive!!!
4/6/2014
Scott
30'
Walk in was very wet and viz was way down from normal. More of an adventure than a good dive, but still had a good time.
1/4/2014
Brandon
60
At the end of the tram road someone has left a pallet and that small metal tree stand thing that really helps when putting on tanks before the swamp walk. Water had a green tint to it, particulate caused lights to loose distance, couldn't see from one side to the other but at 100' I could see the trees. There appeared to be warm tannic water coming in on the west side around 40-50 feet. It created a cool swirling effect. Possibly due to recent rain? The walk in was wet, and the water in the spring appeared to be higher than last time I was out here. Wet and muddy walk in, picked a better path out and did my best to leave as much mud behind for the next group to enjoy.
11/3/2013
Matt
100
Beautiful could see the entrance from 145' could not have asked for better conditions.
8/24/2013
Matt
0
very dark 0 vis most likely due to storms. will return during the winter
8/9/2013
Jason Knepper
100
Beautiful dive. Swampy approach, but no gator, no snakes, tolerable mosquitoes, and perfect conditions in the water. Permanent lines look good and we found a rubber chicken... Great way to spend a Friday.
7/7/2013
Glen
150
Large alligator in the basin. Freediving workout interrupted by loud territorial bellowing. Locals, you know what this means: steer clear of diving Buford until mating/nesting season is over. For those that don't get it: in wetsuit and fins we're as big and dark as a rival male. And no, a knife and a sharp eye aren't going to keep you safe. Water level in the swamp is up due to the past couple weeks' rainwater filtering down from Brooksville Ridge, but it is easily navigable if you know how to walk through a swamp. Just the top few inches in the basin is tanic. The spring is flowing.
5/5/2013
Jonathan Pitt
150
No mosquitoes! Dry and sunny. Perfect conditions. Now is the time to go to Buford if haven't yet.
4/26/2013
Jonboodogle@gmail.com
Excellent
Walk in was soggy but relatively firm. A few mid calf areas, but not bad at all. Dive was spectacular.
4/26/2013
Jonboodogle@gmail.com
Excellent
Walk in was soggy but relatively firm. A few mid calf areas, but not bad at all. Dive was spectacular.
2/3/2013
B
120
Walk through hardwoods was very wet, mucky. Worth the work.
1/5/2013
Scott P.
80'
Swamp very wet. Vis 80'. Hunting season closed.Good dive for checking out some cameras. Need to let the area dry a bit for better vis.
12/2/2012
Brandon Murphy
100' Saw leaves on trees @100'
First time out, made it to the water with only one or two waist high adventures into the muck. As it was my first time out I don't have anything to compare it to. This is definitely worth the hike out.
11/23/2012
Jack Marut
50 ft
The swamp is wet but not terrible. Buford is springing again and the visibility is good but not crackling yet. I imagine by it will be perfect in a month or so.
11/21/2012
john gayle
80 feet
dove in afternoon swampy some mosquitos is hard to find you may get lost in the woods i left a guideline tied to trees to find the way in and out fun dive but a lot of work
9/26/2012
Tyler
0
Took a hike out here about mid day, there is no markers up out to the site so be aware if you are unfamiliar with where the site is. At the actual spring visibility is almost 0, did not get down to clear waters. Most of chass is like this due to recent storms.
9/6/2012
David Lawrence
-0
We made the trek out to Buford 5 of us! But when we got there the water was very tannic from the swamp. We sent one diver down with a line and it was dark and zero vis all the way down to 45'. Couldn't see the surface light after 12'. He didn't try to go any deeper! We decided not to dive because not being able to see the surface light. It will be there when we return again! :)
4/14/2012
Rowann
70
Beautiful morning for my first experience at this spring. My friend and I did see an apple snail at 35' and I thought this was unusual. I've even asked a biologist about this and he has never seen them past 11'. Has anyone else see snails on the limestone walls deeper than 11'? Anyone have a picture?
4/14/2012
Chris
100
I just went to show my girl why she needs to start diving, quick surface dive. Why no one was already there on a day like today I have no idea, no footprints around or anything. From today until whenever it rains again, you guys should be racing to get over here. Perfect.
2/4/2012
Dave Jones
60-80'
Hit the swap mid afternoon at low tide. No standing water but the path from the tram road to the sink was pretty muddy in spots. There must have been a team in earlier in the day as the visibility was not as good as I'm used to here. I didn't see the reflectors in the trees that used to mark the path, perhaps they are gone? I removed some of the "swamp litter" but noticed someone wrote "Go Giants" and "Adam" on the wall of the cavern at 15' depth. Also, still surprised how buggy it is here even in Feb.
12/22/2011
Richard Dinon
100
Swamp is still fairly wet. Sunk in a bit in a few spots. Evidence of people recently with tons of markers and cave line weaving through the trees to the sink. But that is the wettest part of the trail, so follow your own path. More trash than there should be in the woods. Water was crystal clear. Light from the entrance hits bottom. Beautiful dive. May be worth waiting till the swamp dries more if you're not up for a challenge.
12/10/2011
Joe Freediver
20ft
Hit it on Sat. Vis was bad due to a group of six the where just leaving. More carvings of names are on the wall at roughly 30ft. The swamp wasn't bad but due to the number of people now using the spring the "trails" are getting deep. There is ribbon tape in three colors everywhere. It's really getting ridiculous, PLEASE pickup your trash and remove your markers. Someone took a dump at the end of the trail and left the used toilet paper in a pile. It really sad that a once pristine place is now carved up and trash is left behind.
12/2/2011
John S
100
Dove Buford today. I could not have picked a much better time to dive it for the first time. The Visibility was pristine. We caught it late afternoon when the sun was filtering all the way to the bottom. The swamp was still a little wet but well worth the trip.
11/25/2011
Walter Pickel
100
Hit Buford perfectly. Hadn
11/25/2011
Walter Pickel
100
Hit Buford perfectly. Hadn't been here in a while and I couldn't have picked a better time. The swamp was flooded so the walk was a little bit more than I would have wanted but the payoff was the crystal blue water and sunbeams hitting the bottom at 125. I'd recommend letting the swamp dry out a little before making the trek.
11/5/2011
Robert Boozer
50
Great adventure as always. The swamp was pretty wet. I had a couple of times where I sank thigh deep in the muck. There were several people leaving as we arrived, which probably explains the lower visibility. The dive itself was great although the visibility was a little low. We limited our depth to 120' and took our time to enjoy the finer details of the site. Mike found the fin lost by Adam in about 75' or water. I will forward Adam's number to Mike and hopefully you will have you fin soon. Following the second dive a took a little time trying to find Little Gator, with no success. The return trip through the swamp was about like the trip in, but with more mosquitos. This dive is always a great adventure, and I look forward to checking it out again.
10/22/2011
Adam
80
Great day and conditions on Saturday, trek thru the swamp not too bad vis was stellar and had it all to ourselves. Lotta trees across the opening though? At the end of the day I kicked off a fin at 80 feet while coming up from a 2 minute drop. I dropped down to 80 a half dozen times looking for it. It must have fallen deeper into the basin, beyond my abilities. If anyone finds a nemo freedive fin I'd be forever grateful if you would give me a call 863-443-0630 Thanks
8/13/2011
Robert Boozer
0
Water was knee deep in some spots on the way. Got to the site only to discover it was flooded. Nothing but dark water in the basin. Not divable at this time.
7/30/2011
rtreefanatic
100
Wet trek in. Bugs not too bad found a a bag with weights inbetween the big boulder and a smaller rock, left it on the big rock.People seem to be pulling the flagging tape down, which is unsafe as this area is easy to get turned around in. You can be 20 yards from the trams and not see them.Over the years there have been several people "lost" in this WMA.I've heard people say they pull it because they don't want anybbody else diving here. This not anyone's private spot! Rem-ber this is public land open to all QUALIFIED divers,hunters,fisherman, hikers and explorers. So be curteous and don't pull any tape down.You do not know what is marking. I know there are at least 6 treestands within 100 yards of this spot and if they were my markers to my stands i would be real upset that a diver removed them. Trust me there are guys who hunt this area that complain about the divers and this is a hunting area first and foremost and complaints will get it off limits to divers. Actions and attitudes as this will definitely get this location closed. It just takes a little common sense. I agree if you flag it unflag it but don't pull someone elses marker.
6/16/2011
Concerned diver
100
Myself and others are starting to get a bit concerned about the number of unqualified divers using this site. I understand theirs no enforcement but on the last three occasions people showed up and had their partner explaining how to use a BC. In addition it's seems someone is using Buford to teach classes. According to what I have been told this is HIGHLY illegal not to mention dangerous. The number of "gold" lines and flags is getting out of control. People this is a wildlife refuge, ganging lines and flags or nailing reflectors WILL get this site closed down. If you choose to run a line or put up flags REMOVE them when you leave please. The ease of access fro these lines is only letting people with no business back there find it. It's only a matter of time before a "student" of experienced diver is killed and Buford will be closed for diving.
5/22/2011
John Giles
100
Swamp still not too bad even after rain a week ago. It was pretty warm on the walk out w/ doubles and dry suits, but not hard to pick a path where we never sank more than ~ ankle deep. Ran a line out there, which made return trip easy, but pulled it when we left. No sign of reflectors, scattered flagging tape markers, can make it confusing if you don't have a compass. Three other divers in when we got there, visibility was great (100 ).
5/22/2011
John Giles
100
Swamp still not too bad even after rain a week ago. It was pretty warm on the walk out w/ doubles and dry suits, but not hard to pick a path where we never sank more than ~ ankle deep. Ran a line out there, which made return trip easy, but pulled it when we left. No sign of reflectors, scattered flagging tape markers, can make it confusing if you don't have a compass. Three other divers in when we got there, visibility was great (100 ).
5/13/2011
sumpdiver
100 ft
Been here a dozen times with no trouble till today, I understand the multiple paths to different systems out here but it looks like somebody went a little crazy with the flags as at one point we were in the middle of the swamp and their were flags going off in about 5 different directions (this needs to be fixed!). Finally made it to buford, after practically getting lost for over an hour and ending up at three different systems(possibly some new ones). Needless to say when we made it we saw incredible visibility but were way too tired/dehydrated to dive. Dumb Friday the 13th curse or maybe too many flags, either way we left the site hugely discouraged. Swamp-Medium wetness, Bugs-worst I've ever seen, I think the last person to post three days ago must've been at the wrong place.
5/10/2011
John Giles
n/a
Just walked out to spring to check the path. Didn't see reflectors (thought I knew where they were), but red flagging tape is still on widely spaced trees. Swamp is very dry, mosquitos present but not as bad as I've seen before.
3/5/2011
Scott Hussey
100
Beautiful dive, as this was my first trip back there. The tree markers are still up, but we found an easier path. The ground was as dry as you could ask for and the bugs were not bad, yet. Could see the surface from 130ft. An amazing place! Next weekend, we'll try to hike to Warm Springs.
3/5/2011
Scott Hussey
100
Beautiful dive, as this was my first trip back there. The tree markers are still up, but we found an easier path. The ground was as dry as you could ask for and the bugs were not bad, yet. Could see the surface from 130ft. An amazing place! Next weekend, we'll try to hike to Warm Springs.
2/5/2011
Fed
100
Even though it was raining almost all day today the swamp was very dry, barely sank past my ankles the entire time! Cheers to whomever put the line in place, turned what usually is a "guessing game" into a straight shot to the spring. We found it was a bit more dry to stay slightly right of the line when going to the site. Spring was gorgeous as usual, viz was perfect. Even with an overcast/rainy day you could see the basin clearly from well past 120ft 133ft with a dive time of 44 minutes. Biting flies were in full force, bring your bug spray!
1/2/2011
Kurt
80'
Swamp was much drier than usual but still a bit treacherous in spots. The yellow line was somewhat helpful. Entered from downstream so as not to churn up particulates. Went to 138' and visibility was fantastic. What a magnificent cavern.
12/31/2010
cmattfletcher
80'
Made an easy afternoon trip to Buford for the last dive of the year. Great conditions - blue tint but definitely a very slight haze in the water. Visited the chicken at 152' and then turned back. EDT 38 minutes - 70 degree water temp.
12/12/2010
JaDarr
70 ft
Still Dry but some sink spots. Did get stuck twice. 80 ft Vis, no bugs. 2 tanks, 2 Dives Spectacular as usual. Arrived Later in day to secure spot; must respect hunters. Don't follow surface gold line-- its too well traveled, tried it once, had to abandon. Instead, follow red flags to left, using roots, and logs for footing-- it's not THAT dry. On a previous trip I was able to see the 110 rock from 20 feet, but not this time. I had to sink to 40 before it came into view. Not sure what caused the very slight reduction in vis. Like I said before, still spectacular.
12/12/2010
JaDarr
70 ft
Still Dry but some sink spots. Did get stuck twice. 80 ft Vis, no bugs. 2 tanks, 2 Dives Spectacular as usual. Arrived Later in day to secure spot; must respect hunters. Don't follow surface gold line-- its too well traveled, tried it once, had to abandon. Instead, follow red flags to left, using roots, and logs for footing-- it's not THAT dry. On a previous trip I was able to see the 110 rock from 20 feet, but not this time. I had to sink to 40 before it came into view. Not sure what caused the very slight reduction in vis. Like I said before, still spectacular.
12/12/2010
JaDarr
70 ft
Still Dry but some sink spots. Did get stuck twice. 80 ft Vis, no bugs. 2 tanks, 2 Dives Spectacular as usual. Arrived Later in day to secure spot; must respect hunters. Don't follow surface gold line-- its too well traveled, tried it once, had to abandon. Instead, follow red flags to left, using roots, and logs for footing-- it's not THAT dry. On a previous trip I was able to see the 110 rock from 20 feet, but not this time. I had to sink to 40 before it came into view. Not sure what caused the very slight reduction in vis. Like I said before, still spectacular.
11/21/2010
Scott Pulliam
100
Great dive, perfect vis, not to wet, not many bugs. Max depth 163' 50 min. TDT. no other divers out at the site. Respect hunters and this site.
11/20/2010
Jack Marut
100ft
My dive started solo but after 40 minutes or so heres comes Matt! Visibility was excellent. The swamp is dry and not many bugs. All in all a great dive. Just remember there are hunters in the woods until mid-January and you should wear a blaze orange vest available at Walmart for about $5.00.
11/8/2010
SRS
80-100
Picked the perfect day (thanks to a buddies insistence) to go to Buford..again...after diving this place since 1978. Weather was STELLAR!...56 degrees, sunny, not a single mosquito....and the swamp was the dryest (despite the rain Thursday) I've ever seen it...didn't get deeper than mid-ankle once! Someone has laid a gold line almost all the way from the end of the tram road to the spring...makes it almost too easy to find it. lol! Had a group of six, got in downstream from the basin a few yards so as to avoid silting it up, just enough flow to keep the silt going towards Little Gator. Viz was as usual, slight haze, but still great. Timed it right to get the "lazer skylight" the whole dive. The spring vents at 140' are barely flowing due to the dry weather. The hike back to the tram road seemed even shorter than the hike in (thanks to the gold line, again). Another two man team was coming in as we hiked out, and a group of four free divers were heading to the spring (they use it for offshore freediving spearfishing practise, a pretty ideal spot!).... Didn't see any obvious signs of overuse/ abuse, despite the fact that this "once pristine" place is heavily used now. Tread lightly, respect it, it's one of the best remaining inspiring places in the State.
11/7/2010
Gamble
80ft
We were the group of freedivers mentioned in the last report. Awesome conditions, swamp was dry vis was 80 . Was very surprised at the number of people there or leaving. Maybe the "gold line" should be removed. Cleaned up a couple plastic bottles that had fallen into Cyprus roots. Moved the tree that was once over the opening back to where it had naturally fallen. If the divers filming while we were there read this I'd love to see see some of the pictures you got.
10/24/2010
Rob Boozer
100
The hike out was the easiest so far. Every time I have tried it has been flooded. There was no standing water in the swampy part but I did manage to end up sinking almost knee deep in the mud. You need to step near the cypress knees to avoid sinking in the mud. I was suprised by the clarity of the water. Every time I have been here the spring has been flooded. When I arrived at the shore the cavern entrance was obvious from the shore. I did not bring any scuba gear, but did bring mask, fins, and snorkel. When swimming on the surface I had no problem seeing the bottom at what I would estimate to be 60' - 70' deep. I free dove down to around 50'. This is a beautiful site and I cannot wait to dive it. I have plans to dive it next week.
10/10/2010
Tom Hundley
100
Pretty much as Walter last described it. Still a bit too hot and too many bugs. The walk through the swamp was not too bad but did manage to sink to the knee twice during two trips in to get all the gear in to shoot photos. ARY, Guy and Rich were with me and were good buddies allowing me to photograph them and help keep me out trouble.
9/26/2010
Walter Pickel
100
Had a nice day at Buford today. Swamp is wet and still holding a good bit of water. The walk in was clean. There had been reports of trash/littering but we only found 1 beer bottle, 1 beer can and some tile debris at the spring. The line in the swamp marking the way (2/3rds) to the spring has been partially removed. It was too hot and there were too many mosquitoes to deal with it today. Removed all of the glory markers from the line. If you want yours back contact me, otherwise they will be recycled. I was very disappointed to find "LUANA" carved in the limestone at 33 and 35 feet (yes 2 different places). That can be removed but it may do more damage than it is worth. There is one less water moccasin in the world today. If you don't think they are there you are kidding yourself. This one was coiled not a foot from where others in our group had just passed. I'd wait a few more months for the swamp to dry out, the weather to cool down and the critters to thin out before diving.

WARNING: It is currently bow season in the WMA. If you are ever out there while hunters are out, make sure you stop in and let the ranger know where you are headed and find out if hunters are on the tram road leading out to Buford.
9/5/2010
Jay Rule
100
Did not dive this site; only snorkeled. Getting out to this site was fairly easy without gear, the gold line that is running through the woods makes it a easy find. The amount of trash that was out there though makes me think that maybe making it more accessible is a bad idea. Water is very clear with bluish tint; you can easily see across the entire basin from the entry rope. We walked out to Warm Springs and stopped at the various ponds and karst windows located along the way. The water at all of these sites was very tannic and I was not feeling brave enough to get in at the time. Warm 'Spring' was only slightly better, with the vis nowhere near Buford, maybe 15-20' and fairly tannic. Again this was only snorkel, no diving.
8/29/2010
Rob Boozer
Poor
I didn't actually dive the spring. This was a recon trip. I wanted to figure everything out before I brought a bunch of gear to the site. Mosquitos were in full force. On the next trip some repellent will be a must. With the exception of the last 375' the hike was easy. The last 375' were very swampy. The water was knee deep. You also had to be careful where you stepped or you would sink into the muddy bottom. Stepping close to the roots is good advice. I brought a mask in hopes of checking out the spring. The water in the pool was very dark. There weren't any signs of a spring. No surface boil, and no clear water. The water was a little too creepy to go for a swim.
8/15/2010
Jack Marut
Poor
Matt and I made the trip in to Buford today only to find it was very tannic and appeared to be syphoning. The swamp was very wet. Thanks to whoever put up the gold line leading to the spring. Made the trip very easy. Please contact me about the gold line you put in near another pond as I would like to share and exchange some information with you. Jack
7/31/2010
Cary Ernst
good
This was my first trip to Buford. Got lost in the Chass. Parked in the wrong spot and did a preliminary scout through the woods and mud for about 2 hours with out gear. I became discouraged and was ready to call the trip. On the way home I saw 4 divers gearing up. HURRAY! This is the spot. Used a wheel barrow to hump in along the tram road. Then humped my 2 AL80"s to the spring, went back for my side mount rig and geared up at the waters edge. The dive was great. did a dive to 149 feet and slowly worked my way up for 52 minutes total run time with 15 minutes deco. What a GLORY HOLE! the hump in, skeeters, biting fly's, spiders, and knee deep muck were worth it.
6/11/2010
cmattfletcher
100'
Swamp is dry, no water just the well known muck holes. Supposedly a bunch of spiders on the walk through the swamp but I only saw one giant spider. He crawled around the base of the cypress stump as I exited. Dive was good, 117' and crystal sparkling blue. No gator (never seen one here) but a few horseflies, lol. Oh, and empty packs of cigarettes and other random trash at the parking spot, really? :-(
6/6/2010
Jack Marut
100
Nick and I made the trip to Buford today. Visibility was great. The water had a slight blue tint and viz was sparkling, well over 100ft. The swamp was fairly dry. The mosquitoes were out in force.
5/29/2010
Jack Marut
100
Nick and I made the trip to Buford today. Visibility was great. The water had a slight blue tint and viz was sparkling, well over 100ft. The swamp was dry and the mosquitoes were out in force. What a great dive!
5/23/2010
Darwin Coiner
100'
First I would like to thank Jack for letting me tag along with him, and hope to do some more dives together. Well worth the four hundred or better bites I recieved today, the deer flies and mosquitos are nothing to play around with they will carry you off so bring repellant. The cavern is huge , have to do more than a couple of dives to see it all. The water temp. was a perfect 71 , after the walk in, not really that bad of a walk either. Next time bringing two tanks, best dive for me todate!!!!!
5/23/2010
Jack Marut
100'
Made the trip to Buford today with Randy and Darwin. The swamp was fairly dry. With careful steps I didn't sink deeper than ankle deep. There is a small 3-4' alligator in the spring pool. But it departed when we arrived. Visibility was good but a little fizzy. The deer flies and mosquitoes are out in force so remember mosquito spray. Dive Safe
5/8/2010
wumpmugger
dk
It may SEEM like a quarter mile from the end of the tram road to the sink.... But it's only 80 yds or so (via GPS)....lol! It's a looooooong 80 yds, however...depending on how many knee deep mud-suck holes you hit!
5/7/2010
eleyden
100'
Aside from the near 90 degree summer heat, the dense cloud of carnivorous mosquitos and horseflies, and a half mile trek into the jungle (quarter mile down a woods trail, and another quarter into the wswamp), you can see Buford by going left at the end the trail and heading straight following a rough lone of cypress trees with pink marker tape tied on. Straight through the swamp leads to Little Gator Siphon.. major restriction at 8' without a doubt, no-mount to enter. Buford however is bright blue, inviting, and spacious! Dazzling sunlight bounces off the bleach white limestone rocks from below and baby catfish and sunfish curiously watch as you descend seemingly forever. It gets deep, be careful. Hardly any noticeable flow present at all. Overall, the trek through the woods and swamp definitely sucked, but the dive was well worth it!
4/11/2010
Scott
100'
Still a little wet, but we were freediving and so did not have to haul all of the equipment. Viz was excellent. I am posting as we shared the morning with ~6 foot alligator. It was initially at the first ledge right at the cavern entrance, but then swam deeper when I almost ran into it on my first dive. It finally settled on a ledge at 35' and did not move for the next two hours. We ended up freediving the whole time, swimming up and down past it with each dive. It was still down when we left. The gator was not aggressive, but certainly had no fear of man either. Certainly something to watch out for and I'm not sure I would do any dusk/night dives. As this gator gets bigger (and/or as mating season approaches), I hope that it does not become a problem. Scott
3/27/2010
cmattfletcher
100'
Swamp is wet and the previous heavy rains have really filled it up. Buford is overflowing into the swamp there is so much water. Jumped in at 1pm, sun shining directly down and sun rays absorbed by blackness looking down. Water is still tinted green and the water is slightly cloudy. (definitely moreso than my last log) Only went to 100' but the view was great as was the dive. At the large rock 90' I noticed movement which took me by surprise. I think it was a giant salamander of sorts about 3 feet long. He went deeper, I left him alone. Anybody seen this creature?
3/11/2010
cmattfletcher
120'
Great conditions and visibility all the way through. Surface clearly visible at 120' 5:30pm 25 minute bottom time max depth 120'
2/15/2010
ac
100
Swamp was very wet. Most of the walk was in 8-12" water. No mud suprisingly. Viz was great but water had a greenish hue. On ascent I checked out the ledge at ~20 ft on the left side and it looked like someone hit it and a few chunks of rock crumbled down. As always an awesome dive though
12/26/2009
cdavis
100
Buford was great as usual. LOTS of water in the swamp. We are freediving and I sure don't envy you guys trying to carry tanks out there. Like the last report, there was a green tinge to the water and it wasn't anywhere near that unearthly clarity that it sometimes gets to. I looked carefully around the 80 ft mark and could find no sign of surface water ingress. Sure hope the green disappears soon. One very obnoxious thing. Some terminally juvenile jackass has been writing on the walls of the sink. I tried to get it off, but seemed to just make things worse. Please, if you know who is responsible for this, get them to STOP! Buford is a an almost mystical place that has been well taken care of by generations of divers, let it stay that way. If logic and guilt don't seem to work, remind them what happens to the car's of ass holes who trash Buford.
12/6/2009
Fed
50
Made the trek through the swamp after two days of solid raining. Swamp was flooded but not that muddy! Water had a green tint to it when looking up at the sun from 50-100ft we found the source of the green tint - tannic rain water intrusion at around 80 ft from one of the bedding planes, water was considerably colder coming out and had a brown color. Viz was clear as there was no particulate in the water, however the tannic intrusion and overcast day made visibility significantly less than what is expected for buford. Took two divers that had never been, I was bummed that they didn't get to see buford in all its glory even though it was still a GREAT dive!
11/21/2009
Adam
100
Perfect. Never got past ankle deep in swamp and visibility crystal clear. Could still see Trees looking up from 130. Most incredible dive of my life
10/18/2009
Jack Marut
50ft.
Bill and I made the trip in to Buford this morning. It was a beautiful day in the Chass. Hunting season has started so you need a blaze orange vest! We were surprised that there were NO mosquitoes. The swamp is wet but with careful footing we managed to make it to Buford without sinking in deeper than ankle deep. The visibility was only in the 50 ft. range and the water was a little cloudy. There is a mild silt build up on many of the rocks and perches that are usually clean. I suspect this is because there has not been a lot of diving here during the summer. As always this is a great dive. It is just a little tricky walking through the swamp so use a walking stick and take your time. Dive Safe. Jack
9/11/2009
Jeff Fishman
Not Possible to Dive
Tried to get out to the sink today. Swamp mud is very deep and mosquito's are very thick … you can't get to the sink even without your gear. Wait till the winter to dive again.
7/30/2009
Jonathan Pitt
great
See video: http://www.facebook.com/jonathan.pitt#/video/video.php?v=1169646837737
6/22/2009
c
no dive
Didn't dive Buford but did make the trip out there. Had the Chass WMA to myself on a late Sunday afternoon. All the recent rains have left the swamp area WET & MUDDY. Mosquitoes are a force unto themselves - even the deer flies kept their distance from tho swarming clouds. The tram road has grown back up to the point of obscuring some of the road until you get back in under the cedar trees.
5/18/2009
rtreefanatic
100
nice day except for the skitos and deer flies. many bass near the opening. visibility was great. easy walk didn't sink one time. swamp still relativly dry.
5/17/2009
Buhlz
was a 100' till OW's went in
Jason and I dove Buford; came across some nice people (free divers). There were another set of divers that came in as we were deco'ing schmegging everything! I hope they read this and hope they don't do that again. There's a line on the left side of the cavern. Also, when getting in, go in past the spring downstream so you don't muck up the place. The spring has enough erosion probs!Thanx.
5/12/2009
Buhlz
40'-80'
Amazing little spurt-of-the-moment afternoon dive. Called Mike Ward out to do a quicky and let's just say one of the best 'walks' to Buford!!!! Didn't sink once. Getting to the water crystal clear as usual; no signs of snakes or other unwanted creatures @ the time. Just checked out the cavern area mainly: gazing from 120 to the surface admiring the view. Bottom 28 min @ 158' 22 min DECO. yeah. Also came out w/ 100 psi on a LP 92. Good God
5/3/2009
Marson Kay
100
First dive here, the swamp was not too bad but the bugs were out to feed. Vis was great!
5/2/2009
loquat149
80
Dove Buford in doubles with Giles45shop...first time here in 3 years. The bugs were a nuisance and only saw one poisonous snake. The mud was so dry I only sank up to my ankles once.
4/26/2009
Fed
200
Dove Buford today, PERFECT weather out for diving. Swamp is very dry right now. If you plan on diving DO IT NOW before it starts raining. You can avoid all the muck pits if you know your way. Only divers the whole day did 2 dives on 2 tanks. Bugs were not that bad, nothing a little spray wouldn't keep away. Took a nap at the end of the tram road during our surface interval. Best dive site I've ever been to! No snakes or gators to be seen.. lots of gunfire
4/19/2009
rtreefanatic
100
first dive here. the walk isn't bad at all and if you watch your step you can avoid the muck pits. swamp is dry but muddy. beautiful dive. most fish near the top 25 feet. this was the best fresh water dive i've been on.
4/11/2009
Kurt
100
Conditions were great. The swamp is as dry as I have ever seen it so getting to the spring was easy, compared to previous trips. You still need to stick to stepping on large branches and the bases of the tree stumps as there is still "muck" to deal with. The horseflies/deerflies were out in force, so deet is advisable, especially on the return trip, so bring a bottle to leave on the bank. Visibility was stellar as we appeared to be the first ones in the water. Words cannot describe how beautiful, majestic and peaceful it is to dive this awe inspiring cavern. Another magnificent dive.
4/8/2009
Mike Huff
100
Even after the little rain we got less than a week ago, the swamp is very dry. Luckily, Wednesday was "cool" after the front, so no mosquitoes, but some of the biggest horse flies I'd ever seen. Awesome viz; I could easily see the trees from the rock at 120 feet.
3/12/2009
MUgwumper
60-100
Swamp the driest I've EVER seen (in 31 years of diving this place). The walk is almost easy (but there are still a few "suck holes" waiting for those who do not stay near solid ground.). Cavern viz hazy down to 120' or so, then opened up to 100' or so. The vents @ 140' on the right wall (south side) are barely flowing, and the syphon at 165' is very weak. The FW people have thown up a berm on the left side of the gate, to stop all those who insisted on driving down the tram road......I have NO problem with that, as no one was supposed to be driving down there except permited groups, anyway! There is a wooden fence gate nw, with a pass-through in the middle....no more cable gate!
3/7/2009
Buhlz
150
What the MUCK! yeah. It's kind of bad out there even though it hasn't rained in a while. I sank probably 5 times and was winded pretty good. Though once gettin in.. wow! The sun was just right and shinned down like God himself was there with us. Head down from left to right slope (around the pilling) and hung around the line on the southwest side for a bit. Cuppin the lights we rested on a rock gazing at the beauty of the cavern at 125 ft. Taking it all in; just never enough bottom time here. I really need to bring a stage and my doubles back here but too scared to. Awesome little dive to start off the weekend just right! Leaving Buford was a bit less exhausting but I still sank twice getting out. Total time: 48 min- dp 154' deco 14 min.no O2
2/21/2009
Don Currie
150
For this dive, we brought our hand trucks with us to cart the gear to the end of the tram road. This was a much better idea than gearing up at the truck. My first step in the swamp, I sunk to the knee. Found better footholds after that until I sunk to my waist further in. Not su much fun, bu the dive was worth it. The sun was bright and the cavern was well illuminated. There are NO FISH anywhere to be seen and no more otter. We're thinking he ate all the fish and then moved on. Photos at Don Currie Photos
2/7/2009
Don Currie
150
Dove Buford or the first time on 2/7/09. It had rained a few days the previous week, so there was some much to contend with. Only sank past my knee twice, so not bad. The basin was crap. Bert W. said there was normally a boil and some discernible flow, but there wasn't when we dove. Once we dropped into the cavern, however, it was crystal clear. Got some good shots of the group and also of some freedivers who showed up toward the end of the dive. Photos at www.doncurriephotos.com
2/2/2009
Fed
150
Dove Buford on Superbowl Sunday 2009 (Feb 1st). First time out here. Other fellow divers said the swamp portion wasn't "too" bad. Still managed to sink up to my knees in the mud. The trek is worth it!! Once at the spring it was clear as can be. I was to see ambient sunlight down to 130ft. My favorite dive so far in my diving career.
1/9/2009
Jeff Addis
100ft
swamp is fairly dry, so getting back not too big a deal. still have the usual mucky parts, though. excellent vis and as usual a very pretty dive. hunters are out in force. gunfire eveywhere
1/1/2009
Ed Jackson
100
Still the best cavern dive in Florida. Now is a good time to go. Very few bugs and kinda dry. Still sunk in the mud up to my thigh once though.
11/1/2008
Buhlz
100
Stan, Kyle and I finished the nest and made our way once again to the Buford. Getting late, we made haste and got there as quick as possible because you know truckin' through the swamp at night probably isn't such a good idea. Dry!!!Very Dry! Amamzingly. Only sank once! Upon enter the slough, I fell in face first. Yeah, keep laughing! But being the first onbe in, I usually try to make enough noise! Anyway, I don't need to explain Buford, but I definately had fun walking on the moon! Yeah, I did a little bit of Niel Armstrong. I had to. It was just awesome. I Then hung out around 110' feet or so watching Stan and Kyle above me checking out the bedding planes as if they were fire flies around the yard. Just an amazing dive as always. Can't wait to check out Warm w/ Paul and other!
8/14/2008
JCH
XX
Went to check out Buford and forget it - it would take an airboat to get from the road to the spring - very mucky and lots of water - tried - but no joy! Really wanted to get in there! Skeeters were out in full force, of course! Will try again soon!
5/31/2008
cdavis
100
Wonderful freedive, as usual. Swamp very dry, few mosquitoes but the flies were hungry. There has been a huge amount of traffic through the swamp since I visited last, chewing up the mud. Anyone have plans to put in some gravel, boardwalk, something? I'll be glad to contribute.
5/19/2008
Ed Jackson
100
A very beautiful dive. The visibility was 100 . We entered downstream so the silt did not enter the cavern. The walk was relatively dry but the mosquitoes were very hungry. I like the fact that this dive is hard to get to. It keeps it pristine.
4/14/2008
cdavis
100
Above ground, same as previous report. Looks like some jerks are still driving down the trail. I hope the new barrier will stop that. The sketters were especially hungry. They followed us out on the water and we ate more than a few through our snorkels. Vis was good, surface clearly visible from 95 ft, but not as good as it gets sometimes, noticeable fussiness to the clarity. The cavern was much darker than usual due to overcast skies and a little rain. Even with less than perfect conditions, its got to be the best freshwater freedive in the state. Anybody lose a Garmin gadget? Email me to identify and claim it.
4/9/2008
Tom Johnson (tj)
50
We got there very late in the afternoon. Mosquitoes were VERY thick! The swamp was fairly dry, and the system looked good. No major difference than the past year.... I'm not going back until winter because of the mosquitoes... unless it gets even dryer.
4/3/2008
Hounddog
80ft
We had a great dive today the vis was not the best i have seen it in the last 4 months...still a very good dive...the walk back on the tram road was not too bad.....i have to say the mozzies are out big time and it would be good to get lots of bug spray and take it with you all the way to the pond..the swamp was not bad at all if you know the right hand side route to the pond....all in all nice day....thank you...!
3/29/2008
PolarbearBen
80-100 ft
Incredible dive! When we were walking down to the gear up site due to some of the recent controlled burns they were doing in the area one of the trees fell across the path. We tried to move it by hand but no use. We just picked up out wheelbarrows and lifted them over. Mosquitoes were heavy and we drenched ourselves with spray to make it a little more comfortable. The trek from the gear up site to the spring was not bad. We stayed to the right (about 50ft) of the normal path because that looked pretty well used which equal soft ground. I sank several of times up to ankles and 1 or 2 times to the knees. I will be back soon for some more dives. On the second dive we noticed that a broken dive line ran under a debris pill – looked like some pieces from the ceiling broke off and when they fell on the dive line it broke. I don't know how recent this was.
3/15/2008
Fran
100 ft
Excellent dive. The recent rain has turned the swamp into a real mess. Crossing the swamp is NOT fun. Dropping knee or hip deep into mud happened all too often. Be careful with the cypress knees. They are easy to trip on and if you fall it won't be pleasant. Getting to the water and cooling off was a relief. Conditions wise, the water was quite clear past the entry point. At 30' it takes on a definite greenish tinge and at depth the sunlight streaming in through the dark greenish water is majestic. A very memorable dive, although not one to try if you aren't cavern certified.
3/2/2008
Matt (Yukoneer)
Unlimited
Dove Buford today for the first time. It was an amazing location. It also was quite easy to find! Just put the coordinates in your GPS (I have a Garmin Nuvi) and it'll take you right there to the parking spot and the spring is straight down the path - look for blue & red reflectors on trees at the end of the path to go to the sink. This truly is one of the best locations that have not been vandalized too much lately unlike other springs in the area. BRING THE BUG REPELLENT - I was glad I did! Oh, an additonal note for hunters - I saw BIG gobblers in the area.
2/17/2008
Kurt
100 ft
Great visibility, stellar dive. I blew an o-ring the moment I stepped into the water and didn't have a spare. Learning experience. After having to go all the way back to the vehicle (about a mile round trip) I can say with great joy that it was totally worth it. A suggestion: if you can, get in the water and go down immediately so as not to disturb too much detritus. I think that would improve your visibility even more. We went down to 140' on straight air. Three permanent lines going down anchored in one spot are intact. Saw snails and panfish near the top. I'm ready to go back and do it again, I enjoyed it so much. After diving maybe a dozen other caverns, this one is my favorite.
2/16/2008
Tom Hundley
100
One small step for man... And one cave diver sunk up to his knee's on his first step on the marked path! We met at Birds and drove from there after getting advice it almost not possible to dive it after they got a lot of rain two days ago. We tried it anyway as we have been waiting to do this dive for some time. Someone has a very good since of humor had placed a trail of rocks down the path to make it look passable. The first step I went down to my knee's with a loud sucking noise just loud enough to be heard over ARY laughing at me. I thought I would loose my boots when I pulled my feet out it was so sticky. That trail is almost too hard to go down currently. I used some 85's and ARY had 108's. We made two trips, first carrying our o2 bottle and camera and video gear thank goodness. We made a change of plans and went down our own trail trying to find the roots, grass area and places where the water was not draining into creating mud bogs. Be forewarned though the area off the trail has markings that do not lead to Bufford. I will leave it at that, except to say hiking with doubles in the woods through bogs in the wrong directions is frustrating. We now know why single tanks are very popular at this location. The basin was absolutely crystal clear and spectacular. Seeing the light beams go straight down to side at about 100 feet on this one rock was fantastic. The water might have been just a little cloudy but you could see the tree's from the lowest point in the bottom where you could still see daylight. I've got to agree with Walter in this is one of the nicest dives in the state even if it not a cave dive. ( Unless you willing to do some no mount real deep ) You just have to work for it a bit to get to and in and out of this system. And I would recommend waiting a bit until it drys out to make your day much easier!
2/1/2008
Narcosis
Excellent
Trudged out to Buford today against everyone's advice even though it has been raining on and off for the last few weeks. We were rewarded for our efforts. The basin was crystal clear, you could see all the trees from the surface. The cavern/cave was clear as well, what a beautiful place. The big WOW of the day was looking up from about 110 and seeing the light beams coming through the entrance and down into the cave. It looked like you were 30 feet away when it was over a 100!
12/30/2007
Koltz
100'
Could clearly see trees on surface from 130' depth. Aside from sinking waist deep in mud twice, a great dive trip. Brought a cart to haul gear; made the trip very easy. Indigo Road is in great shape.
12/27/2007
Buhlz
50
Another beautiful Buford! Sun was out today and illuminated the cavern nicely. I'd like to see this site again with the sun directly overhead but I don't think it's going to happen until summer again. O'well. Nice dive- took pics this time
12/22/2007
Buhlz
40 ' cloudy
Hey Rick! The rain hasn't helped here today at Buford but nevertheless still the Buford. Had to walk through about 6 different spring basins t get there today. O well. Just gotta suck it up... And please--- I wish people would stop driving back to the swamp (they're gonna close it to us) thanks
12/9/2007
Otto L
100f
Great dive I recommend it to anybody. Planning to go again next weekend. Bring mosquito repellent and a compass, (in case you get lost in the woods, yes it happened to us). Looking for a dive buddy? Please check out divebuddy.com I posted a couple of pics at ; http://www.divebuddy.com/members/viewpictures.asp?ID=3570
12/2/2007
Buhlz
60
Great getting there today. We stumbled on some Pinellas County folks the DROVE THERE DAMN TRUCK to the gearing up spot - We told them that that's not a great idea and will definately close down this site; so hopefully they read this and understand [even though they've "been" here before] If you're reading this- PLEASE don't do it again. All it will take is one time. ok. Back to the dive. Very clear, bedding planes we're very prominate and could see throughout very nicely. The deep section though was silted- prob because of us-(Jason!). Other than the nice folk that could possibly screw it up,,,,Great Dive! It's pretty dry right now and we walked the entire way with our gear on- so should be no probs w/ anyone else- esp driving to the gear spot. There's just no excuse. Welp, safe diving! And no- driving - to the gear spot! thanx
11/18/2007
Buhlz
100
What a beautiful place! Met some free divers there yesterday (the dove to 112') wow, Vis was great but had some issues getting there to allow the sunlight position; but never the less, still one of the best dives around! Swamp area was ok- not to mucky and I did not see any snakes or gators- had the whole place to ourselves! Amazing!
11/4/2007
Davy
Very Good
More water to trudge through than last year, but we only sank in up to our shins; well worth it though - there's always something to explore in this cavern and it looks different every time. The cottonmouth snake is still there, he was between Buford and the Little Gator sink - sunning himself.
10/7/2007
Chandler
0
Went out on 10/7/07- a lot of rain in the past week accounts for the zero vis. Dropped down to 15' and lost surface light so called it a day. Will be back in a week or two for another try.
10/1/2007
Tommy
100
Swap was 1 - 2 foot of mud and muck. Couple places sank up to my thigh in the mud and muck. Lot of standing water on the trek back to the sink. Vis was perfect once down about 5'. 100 vis with no sediment Like looking though a window pane from 120 back to the surface. Skeeters were a nightmare. Couple times I thought TJ was going to be carried off by them. Did not see the gator / nor any snakes. (who cares about gators when you being eaten alive by the skeeters) :)
9/8/2007
Gibby Lane
0
The sink has zero vis. Tannic and black. Swamp is still passable.
8/18/2007
cdavis
0
First, my thanks to all who have posted here and helped us find this place. When it's good, it is truly fabulous. However. . . Swamp was knee deep most of the way to the spring. Vis on the surface was about 2 ft, going to absolute zero at 1.5 ft. We canned the dive at 25 ft, where the cavern began to open out, vis about 3 ft. Water temp at the surface 75 degrees. Mosquitoes as you would expect, no deer flies. We will be back in fall.
7/28/2007
Waters
100'
The walk back is getting pretty muddy, with standing water starting to build up. Any more rain and its going to be ugly out there. Deer flies were horrible. The surface pool is murky but it cleared up nicely as soon as we reached the cavern and stayed that way to the bottom. Over all it was a great dive forgetting that its the middle of the summer and hot as hell.
7/16/2007
Colton
100'
This was my second attempt at diving at Buford. Because the week before we went up there and ended up spending five hours hiking through different trails trying to find the place. But once we found it, it was well worth the wait. The swamp was dry for the most part to the waters edge except for the occasional muddy areas, but the were easily avoidable. Once we got in the surface water was very mucky so we were not to sure about it. But it ended up being an amazing dive once you got through the first ten to fifteen feet. The viz was 100 . From the "T" you could see straight to the top. It was a remarkable sight seeing all of the large rock formations that make up this incredible spring. All in all it was a great dive that I enjoyed very much and plan on going back to many times, and with a $3 entrance fee, how can you beat that?
7/1/2007
chad hylander
100
my first dive here, and it was awsome. Alot to see as viz was 100' past the first 10'. We had some rain so the sinks edge was muddy, and we have had alot of rain since, MUST bring mosquitoe repellant, but well worth it. We got down to cave entrance and turned back, also had a max depth of 135-140' and viz was remarkable, if you think paradise spring is decent youll be amazed with this.
5/31/2007
R. Taylor
70'
No water in swamp from end of road to waters edge. Much easier to access Buford with no mud to hender walking. No flow from the Sink as water level is down due to lack of rain. Viz in the sink was not as clear as in the past with some supended silt. It was a joy to walk the tanks to the sink edge prior to suiting up and afterwards leave them to be retrieved after getting out of wetsuits.
5/9/2007
Patrick Waters
100'
I was there Monday and it was the usual conditions for Buford, amazing visibility. A little flow noticed at the surface. Swamp was dry even with the previous few days of rain.
3/24/2007
Rick Hartman
100'
The swamp is dry enough to make walking back to the water a breeze! Wend down to the "T" and to the left to the end of the line. Was going to go down the other way as well, but buddy thumbed it when we got back to the "T" All in all a great dive! Definately need to get back in there a couple more times before it gets too hot out.
3/4/2007
Chris Krier
100
Also while we were there we lost a spool, if anyone sees it, please email me. Thanks
3/4/2007
Chris Krier
100
Swamp is getting a bit wetter after the rains of this weekend. The hike back became a bit of a ballet trying to find dry spots. Tram way is fine, though you can tell it is a bit more moist towards the end. Mosquitoes were not present, however the no-see-um's caused us to look like we have the measles. Vis was good in the cavern while I will second the report that in the lower section is getting pretty murky. The permanent line is in bad shape and needs to be replaced soon.
2/20/2007
Vince Ferris
100'
Unique place. Permanent line starts on the ceiling at about 30 feet deep on the left.
2/17/2007
Patrick Waters
100'
Visibility in cavern area was great, a little murky in the lower section. Swamp was the driest I've seen it. Viz has been going down over the past two months.
1/27/2007
War Eagle
100
This was an amazing dive. Mosquitoes were viscious and swamp was a bit difficult to manage. Entry to the spring can be a bit tricky because of the root systems present, so be careful and watch your step. To get through the swamp easier, walk about 20 yards to the right of the reflectors when facing the swamp from the tram road. The mud is not bad there as we learned on the way back.
1/13/2007
Bert Wilcher
100'
Swamp managable, drier this time of year. Lower flow in the basin, but visibility excellent all the way to the lower section of the cave area.
12/10/2006
Hounddog
100
the swamp was very dry this time and the walk was not so demanding! I have to say this is the 8th wonder of the world!
11/26/2006
Bert Wilcher
90'
Swamp dryer than in the past few months, water flow was down but the visibility was 90' top to bottom.
11/25/2006
lanham
unrestricted
unbelievable dive, the reflectors were great. we put some up in the other side of the trees to lead you back out to the road. mosquitoes kinda sucked and I only sunk to my knees twice in mud. water was perfect blue and the dive was phenomenal. wanted to see the snapper but didn't get the chance.
10/26/2006
Jim Hunter
100
Buford never ceases to amaze me. Kudos to whoever put the reflectors up, they are a straight shot to the spring and you don't end up wandering around in the swamp following the multitude of survey taped trees. Reasonably dry trek through the swamp, only sunk to my knees a couple of times. Slight haze in the cavern, but still could see the entrance at 135'. No critter problems, but there is a fairly substantial snapping turtle who was in residence in the basin. He didn't care much for hanging out with us during the deco stop and left. Great dive, well worth the minor inconvenience of the walk.
10/19/2006
Jim.Kendrick
100
Well it took 5 months but I finally carted a 120 OMS and 40 buddy bottle down the tram for a solo dive. It was definitively worth it. No enough skeeter to carry you off but I still advise plenty of Off spray. No sign of snakes but there is some mud. Of course I stepped into a hole about 2 foot deep and became acutely aware of how to pick my way back. For those who cart your stuff back I reward you with this tidbit. At the end of the tram road, look directly out about 8' off the ground and find the red reflector. Proceed to it, picking your route using clumps of grass and tree roots to show the firmer ground. Once at the first red reflector, then find the blue one about 25' from it and repeat your walk. Once at the first blue reflector take heart your 1/2 way. Now to the 2nd blue reflector, here is a nice fallen tree to prop you gear on for a moment of reflection. Now you can see the 2nd red reflector and the cypress stump to enter the pool by. Once again the reflector sequence is red, blue, blue and red. Once in the cavern, it is easy to see how it is said that Buford may be the 2nd best cavern in Florida. I saw some areas that warrant further exploration but that would be better accomplished with a team of divers.
10/4/2006
Dave Brummitt
100%
This was a GREAT dive....ready to go back....the Brim, Bass and blue gill were very friendly......came right up and pecked on my mask......SOO COOL!!! a TRUE Florida fauna dive location.
6/17/2006
Gibby Lane
100
Great dive. The bugs were not as bad as expected. Visibility is 100%. You can still see the trees from 146 feet. The walk from the road to the spring is still quite manageable. Very little deep mud. SPECIAL CAUTION there has been a cottonmouth hanging out between the spring and the tram road that is big enough to destroy any thoughts of manhood I had. Watch your step.
5/20/2006
Jim.Kendrick
100'
Did the recon hike today - Viz on the surface appears to be the same as reported on the 14th. It's possible to avoid the mud entirely. May do the dive in the am, If so will post.
5/14/2006
Mike Huff
100
Viz was stellar all the way down to 150, and the swamp was mostly dry... With the rain this week, Buford may be about "done" for the summer, as the only thing that offset the damn horseflies was the dry conditions.
5/7/2006
Dave Shuman
60
We dragged ourselves out of bed too early to get to Chassohowitzka and beat the heat, figuring the hike in was going to be brutal. We had never been to Buford before and only had limited directions. Turns out limited was an understatement. And we managed to not bring a GPS. Fortunately, we ran into three other real nice, and lost, people (Paul, Glenn, and Karen I believe) and we spread out, eventually finding the right access tram and the coolly inviting Buford. The swamp was bone dry. It was an easy stroll to the water's edge. With a squadron of horse flies playing piranha on our exposed skin we geared up swiftly. Vis was a little shoddy down to 35 or so, probably because we kicked it up a little entering despite our best efforts. At 60 it opened up. Way up. We worked our way down to 135 running our own line, clarity opened up to about 60 feet. There is a fixed line that runs along the ceiling on the east side of the entrance. Descriptions and pictures don't do Buford justice. This dive is a must do.
4/11/2006
Dave Jones
80-100'
We finally made it out to Buford Spring for a dive and I suspect the conditions don't get any better than this. We parked at the head of the tram and used a $25 Northern Tool hand truck to cart our gear to the end of the tram (took 2 trips). There was no standing water in the surrounding swamp, only mud and lots of foot prints. I only sank up to my knee once, but was able to self rescue thanks to my handy walking stick. Spring water was slightly turbid with algae in the shallowest depths but cleared up perfectly after descending just a few feet. No noticeable current and water temperature was 73 F. No sign of alligators or snakes and only minor bug trouble. I laid my own line going in but will save myself the trouble next time and use the line that starts at the surface just off the eastern edge of the entrance. After getting out I simply walked my full kit (single AL80) through the mud to the tram with little trouble. I'll be sure to bring a larger bottle next time. Judging from the fresh tire marks in the tram and the flattened pile of palm fronds I piled up 2 months ago, it looks like someone (local dive shop?) is making regular trips...
3/15/2006
Mike Huff
100
First dive at the location, and I can see why people describe it as being so pristine. It makes for some awesome photography. The walk does suck, but it's worth doing at least once.
3/10/2006
john
100
what a dive.. second time there. Vis was incredible. last time I went it had rained for 3 days. Last visit it was cooler outside so insect repellent is recommended those damn sand gnats (noseeumms) were the only other drawback to the visit other then the hike. I must say that the reflectors are helpful but I fear their effect. Hospital hole is near by and OW guys have trashed the walls. These aren't glory markers in HH they are serious damage. In Buford my buddy and I were just amazed at the beauty and the untouched look it had. Ohh and I didn't get any but the plant life is turning really green and poison ivy was every 2 feet or so I guess I haven't been affected since I was a kid. Hell of a dive!!!
3/4/2006
Walter Pickel
100'
Not sure what happened over the last couple of days but these are some of the best conditions you can find for Buford. The swamp is dry, the run is crystal clear and the system has phenomenal visibility.
3/1/2006
Jim Hunter
5'
Attempted to dive on Wednesday. The walk in/out was reasonable, very little standing water. Basin was definitely not as clear as last time (Oct 05), but you could make out the entrance (kind of). Cavern is currently siphoning and the deeper into the entrance the worse the vis. Also seemed to be a lot more debris in the entrance than I remember from last fall. Called the dive at 25' when lost overhead light and what was below did not look any better. Vis at the call was 3-5'. Also noticed the old deer stand at the end of the tram road is gone. Used to use that as a landmark and I came close to missing the road on the way back out without it there. Weather was great so it made for a nice (if not overburdened) walk in the woods. Dave, your walking sticks were where you left them and they came in handy, thanks! Put them back in the same location for the next folks.
2/20/2006
Dave Jones
Very Good
We made it out to Buford Spring on Monday (the 20th). Just hiked in to look around and will bring a cart with dive gear next time to get us as far as the tram. I guess it hadn't rained in a while as the swamp was only 6" or so deep. The hotel staff in Weeki Wachee said it hadn't rained during the last 2 weeks. We stayed mostly dry by hopping along the dry spots and balancing along fallen trees with "walking" sticks. Don't think this technique will work hauling tanks in, though. Didn't see the alligator, maybe he's under the ledge. Please note that we didn't dive, this was a recon hike to see if we could find the place. The visibility was determined from the banks of the sink, looked VERY clear, emerald blue with no tannic coloration. No current or boil was observed either. On our way out we picked up as much of the broken glass and dive stickers left by a previous visitor as I could stuff in an empty Gatorade bottle. Obviously driving down the tram is NOT a good idea for several reasons. Also, leaving dive stickers attached to trash is not cool as it lets everyone know that a diver was responsible. It probably won't take much to ban diving here again. Anyway, I covered as much of the broken glass as I could with some palm fronds and left a couple of "walking" sticks under the wire gate at the tram entrance.
2/16/2006
Rick Hartman
80
First time diving Buford. The swamp was wetter than I've seen in any other pics, but the dive was well worth it. Great vis!! Beautiful dive!! I'll definitely go back (but not with doubles again!!)
1/26/2006
Adam Gonzales
Over 100 ft
Excellent dive today. The swap has dried out a bit, I was only knee deep 3 times. The water was absolutely fantastic, 74 degrees and crystal clear.
1/21/2006
Walter Pickel
80'
Just an access/logistics update...There is a pine tree felled across the tram road. Additionally, vehicle traffic is prohibited on the tram road. It is apparent that people have been using the tram road with their vehicles and leaving them at the edge of the swamp while they dive. Please respect the rule of not using vehicles on the tram road.

At the edge of the swamp there are some dive stickers on the ground. These have shattered glass on the back of the stickers (and on the ground) so it is pretty clear that someone left their truck there while they dove and either the truck got broken into or a tree limb fell on it.

If anyone has any information on the broken glass please send me a message.
1/21/2006
Walter Pickel
80'
The system looked really good. Viz is great, in the upper section it is gin clear. In the lower section it gets a little cloudy. The swamp is in good shape but has been heavily used and shows some wear (note: not all the places they used are good places to step). Someone has added reflectors to the trees. Is this place really that hard to find???

During surface deco I was lucky enough to watch a river otter for a few minutes. After he made eye contact a few times he left. Great dive!
11/30/2005
Steve Straatsma
8-10 ft!
Swamp is full of water, flowing, and siphoning water into Buford. Went to 110 or so, 8-10 ft. tannic viz, could barely see the entrance. Give it a month or so after all the rain of the past two days!
11/5/2005
Walter Pickel
Excellent
An exceptional dive today! We decided to take an early morning dip and were in before 8. The visibility in the system is better than I have seen it in a couple of years. Understanding the viz here is always good, it was just very clear today -- no cloudiness -- gin clear. The walk in wasn't bad either. Although, the swamp is a bit damp it was not as bad as it was this summer.
10/1/2005
Brian Roberts
Very Good
Conditions are excellent top to bottom. The only silt in the system was created by the catfish on the bottom.
9/24/2005
Walter Pickel
150
System was in good shape as always. Thanks to Colt for taking care of the felled tree and pulling it off the tram road. Also, be careful because archery season started today. There were a ton of hunters out!
9/17/2005
Walter Pickel
150'
We took a chance today on Buford being in good shape. It paid off! Viz in the cavern and bedding planes is as good as you are going to get!
9/17/2005
Brian Roberts
Very Good
Conditions are excellent top to bottom.
Click here if you would like to contribute any information or resources for this system.
Sslect Search Radius:
| System | Depth | Cave | Cavern | OW | Last Report | Distance (mi) |
| --- | --- | --- | --- | --- | --- | --- |
| Eagle's Nest | 315 | True | False | False | 7/22/2023 | 5.5 |
| Lost 40 | 165 | True | False | False | 7/15/2023 | 7.4 |
| Hospital Hole | 143 | False | True | True | 4/30/2023 | 7.4 |
| Crab Creek Springs | 60 | True | False | False | 1/14/2023 | 5.8 |
| Warm Springs | 140 | False | True | False | 11/1/2022 | 0.4 |
| Bulldozer Sink | 60 | False | True | True | 3/22/2020 | 7.2 |
| Diepolder III | 300 | True | False | False | 5/27/2017 | 8.6 |
| Little Gator Siphon | 180 | True | False | False | 1/3/2015 | 0.1 |
| Twin Dees | 335 | True | False | False | 8/3/2013 | 8.3 |
| Weeki Wachee Spring | 407 | True | False | True | 4/28/2012 | 8.1 |
| Diepolder II | 360 | True | False | False | 12/23/2010 | 8.8 |
| Gator Spring | 192 | True | False | False | 12/6/2009 | 5.2 |
| Blind Spring | 180 | True | True | False | 11/29/2009 | 3.2 |
| Little Salt Spring | 240 | True | False | False | 9/23/2008 | 6.3 |
| Mud Spring | 210 | True | True | False | 11/20/2005 | 6.4 |
| Hospital Spring | 40 | False | True | False | | 7.4 |
| Mary's Sink | 58 | True | False | True | | 7.6 |
| Nursery Sink | 214 | True | False | False | | 7.9 |
| Ryles Spring | | False | False | False | | 4 |
| Joe's Sink | 60 | True | False | True | | 7.6 |
| Snake Eyes | | False | False | False | | 5.3 |
| Wolf Sink | | False | False | False | | 9.6 |
| Jenkins Creek | 50 | True | False | False | | 8.1 |