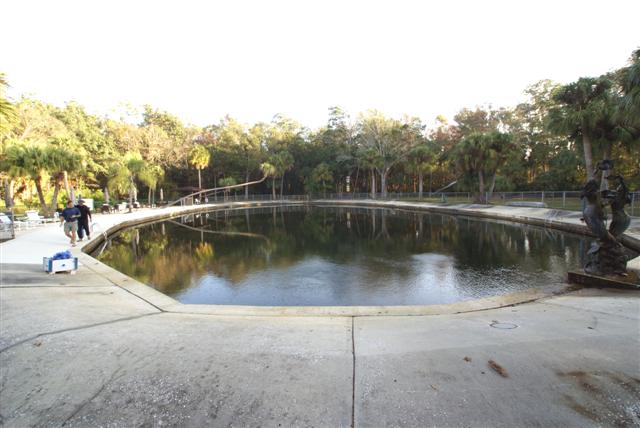 Portions of the following information were taken from Florida Geological Survey Bulletin 31.
Bobhill Springs is in a hammock about 7 mi S. of Weeki Wachee Springs or 5 mi N. of Hudson). Drive about 5 mi from Hudson on U.S. Hwy 19 to the Pasco-Hernando County line; the spring is 600 ft N. of the county line and 1,000 ft W. of the high-way.
Description
- This spring flows from a single 10-ft-diameter vent in the sand-covered limestone bottom of a 100-by-200-ft-oval pool with concrete walls and perimeter walk. Bobhill Springs discharges west to the Gulf through Bayou Creek and Bayou Lake. A prominent boil is reported to be continuous. Depth at the spring vent is about 15 ft.
Utilization
- The spring is privately owned. This is a traveler's trailer-tenter camp site that is advertised to have some 250 spaces and all recreational and camping facilities.
| Date | Submitter | Visbility | Remarks |
| --- | --- | --- | --- |
| 12/29/2007 | Walter Pickel | 2' | The hole is no longer gated but the no mount entrance is choked. The flow is almost not detectable from the body-sized entrance tube but the water is clear and warm. We spent about an hour trying to clean it out to no avail; some interesting items were pulled out. Although there is always hope, this system does not seem to want to go -- at least not for a human. |
Click here if you would like to contribute any information or resources for this system.
| Description | Type | Date | Author | Remarks |
| --- | --- | --- | --- | --- |
Sslect Search Radius:
| System | Depth | Cave | Cavern | OW | Last Report | Distance (mi) |
| --- | --- | --- | --- | --- | --- | --- |
| Eagle's Nest | 315 | True | False | False | 7/22/2023 | 8.5 |
| Lost 40 | 165 | True | False | False | 7/15/2023 | 9.2 |
| Hospital Hole | 143 | False | True | True | 4/30/2023 | 6.7 |
| Ward's Sink | 198 | True | True | True | 9/30/2022 | 5.6 |
| Hudson Grotto | 110 | False | True | True | 10/30/2021 | 7.2 |
| Arch Sink | 197 | True | True | False | 7/18/2021 | 3.9 |
| Bulldozer Sink | 60 | False | True | True | 3/22/2020 | 6.9 |
| Palm Sink | 197 | True | True | True | 10/15/2019 | 6.5 |
| Diepolder III | 300 | True | False | False | 5/27/2017 | 9.1 |
| Salt Spring | 330 | True | False | False | 12/13/2014 | 10.8 |
| Wayne's World | 280 | True | False | False | 8/16/2013 | 5.6 |
| Twin Dees | 335 | True | False | False | 8/3/2013 | 6.6 |
| Isabella Spring | 110 | True | False | False | 5/22/2013 | 3.2 |
| Weeki Wachee Spring | 407 | True | False | True | 4/28/2012 | 7 |
| Diepolder II | 360 | True | False | False | 12/23/2010 | 8.9 |
| Gator Spring | 192 | True | False | False | 12/6/2009 | 8.9 |
| Free Ride Cave | 120 | True | False | False | 10/10/2009 | 3.7 |
| Cedar Island Springs | | False | False | False | 9/19/2009 | 5.5 |
| Double Keyhole | 230 | True | False | False | 1/11/2009 | 2.5 |
| Horseshoe Spring | | True | True | False | 1/10/2009 | 3.8 |
| Little Salt Spring | 240 | True | False | False | 9/23/2008 | 7.8 |
| Heart Spring | 270 | True | True | False | 8/3/2008 | 8.5 |
| Jewfish Sink | 200 | True | False | False | 9/2/2007 | 4.1 |
| The Jewel | 315 | True | True | False | 6/2/2006 | 2.6 |
| Mud Spring | 210 | True | True | False | 11/20/2005 | 7.8 |
| Beacon Woods - Round Sink | 150 | True | True | False | 9/25/2005 | 7.5 |
| Nemesis Sink | 250 | True | True | True | | 6 |
| Beacon Woods - Smokehouse Pond | 150 | True | False | False | | 6.7 |
| Hospital Spring | 40 | False | True | False | | 6.7 |
| Wolf Sink | | False | False | False | | 7 |
| Snake Eyes | | False | False | False | | 8.8 |
| Star Sun Spring | 120 | True | False | False | | 3.7 |
| Snook Spring | 120 | True | False | False | | 3.6 |
| Joe's Sink | 60 | True | False | True | | 8.9 |
| Whiskey Spring | | True | False | False | | 10.6 |
| Coffee Sink | | False | False | False | | 5 |
| Nursery Sink | 214 | True | False | False | | 8.4 |
| Beacon Woods - Nexxus | 150 | True | False | False | | 7.2 |
| Jenkins Creek | 50 | True | False | False | | 6 |
| Willow Sink | | True | False | False | | 6.8 |
| Beacon Woods - Stratamax | 150 | True | False | False | | 6.9 |
| Gar Spring | | True | False | False | | 10.5 |
| Beacon Woods - Briar Sink | 150 | True | False | False | | 6.8 |
| Mary's Sink | 58 | True | False | True | | 9 |
| Garden World Sink | 250 | True | False | False | | 2 |
| Beacon Woods - Golfball | 150 | True | False | False | | 6.7 |