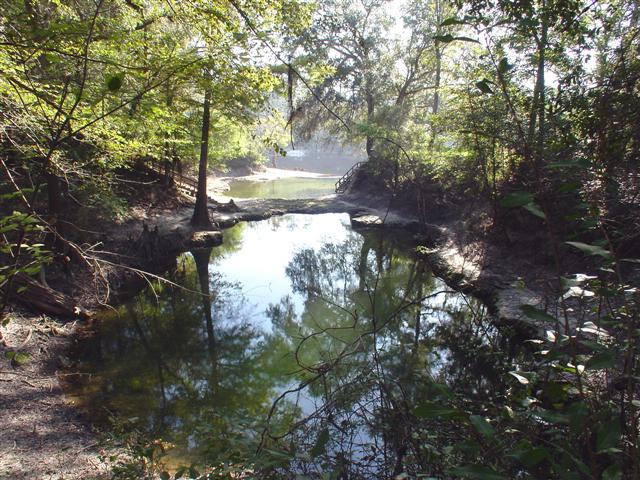 Portions of the following information were taken from Florida Geological Survey Bulletin 66.
Lafayette Blue Spring is located 7 miles northwest of Mayo on the west side of the Suwannee River. From the intersection of US 27 and SR 51 in Mayo, drive northwest on US 27 for 4.9 miles. Turn north (right) on CR 251B and continue for 2.1 miles on a gravel road. Turn east (right) onto a dirt road and go 0.2 miles to the county park entrance. Spring vent is east of the parking area in the pool farthest from the river.
Description
– Lafayette Blue Spring discharges from a single horizontal vent in the south side of the sink depression. The spring pool measures 57 ft north to south and 102 ft east to west. Spring depth measures 21 ft. The water is clear and light bluish green. Algae are very thick on limestone and sand substrates within the spring pool and run. The spring run flows east approximately 300 ft before reaching the Suwannee River. Clear water from the spring contrasts sharply with the tannin-colored water of the river. Limestone is cropped out throughout the spring pool and run. A 20 ft wide land bridge stretches north to south across the spring run approximately 120 ft east of the vent. There is a narrow band of a few cypress trees near spring run. The spring pool is steep sided with limestone and sand. Adjacent high ground is approximately 20 ft above the water level, and it is sparsely forested with a few pines and oaks. Several sinks and karst windows are present in the woods west of the main spring.
Date
Submitter
Visbility
Remarks
11/26/2022
Tim
5 to 15
moderate flow, very dark. Entered the system at the Snake sink and did what we believe to be 900' of penetration. Was a great new cave to experience. Next time we are going to start from the land bridge. Here is a video between Green and Snake sinks. https://youtu.be/yfvcF2mZuX4
12/19/2020
Ashley
10-15'
Moderate flow. Line buried deep in silt in several areas between main entrance and Snake. Vis was milky, even before we spent time digging out the line and clearing algae from the arrows. If you get bored by the great vis in other caves nearby then you'll find this lots of fun! Rumor has it sometimes vis is great - roll the dice.
11/4/2018
Taylor Baughn
30-40 feet
Entered at Kitty Sink (be aware, the bottom step has broken off making entrance and exit a bit more interesting). Turned the dive around the nostrils. Conditions are apparently the best they've been in awhile. The line disappears into the silt occasionally, but comes back out after a foot or two. Beautiful cave, check it out while conditions are good!
5/27/2017
Morgan Smith
50
Excellent conditions currently, viz was crystal for ~1,500 feet back. Beautiful, awesome passage ~30-40 feet deep.
7/27/2016
Sandy Koster
40-60 feet
Awesome cave dive among great park rangers at a beautiful site. All extremely welcoming. Vis was between 40-60 feet as we progressed through the various sinks. The flow was very high in the shallow waters of some of the sinks, so get ready to lay your line, and then back step through to the next sink, unless you find some roots, branches or rocks to pull and glide. If a rock in the second sink, be careful that it's not actually a large snapper, as was my case when my rock moved! Too funny, all was well, I got some photos of the big boy, and a small video. :-) Certainly a site to visit again and again. Rock walls were clean, some algae on the lines, but overall, very nice dive.
11/2/2015
cmint
10-15
Vis was around ten or maybe 15 at best. If you are comfortable with low viz dives, its certainly diveable.
1/5/2015
FW
< 2'
The whole system is closed, due to river intrusion.
3/14/2014
James H
0
Lafayette Blue Springs is closed for swimming and diving, due to a brownout. I'd check their website page before planning any trips.
11/16/2013
Kelly Jessop (via CDF)
10'
The park reported 20ft of visibility,but we attempted a fauna count,and presently there is strong flow and 10ft of viz.
12/18/2011
Mike
20
Kitty is full of duckweed, very milky viz. Odd white stuff on some of the line, twigs and rock. Looked spongy and gross, made sure I washed my hands before enjoying a sub from the Luraville country store...
10/30/2011
Jerry
~30 ft
Entered at Kitty; no flow, milky. I hear these are average conditions these days.
10/2/2011
SPW
20ft
My first dive at LB. I understand this is pretty good visibility for the system. Dove from the main spring through Snake and Green, to maybe 800 ft past Green. Flow is low (except in Snake, where it's shallow and kind of rough). Pretty fun dive!
10/20/2010
iowacavediver
30'
First time at site... arrived via boat on the suwannee and had equipment issues upon suiting up. We only dove the cavern, but viz seemed good, comparitively speaking, flow in the cavern was barely noticable, but the spring run was pumping clean water into the river. Seems like a great time to dive the system with the current river levels. System seems very dark and silty... but nice and open. Can't wait to get back. **also... large construction crew ripping out stairs and walk ways around springs... looks like a major renovation underway!
7/17/2010
Mathew Bull
30-40'
Vis was great, flow was prevelant. I was surprised at how big the passages are there, kinda like Leon Sinks except with cream colored walls, broken up by sinkholes every few hundred feet. Awesome dive. Apparently its extraordinarily clear for the moment.
10/5/2009
bob Knazik
1 - 15
Dove Kitty sink on 10/3/09. Vis was low, as usual. Entered at Kitty sink and went a small distance towards Sweet sink, then turned and went past Kitty, past Trap and to the Nostrils I & II sinks. Line was partially buried in places. Turned after he Nostrils and exited at Kitty. Tough exit, water was down below lowest concrete step.
9/7/2009
Brian Richardson
10' at best
dove upstream from kitty a good ways. vis is nasty. cave was interesting
8/29/2009
Brian Richardson
15-20
Line is in very bad shape from LFB to snake. we tightened it up a little but you'll have to gap it at least once when it goes into mud/debris. flow is kicking pretty good
6/3/2009
Kelly Jessop
0
Blown due to rising river
1/24/2009
Raphael Tremblay
25
High flow. Vis not bad going in. A lot of stuff coming out the ceiling. Vis improving the further in.
1/18/2009
Tom Johnson (tj)
20
Low vis coming back, but high flow for this cave system. Line was under the muck approaching Green Sink. Overall, better than normal.
11/30/2008
Cwalters
20'
It was an excellent dive with viz. of 20' on average; although the viz. varied from place to place. There was very noticeable flow with lots of fluffy material coming down from the ceiling. I was surprised at how big the passage was and a couple of times couldn't see any rock, just the line disappearing into the gloom. One observation is that I saw nothing alive in the system - no fish, no crawfish, not a thing moving. Otherwise, we thought the cave had the look and feel of many of the Suwannee River spring systems.
9/9/2007
Bob Schulte
10'-15'
Entered in at the headspring, swam under the natural bridge and ran a line into the main spring opening. Line is to the right, among the remains of several catfish. Some kind of biomass is all over the place, reminds me of a wreck dive - line looks like its 1" thick, but you shake it and it returns to the expected dimensions. Short swim to Snake Sink, we ran the gap the whole way with a primary reel. We swam from there up to Green Sink. Did another gap across Green Sink. Swam upstream a ways and then turned the dive. Vis was 10'-15' throughout, the line is very well run, the PVC stakes that raise it above the silt floor are great, very easy to keep track of the line in the low vis. So my final impressions as a spoiled rotten Ginnie diver are that it is not something I would be especially interested in returning to unless the vis improved to 30' or so - there are huge rooms in there that I would love to see - at some parts you are hovering above the line and you cannot see the ceiling, the floor, or walls - just this muck covered line running ahead into the darkness.
5/4/2007
Anonymous
10'
System is very cloudy right now and viz is down.
8/21/2006
Frank Lavallee
30'
We decided to access the cave system at Kitty Sink. The water level was down to the bottom concrete step, the layer of duckweed was gone, and the visibility was good in the basin. We swam downstream towards Green Sink, passing by several sinkhole openings on the way. Visibility was poor-to-fair for most of the dive because of a lot of particulate in the water. We arrived at Green Sink 36 minutes into the dive. We turned the dive at that point. The line was littered with wooden clothes pins every few feet, and I had considered removing them, but I didn't. We arrived back at Kitty Sink 72 minutes into the dive. Our gas supply was still good, so we decided to continue upstream towards Trap Sink. Visibility remained poor-to-fair. We swam past Trap Sink and continued towards Nostrils I and II Sinks. We turned the dive prior to reaching them. We arrived back at Kitty Sink for the second time 113 minutes into the dive. (Note: Access to the cave system at Trap Sink is not advised at this time for 2 reasons: Visibility in the basin is practically zero, and a rotten tree has fallen into it)
7/30/2006
Randy Beeson
20ft max
Dove Blue Spring on the 26th,Large opening into the cavern, which seemed to eat up my light. Line is covered with algae hanging down 2 ft in places. Followed the line about 200 ft and could make out the light from snake sink. Another 100 ft and we were in 3ft deep water going against a strong current. Finally back in deep water flow subsided and we entered another large cavern equally dark , found the line and followed it to nearby Yana sink. or is it Green Sink I don't know. Its said there are a total of 23 openings, many on private property.
4/6/2006
Charles Read
20'
It's nice that the state park now allows diving. Visibility was low by Florida standards, quite fast flow in places. My buddy (my cave instructor Brent Booth) had warned me that this wasn't his favorite dive. Nor is it mine, but I still enjoyed it.
4/3/2006
Dave McLaren
20-30'
Entered at Blue Spring, Swam almost to Stevens Sink. Vis was as low as 10' in some areas, but the majority of the dive it was 20-30'.
3/24/2006
Mike McAuliffe
15-20'
Got a chance to jump into this system (off park property since NO solo diving is allowed in State Parks). Conditions were approx 15-20ft vis with what I would call moderate flow.

This system isn't for everybody, I understand that with the typical low vis and a somewhat challenging entry point, but for the people that are diving the NFL caves a lot and want something a little different, come on out to the State Park and giver a try. Annual park passes are honored for your diving and we have "walk-in" tent camping for $10/nite.
1/19/2006
State Park Manager
OPEN
The river is down and the system is now open for diving.
1/6/2006
PSSP
SITE CLOSED
This site is currently closed due to rising river levels.
11/13/2005
Walter Pickel
5' - 20'
Eric and I entered at Lafayette Blue and ended up going a couple thousand feet. Conditions were actually best between Blue Spring and Green Sink. After Green Sink, the viz got pretty milky and was down to 5' most of the way.

When looking for the mainlines, the lines can be found on the divers right in Blue, Snake (Yana), and Green. With the limited viz they can be a little difficult to locate. The main lines are gold so don't be fooled by some of the old white line that runs for a few feet and then straight into the bottom -- the gold lines are there.
11/6/2005
Tom Hundley
20
Opened this weekend for diving. ( Apprentice and higher due to vis) Vis is not the best and since its not been dove on the park side for awhile it still need some cleaning up from trash removal in the system. So if you dive it please take some trash out with you when you exit and help clean it up. Line have been worked on but we did find old line so be careful. Strong siphon in places and the sinks are large and shallow. The park itself was nice and lot of hard work has been done to make it look nicer. The state plans of spend a good bit of money here and when the vis is a bit better will be a very nice.
10/16/2005
Walter Pickel
Basin is clear
We stopped by this morning to look at the site and maybe enter through Kitty Sink. We ended up talking to the rangers for a while and got the low down on diving Lafayette.

We were told that they expect to open the park to divers in November but scooters were not going to be allowed. They also said that the state is looking to ban scooters from all state parks. I am not sure if anyone else has heard this rumor. If you have, let me know what you think about it and who you heard it from.
10/3/2005
Cindy Butler
25
Now owned by DEP. Managed by Suwannee River park. Will be open for public diving as soon as the line and signs are in. System can still be accessed from Kitty and Trap by permission of land owners.
Click here if you would like to contribute any information or resources for this system.
Sslect Search Radius:
| System | Depth | Cave | Cavern | OW | Last Report | Distance (mi) |
| --- | --- | --- | --- | --- | --- | --- |
| Telford Spring | 80 | True | False | False | 8/17/2023 | 3.8 |
| Peacock Springs - Peacock III | 214 | True | False | False | 3/12/2023 | 5.6 |
| Peacock Springs - Peacock I | 175 | True | True | False | 11/17/2022 | 5.6 |
| Royal Spring | 50 | True | True | True | 11/15/2022 | 9.5 |
| Charles Spring | 80 | True | False | False | 7/30/2022 | 2.9 |
| Alligator Rescue Spring | | True | False | False | 5/20/2022 | 3.9 |
| Lafayette Blue - Kitty Sink | 100 | True | False | False | 5/9/2022 | 0.5 |
| Peacock Springs - Orange Grove | 175 | True | True | True | 3/30/2022 | 5.7 |
| Cow Spring | 110 | True | False | False | 10/10/2021 | 6.9 |
| Allen Mill Pond | | True | False | False | 10/11/2017 | 2.7 |
| Lafayette Blue - Trap Sink | 100 | True | False | False | 11/21/2016 | 0.6 |
| Suwannee Blue Spring | 40 | True | False | False | 6/28/2016 | 9.9 |
| Convict Spring | 30 | True | False | False | 11/23/2015 | 8.2 |
| Powerline Cave | 60 | True | False | False | 9/17/2015 | 0.5 |
| Peacock Springs - Peacock II | | True | False | False | 4/8/2015 | 5.6 |
| Peacock Springs - Waterhole III | 55 | True | False | False | 9/26/2013 | 5.5 |
| Bathtub Spring | 20 | True | False | False | 2/5/2011 | 8 |
| Crazy Horse Sink | 60 | True | False | False | 1/30/2011 | 0.5 |
| Peacock Springs - Baptizing Spring | | True | False | False | 8/15/2010 | 5.3 |
| Bonnet Spring | 48 | True | False | False | 8/15/2009 | 5.3 |
| Hidden Spring | | True | False | False | 6/1/2006 | 6.9 |
| Running Springs | | False | False | False | | 6.8 |
| Thomas Spring | | True | False | False | | 1.4 |