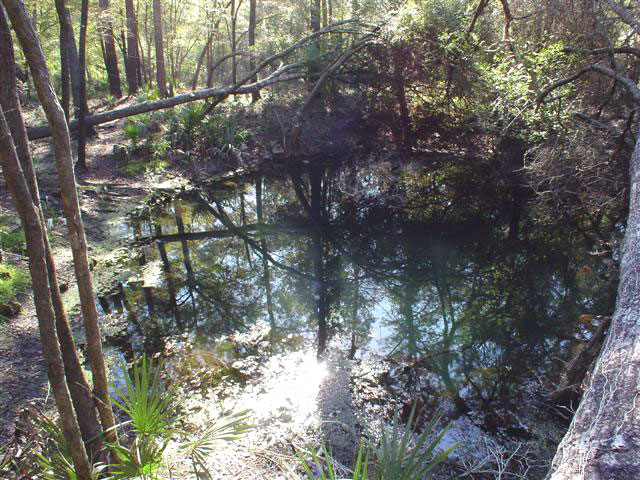 Waterhole III is yet another entrance to the Peacock Springs system. It jumps into the Peanut line at around 950' on the Peanut line.
| Date | Submitter | Visbility | Remarks |
| --- | --- | --- | --- |
| 9/26/2013 | Oliver | 40'-60' | Visibility in the waterhole tunnel is currently better than on the Peanut and Olsen lines. The waterhole line itself is in good condition and it's a fantastic dive as usual. Due to the recent flood there is some percolation and plenty of silt everywhere. A lot of the scars in the silt have been healed. Flow in the Peacock system is up, however the Waterhole tunnel is just slightly siphoning as always, so no increased flow to fight on the way back. |
| 8/11/2013 | Mike Bartlett | 20 - 30' | We headed up the Peanut Tunnel this morning and went over to Water Hole. The Peanut Line has quite a bit more particulate in the water column than Main Line did yesterday. The flow is also quite a bit stronger. We took the last jump to Water Hole, just shy of the 1000' mark. The whole passage was extremely silty with quite a bit of percolation the whole way. It was a fun ride in and out though. Total run time was about 90 minutes with an average depth of about 47' and near 30' vis. Even with the recent floods there is quite a bit of damage (hand prints, knee impressions, etc) in the floor that the silt was not deep enough to completely cover. |
| 10/21/2012 | Jason | 60 | Vis was great. Clear heading in and out. Stirred up a bit when we got to Waterhole, as expected. The basin looks mostly free of hydrilla. Probably usable as an entrance at the moment. |
| 4/7/2012 | Brandon Cook | very good | Took the Peanut line and jumped to the waterhole tunnel. Cool section of cave, noticeably less traveled. Vis was excellent in the waterhole tunnel with a few exceptions. |
| 4/6/2012 | Julie Anderson | Very clear | Entered at P1 then branched off to waterhole. Excellent vis but quite silty. It was our first time diving this section of the cave and wow, it is gorgeous! Surfaced at waterhole III to a little 3' gator sunning. Lots of duck weed and branches in the sink. |
| 10/30/2011 | Paul V | crystal clear | Entrance from P1, first 1000 feet on peanut line good visibility, 1000 to peanut restriction excellent visibility. Waterhole tunel was exceptionnal WOW. The visibility was limited by ours 10W HID 12W LED (LM) no particule in suspension. On way back the visibility stay excellent in waterhole but 800 feet (peanut line) to P1... very bad. We saw lot of divers. |
| 5/6/2011 | Barbara Dwyer | 50ish ft | Belated posting - dove about halfway up the tunnel, very pretty, lines in good shape. Needed to turn to honor "be out of the water by 5" law. |
| 4/9/2011 | Jeff R. | 70'-100' except for a few areas | Truly outstanding conditions. Water was extremely clear from the Water Hole except for a few areas of Tanic intrusion about 2/3rds of the way in. |
| 11/6/2010 | Larry Vrooman | 50-60 ft | Excellent viz, very clear, no tannic intrusion noted. |
| 4/11/2010 | Larry Vrooman | 30' | Tunnel is clear and no signs of tanic intrusion. Line does have largish rock on top of it a few feet short of the end of the waterhole line. |
| 1/2/2010 | Walter Pickel | 75 | Great dive from P1 to Waterhole III. Wonderful passage that looks like Peacock used to. Huge boulder has fallen on the line at below Waterhole. Tons of crawfish and amphipods! |
| 10/11/2008 | Steve | 70-80 | Nice dive up from the Peanut line. Vis was good, flow minimal, a very nice section of cave. |
| 8/13/2006 | Mike Huff | 70 | Viz was good for my first trip up Waterhole, outside of the surface pool which was quite tannic after the previous night's rain... There is a line tied off in open water that connects to the main line down below. It's obvious that this section of the system does not get dived very often. Good dive. |
Click here if you would like to contribute any information or resources for this system.
Sslect Search Radius:
| System | Depth | Cave | Cavern | OW | Last Report | Distance (mi) |
| --- | --- | --- | --- | --- | --- | --- |
| Telford Spring | 80 | True | False | False | 8/17/2023 | 2.2 |
| Ruth Spring | 50 | True | False | False | 6/11/2023 | 12.9 |
| Peacock Springs - Peacock III | 214 | True | False | False | 3/12/2023 | 0.1 |
| Lafayette Blue Springs | 100 | True | False | False | 11/26/2022 | 5.5 |
| Peacock Springs - Peacock I | 175 | True | True | False | 11/17/2022 | 0.1 |
| Royal Spring | 50 | True | True | True | 11/15/2022 | 4.5 |
| Charles Spring | 80 | True | False | False | 7/30/2022 | 6.5 |
| Alligator Rescue Spring | | True | False | False | 5/20/2022 | 2.4 |
| Lafayette Blue - Kitty Sink | 100 | True | False | False | 5/9/2022 | 6.1 |
| Peacock Springs - Orange Grove | 175 | True | True | True | 3/30/2022 | 0.4 |
| Cow Spring | 110 | True | False | False | 10/10/2021 | 1.7 |
| Troy Spring | 70 | False | True | True | 9/16/2020 | 11.5 |
| Owens Spring | 45 | True | False | False | 10/7/2019 | 7.7 |
| Allen Mill Pond | | True | False | False | 10/11/2017 | 7 |
| Lafayette Blue - Trap Sink | 100 | True | False | False | 11/21/2016 | 6.1 |
| Suwannee Blue Spring | 40 | True | False | False | 6/28/2016 | 4.8 |
| Convict Spring | 30 | True | False | False | 11/23/2015 | 3.3 |
| Powerline Cave | 60 | True | False | False | 9/17/2015 | 5.2 |
| Mearson Springs | | True | False | False | 6/6/2015 | 8.6 |
| Peacock Springs - Peacock II | | True | False | False | 4/8/2015 | 0.1 |
| Bathtub Spring | 20 | True | False | False | 2/5/2011 | 3 |
| Crazy Horse Sink | 60 | True | False | False | 1/30/2011 | 5.2 |
| Peacock Springs - Baptizing Spring | | True | False | False | 8/15/2010 | 0.7 |
| Bonnet Spring | 48 | True | False | False | 8/15/2009 | 0.3 |
| Hidden Spring | | True | False | False | 6/1/2006 | 1.8 |
| Running Springs | | False | False | False | | 1.7 |
| Thomas Spring | | True | False | False | | 6 |