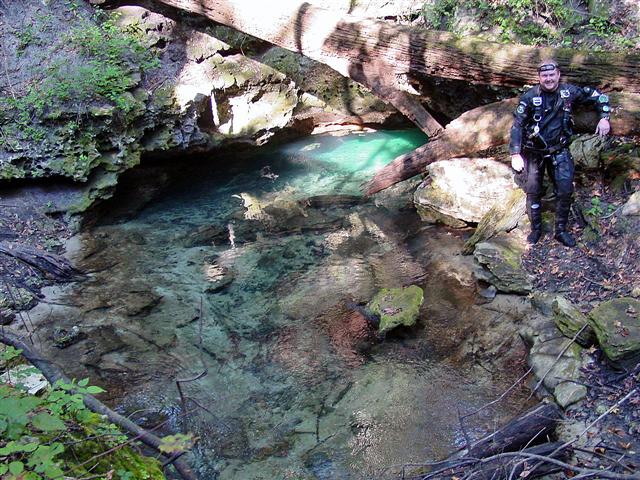 Portions of the following information were taken from Florida Geological Survey Bulletin 66.
From the junction of US 129 and CR 349 in O'Brien, drive northwest on CR 349 approximately 8.9 miles to the intersection with 198th Terrace. Turn west (left) onto 198th Terrace and travel approximately 0.7 miles to the intersection with 157th Lane. Turn south (left) onto 157th Lane and travel approximately 0.3 miles to the boat landing at Royal Spring. Launch boat at Royal Spring and go downstream approximately 0.25 miles, and the spring is located on the northeast side of the river.
Description
Suwannee Blue Springs is a system of interconnected vents and pools spanning over 160 ft in length. Natural limestone bridges separate the pools. The pool furthest north measures 13.5 ft north to south, 4.0 ft east to west and 6.5 ft deep. Water flows from a limestone outcrop on the north edge of the pool. The pool bottom is limestone and the water is clear green. Algae and algae-coated aquatic vegetation are abundant in the pool. The spring water flows into the second pool, due south of the first pool. The second pool is oval and measures 23 ft north to south and 6 ft east to west. Water flows from various small cavities in the limestone around the pool. The water is clear blue and the pool does not have as much algae or aquatic vegetation as the first pool. The third pool, due south of the second pool, measures 32 ft by 15 ft. Water flows from cavities in the limestone on the east and west sides of the pool. The sand bottom pool has aquatic vegetation and sparse algae. The fourth and largest pool, measures 93 ft north to south and averages 7 ft wide. This pool appears to be discharging the most water though no boils are visible on any of the pool surfaces. Water from this last pool passes underground and feeds into the river by three different runs. The most significant run measures 10 ft long and averages 5 ft wide and 3 ft deep. High ground slopes up 4 ft above the spring pool surfaces and trails run along side the spring. The spring is surrounded by private land with a dense hardwood forest.
| Date | Submitter | Visbility | Remarks |
| --- | --- | --- | --- |
| 6/28/2016 | Ryan | Clear blue | Dove it today. Flow was moderate and the vis was clear. You can start diving right from the river so no trespassing was needed. You pass through two about 50-75 ft duckunders then in the third sink you find the line. Line was in ok condition but was broken in a few spots. We used three gap reals during the dive. All in all a great dive. Perfect spot for some LP 50's. |
| 6/15/2015 | cavedivecamp.com | 60 | Took the opportunity before river dropped. Glad I did. Had to belly crawl in 1 foot of flowy water between 2nd and 3rd sink. Got in main tunnel things were great. saw american eel. Big rock hanging at last sink. bypass with line too small for me this time. So never made it to T. Just the bluest water.- could have hung around for hours exploring. Got some video. |
| 3/29/2011 | James Garrett | 100ft | Landowner recently ran divers away who were diving from the river. Be aware that diving here may result in being asked to leave. |
| 2/5/2011 | A Diver | 100' | cave is accessible via swim from river... amazing viz, moderate flow. If River gets much lower you won't be able to access legally. |
| 11/6/2010 | Larry Vrooman | N/A | River is down, too low to access Suwannee Blue without trespassing, and low enough you can't swim between sinks. |
| 10/1/2006 | Walter Pickel | 150 | What a great dive! Visibility is absolutely incredible (unless following Maestro down some small side passages) and the flow was enough to keep everything moving and clear. The lines are in good shape save a couple of branches tied up here and there. The first few hundred were kind of dirty but after Last Sink the sand is bone white! |
Click here if you would like to contribute any information or resources for this system.
| Description | Type | Date | Author | Remarks |
| --- | --- | --- | --- | --- |
Sslect Search Radius:
| System | Depth | Cave | Cavern | OW | Last Report | Distance (mi) |
| --- | --- | --- | --- | --- | --- | --- |
| Telford Spring | 80 | True | False | False | 8/17/2023 | 6.1 |
| Ruth Spring | 50 | True | False | False | 6/11/2023 | 8.1 |
| Little River | 110 | True | True | True | 4/30/2023 | 8.5 |
| Peacock Springs - Peacock III | 214 | True | False | False | 3/12/2023 | 4.7 |
| Lafayette Blue Springs | 100 | True | False | False | 11/26/2022 | 9.9 |
| Peacock Springs - Peacock I | 175 | True | True | False | 11/17/2022 | 4.8 |
| Royal Spring | 50 | True | True | True | 11/15/2022 | 0.4 |
| Charles Spring | 80 | True | False | False | 7/30/2022 | 11.4 |
| Alligator Rescue Spring | | True | False | False | 5/20/2022 | 6 |
| Lafayette Blue - Kitty Sink | 100 | True | False | False | 5/9/2022 | 10.4 |
| Peacock Springs - Orange Grove | 175 | True | True | True | 3/30/2022 | 4.9 |
| Cow Spring | 110 | True | False | False | 10/10/2021 | 3.1 |
| Troy Spring | 70 | False | True | True | 9/16/2020 | 6.7 |
| Owens Spring | 45 | True | False | False | 10/7/2019 | 2.9 |
| Lafayette Blue - Trap Sink | 100 | True | False | False | 11/21/2016 | 10.5 |
| Convict Spring | 30 | True | False | False | 11/23/2015 | 1.7 |
| Powerline Cave | 60 | True | False | False | 9/17/2015 | 9.5 |
| Mearson Springs | | True | False | False | 6/6/2015 | 3.8 |
| Peacock Springs - Peacock II | | True | False | False | 4/8/2015 | 4.7 |
| Peacock Springs - Waterhole III | 55 | True | False | False | 9/26/2013 | 4.8 |
| Bathtub Spring | 20 | True | False | False | 2/5/2011 | 1.9 |
| Crazy Horse Sink | 60 | True | False | False | 1/30/2011 | 9.5 |
| Peacock Springs - Baptizing Spring | | True | False | False | 8/15/2010 | 5.5 |
| Branford Spring | 101 | True | False | False | 1/16/2010 | 12.1 |
| Bonnet Spring | 48 | True | False | False | 8/15/2009 | 5.1 |
| Hidden Spring | | True | False | False | 6/1/2006 | 3.1 |
| Running Springs | | False | False | False | | 3.2 |
| Thomas Spring | | True | False | False | | 10.6 |
| Double Sink | | True | False | False | | 8.8 |