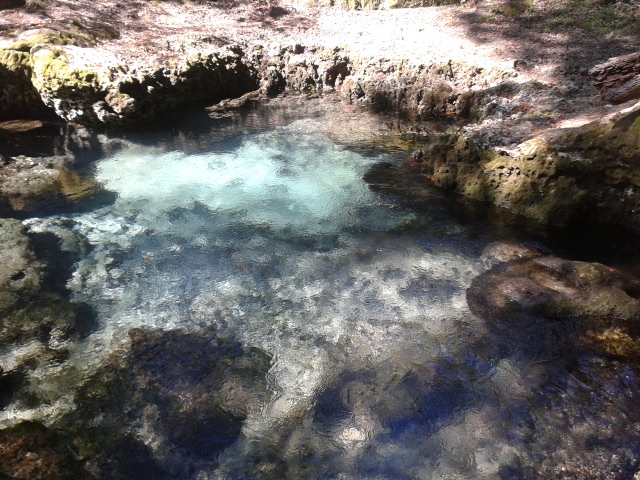 Portions of the following information were taken from Florida Geological Survey Bulletin 66.
From the boat landing at the SR 51 bridge over the Suwannee River south of Luraville, travel downstream approximately 6.1 miles. The spring will be along the north bank.
Description
- Bathtub Spring has an oval-shaped pool measuring 12 ft east to west and 7 ft north to south with a maximum depth of 4 ft. A single vent discharges from exposed limestone on the north side of the pool. The limestone pool bottom is covered with algae in some places. The spring water is clear blue. The spring run averages 6 ft wide, 1.5 ft deep, and flows 10 ft southwest, under a land bridge, to the Suwannee River. Exposed limestone rises 8 ft above the pool surface and the privately-owned surrounding area is forested. At the intersection of the spring run and the Suwannee River, a concrete retaining wall impedes the natural flow of the spring run. Discharge on July 30, 1997 measured 11.5 ft3/sec.
| Date | Submitter | Visbility | Remarks |
| --- | --- | --- | --- |
| 2/5/2011 | A Diver | 80' | steady flow, heavy fine silt everywhere, prepare to exit in low/no viz. Great dive. |
Click here if you would like to contribute any information or resources for this system.
| Description | Type | Date | Author | Remarks |
| --- | --- | --- | --- | --- |
Sslect Search Radius:
| System | Depth | Cave | Cavern | OW | Last Report | Distance (mi) |
| --- | --- | --- | --- | --- | --- | --- |
| Telford Spring | 80 | True | False | False | 8/17/2023 | 4.2 |
| Ruth Spring | 50 | True | False | False | 6/11/2023 | 9.8 |
| Little River | 110 | True | True | True | 4/30/2023 | 10.3 |
| Peacock Springs - Peacock III | 214 | True | False | False | 3/12/2023 | 2.9 |
| Lafayette Blue Springs | 100 | True | False | False | 11/26/2022 | 8 |
| Peacock Springs - Peacock I | 175 | True | True | False | 11/17/2022 | 3 |
| Royal Spring | 50 | True | True | True | 11/15/2022 | 1.5 |
| Charles Spring | 80 | True | False | False | 7/30/2022 | 9.5 |
| Alligator Rescue Spring | | True | False | False | 5/20/2022 | 4.1 |
| Lafayette Blue - Kitty Sink | 100 | True | False | False | 5/9/2022 | 8.5 |
| Peacock Springs - Orange Grove | 175 | True | True | True | 3/30/2022 | 3.1 |
| Cow Spring | 110 | True | False | False | 10/10/2021 | 1.3 |
| Troy Spring | 70 | False | True | True | 9/16/2020 | 8.5 |
| Owens Spring | 45 | True | False | False | 10/7/2019 | 4.7 |
| Allen Mill Pond | | True | False | False | 10/11/2017 | 9.9 |
| Lafayette Blue - Trap Sink | 100 | True | False | False | 11/21/2016 | 8.6 |
| Suwannee Blue Spring | 40 | True | False | False | 6/28/2016 | 1.9 |
| Convict Spring | 30 | True | False | False | 11/23/2015 | 0.3 |
| Powerline Cave | 60 | True | False | False | 9/17/2015 | 7.6 |
| Mearson Springs | | True | False | False | 6/6/2015 | 5.6 |
| Peacock Springs - Peacock II | | True | False | False | 4/8/2015 | 2.9 |
| Peacock Springs - Waterhole III | 55 | True | False | False | 9/26/2013 | 3 |
| Crazy Horse Sink | 60 | True | False | False | 1/30/2011 | 7.6 |
| Peacock Springs - Baptizing Spring | | True | False | False | 8/15/2010 | 3.7 |
| Bonnet Spring | 48 | True | False | False | 8/15/2009 | 3.3 |
| Hidden Spring | | True | False | False | 6/1/2006 | 1.2 |
| Running Springs | | False | False | False | | 1.4 |
| Thomas Spring | | True | False | False | | 8.7 |