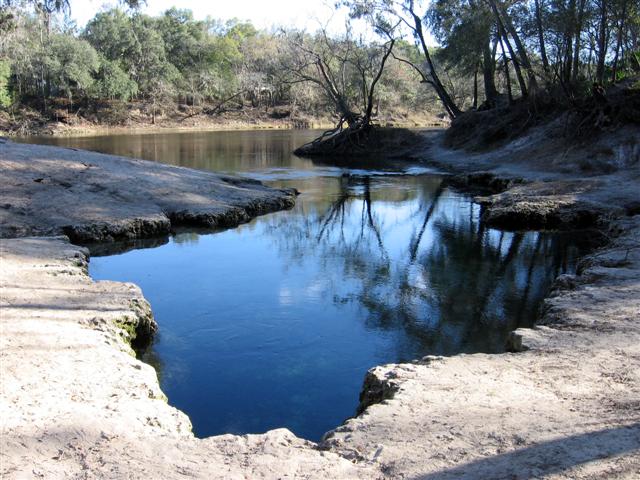 Portions of the following information were taken from Florida Geological Survey Bulletin 66.
Telford Spring is located on the west bank of the Suwannee River, 4 miles (6.4 km) north of Mayo. The spring is surrounded by private land but was open to the public in April 2002. From the intersection of US 27 and SR 51 in Mayo, drive north on SR 51 for 4.8 miles (7.7 km), crossing over the Suwannee River, and turn east (right) at the flashing lights at Luraville Road in Luraville. From Luraville, turn south (right) onto the first graded road and travel 0.9 miles (1.5 km) to a fork in the road, just before the river. At the fork, turn right and travel 0.1 miles (0.2 km) to the spring. The left fork leads to the boat launching ramp.
Description
– Telford Spring is situated along the east side of the Suwannee River at the head of a cove surrounded by steep sandy banks. The spring emerges from two caves within scalloped limestone whose passages connect underneath a 5 ft (1.5 m) by 7 ft (2.1 m) wide natural limestone bridge. The natural bridge over the spring was about 1 ft (0.3 m) higher than water level in April 2002. The main pool measures 66 ft (20.1 m) north to south and 51 ft (15.5 m) east to west and has a prominent boil. The maximum depth of the spring pool is 11.3 ft (3.4 m) over the vent. The spring and its run have a sand and limestone bottom. The water color is greenish and clear. Algae are sparse and there is virtually no aquatic vegetation. The short, shallow, 1 ft (0.3 m), spring run flows approximately 75 ft (22.9 m) into the dark, tannic waters of the Suwannee River. Land on the 12-15 ft (3.7-4.6 m) high, eroded banks supports a dense mixed hardwood/pine forest and there is a large unpaved parking area around the perimeter of the spring pool. A sinkhole with a clear water pool is located 150 ft (45.7 m) north of the spring across the sand access road. Spring water levels are directly tied to Suwannee River fluctuations.
Utilization
- Telford Spring is surrounded by private lands and is a heavily used local recreation area.
Date
Submitter
Visbility
Remarks
8/17/2023
Buhlz
20 get
Had a great birthday dive with my buddy Andy Dave in the boat watching the boat for us thousand feet penetration water is down pressure is moderate Dove 21% decent VIs excellent little dive 15 minutes no deco
12/1/2022
limeyfish (via CDF)
30-40
Scootered to spring run which was pretty shallow so had to almost crawl to cave entrance. Dropped scooter near entrance, flow in the first 200 feet after that it dropped off. Viz 30 to 40 feet somewhat milky. Still a good dive in a lovely cave,turned around 1200 feet and meandered our way back checking out the jumps and and sinks. Easier going down the spring to the river with the flow providing assistance.
2/3/2021
AndrewJ
15ft
It took me 10 minutes to scooter from ramp to spring in <60ºF river water. There was a noticeable boil from spring. I tied into a tree immediately over cave entrance and followed the substantially warmer water to the cave entrance and tied into gold line. Viz was 15ft at best with everything covered in a thick layer of silt from the river. Slight flow but not enough to really clear any silt from a misplaced fin kick.
12/27/2020
AndrewJ
50ft
Flow was down and viz 50ft at best. Visibility and cave conditions were fair given that the Suwannee flooded twice this year and Telford barely had time to flush out the tannic water and river detritus.
7/27/2019
Cory
~60ft
Swim upstream from the boat ramp. No river intrusion to the system. The spring run is clear to river.
8/4/2017
Ryan
60-70
Did a night dive in Telford after checking into the hotel. The river at the blue bridge was 19.34 ft on the gauge and the VI's was the best I have ever seen I Telford. The spring run was tannic until about half way then it cleared to near peacock vis. The flow was very low super easy to swim against and a nice ride out. Had just back gas and made it to buella land. Going back tomorrow with two stages hope it is the same.
7/4/2017
rddvet via CDF
35
Went and dove it today. River is definitely flowing so the scooter ride up river was on full blast. I'd day vis today was 35 ft and really hazy. As usual, even with clean finning it was easy to stir up a little silt on the walls. First time I've ever felt flow in there. It was a nice dive. I love the rifts section. New gold line looks nice. Are the old looking line arrows historical markers. Some of them looked beat to hell and I cant imagine they got that beat up since the new gold line went in. Props to the gold line team. I suspect pulling and replacing the line led to a lot of low or no viz. Nobody at the boat ramp all day and only a few people at the spring run when we finished the dive.
6/28/2017
TotDoc via CDF
50
If you're wanting to do Telford, now is the time to make it happen! I was there yesterday and it was awesome! River level is up quite a bit, and the river is flowing like a champ - heading up river to the entrance was slow going, even with the scooter cranked up. Once you get to the spring run, however, you can stay on the trigger all the way to the cave entrance. No shallow or dry spots to contend with -- and the current water level makes the entrance look gorgeous! Near the entrance the viz is easily 50 and slightly tannic, but clears the further back you go. Flow is easy going inside the cave - makes for a nice and relaxed swimming. We didn't do any jumps, but the main line is nice and pretty. Made for the biggest post dive smile I've had in a while!
7/20/2016
Sandy
20-40 ft.
The geography of the Telford cave system is quite unique, and inviting. The flow was high trying to get inside the run from the river, but once inside the cave, I'd call it moderate. The waterlevels accessing the spring run allowed one to swim in fully geared, however, to do it again, I'll for sure take my dolly and trolly my gear down the private road, then drift down the river to exit. As it turned out, we lost around 300 psi fighting the currents before entering the cave. Once in the cave, the visibility started out at around 20 ft., but increased the deeper we penetrated. By the time we got to Terrapin Sink, it had increased to 30 ft. By the time we turned the dive, which was 3/4th's of the way through Beulahland, and before the Expressway, the vis was around 40 ft. What a lovely dive, and more divers should do it, to clean off that line, the arrows, and fin away some of that cave dust! ;-) Nice pictorial link of Telford cave system. http://www.lchr.org/a/26/iv/telford.html
6/27/2016
Ryan Hoffman
30-40
Normal flow for Telford, vis was about 20-30 then improved to 30-40 about 1500 ft in. The spring run was clean and in good condition. All and all a great dive.
10/13/2015
Brandon
75
Swam in for about 100 minutes or so. Visibility much better after the first 500 feet, it starts out around 25 feet and gradually improves up to about 75 max. The flow was the highest I've encountered here. River level still quite high, I easily swam in from the river.
9/5/2015
Ethan Hahn
40-50
Visibility throughout the system average for Telford, definitely diveable. Tannic water evident in portion of spring run closest to river, the water level is quite high, over the land bridge between the two entrances. Swam to about 2400 ft, visibility constant.
7/12/2015
Dave Jones
30'
While gearing up at the boat ramp, we were fortunate to encounter a local boater who offered to ferry us upstream to the banks of the spring. This being a hot Sunday in July, a small crowd of boaters were gathering to cool off in the spring, though a couple of folks arrived via horseback. The flow was pumping out of Telford, so we pulled-and-glided whenever possible. Maximum visibility was around 30', though this cave is pretty "dusty" throughout. The line looked in good condition and was intact, though most of the line arrows and cookies on it were stained quit dark.
8/9/2014
Jason
30
I scootered up the river to Telford. The river is really flowing, which made the trip long and slow. Flow out of the cave is still very strong. Dropped the scooter at the second sink, and swam to 1700'.
7/4/2014
Ryan Hoffman
20
The cave looked great but the flow is very strong. Did 40 minutes going in and only 20 minutes heading out with no kicking on exit. We made it just to the start of the horizontal bedding plane maybe 1500 ft or so. All in all a great dive. Lots of work on the way in but a blast on the way out
2/17/2014
Peter
20
When I got to the boat ramp, Suwannee was up about 3 feet higher than normal. I was not sure what to expect. Lots of fun swimming upstream, either go on ccr or bring a bottle for the river. The basin is filled with tannic water, but it clears out in the cavern zone. Didn't see any junk in the cave, so I'm not sure if it reversed since I last dove it in Dec. Lower flow, it gets pretty dusty past 1000'. A good dive.
12/14/2013
Bil Lindstrom
30'
Pretty much the same as Peter's report. Flow is still up, the run can still be swam all the way up. I went right at the tee and continued for some time from there, conditions the same throughout. Nice ride out though, I'm liking the flow!
12/7/2013
Peter
40'
Great dive! Flow still higher for telford. One might be tempted to pull and glide. Can swim from the Suwannee to the cave entrance without having to climb over the beach. Current in the Suwannee was very strong.
10/20/2013
Jason
20'
Flow is up! Vis isn't great, still a great dive.
6/3/2013
JamesK
35
decent vis, but not great. very strong flow. made it back to ripple canyon. well worth the dive. spring is very clear. the further back you got the better the vis.
1/4/2013
Dr Z
0' - 40'
nice swim up through the Gauntlet & just onto the Rolaids Road before we turned, but as Don said, we had a line drill for the first few hundred feet swimming back -- not too many zero-vis spots on the float back. Flow was there, but moderate (similar to Hill 400 line @ Ginnie a few days ago). A lot of sand & sticks back as far as 1000' from Debbie.
5/27/2012
Don Six
0'-40'
This is the first time that I have seen the silt as fine, thick and easy to disturb in this cave. It was very poor visibilty for our entrance and our exit was almost completely zero vis. Very light flow.
5/20/2012
Brandon Cook
20-30
First dive at Telford. River temp nice and no water moccasin sighted despite recent reports. Slight flow, enough to notice on turn. Gold line in good shape, though stained and coated w/ silt and debris. Cool dive, I like this cave =)
2/15/2012
Claudia Milz
80
Clearer than I had ever seen it, particularly prior to the gaps. The walls and line are covered in silt, and the overall cave appears darker than in the early days when the cave was dived a lot more often. We were a team of 3 with one camera guy, and some pretty crisp photos were taken (great job Dave). To get to the spring we swam up the river from the boat ramp after most friends recommended not to use scooters due to the low water level. A good idea; however, on the way back a resident across the river warned us of a gator. That gator was waiting for us and eventually ended up on our side, and we had long since decided to hike back on land after scouting the most feasible path to limit exhaustion and prevent injuries with the doubles. Lots of work. All in all a worthwhile dive, and definitely an adventure in itself. Thanks Kelly and Dave for an enjoyable time!
12/20/2011
bil Lindstrom
40
First time here. Spring run very low. Took SM tanks off and walked up run and over the waterfall. Cave is fascinating. Flow present but low, however enough to give a nice ride out. Lots of dust on the features, I suppose from a previous reversal. Turned just past Beulah Land I think. Gold line is in good shape although it is stained black from tannin it appears. Great dive.
11/20/2011
Jerry
75
Great dive' I've never seen it blue or this clear.
11/2/2011
Paul V
30-40'
Lot of small particules in suspension. Tuns in Beulahland section. Toke around 15min to reach Telford (swim water walk). Nice dive.
10/27/2011
Jason
50
Pretty solid vis on the way in (0-40 on the way out). The cave is flowing; the trip out was twice as fast as the trip in. AWESOME ****ing cave!
8/27/2011
Scott Hussey
Dusty through Postropedic
First time diving this cave and I think it is an awesome system. We turned at Beulah Land right before the Expressway. I was third in line and it has not be heavily dove, so parts of the of the dive were in zero vis. However, if you were first Vis was probably 30 ft . Flow was same Peacock, low. The Suwannee swim wasn't too bad either.
8/15/2011
Randy Beeson
40 ft
Swam on the surface, also walked to Telford spring. About a dozen locals hanging out swimming and drinking. We dropped down and found the vis to be good, flow was down. Met up with an intro couple at the first sink and after gapping, made our way to the 2nd sink[Terrepin]. This was as far as we went with the couple diving 6ths and turned for a slow swim out. Vis was down to 20 ft or less coming back out mainly due to percolation from exhaust bubbles on the silty shelves and rocks. Ausome cave anyway.
7/1/2011
Andy Lamborn
40-50
The swim up river was not bad with 10 feet of visibility. Conditions in the cave were also good with 40 to 50 feet of visibility and moderate flow for telford.
5/8/2011
Don Six
50
Not the great vis that I had on my last dive here. There was a lot of particulat in the water all the way back to around 3000'.
1/16/2011
Iowa Cave Diver
70'
Similar to conditions of december... very low flow, but water is still pumping heavily out the spring run. Lines in good condition and dive was great... hadn't been here in years and can't wait to get back!
12/27/2010
Don Six
70'
We walked/swam down the river to the spring. the river was down and the trek was pretty easy. The flow was very moderate to low and not very noticeable once past the first 100'. The visibility was 70' with a very slight haze to it. I don't remember the cave temp, but the river edge was 65 degree and about 10' out it was 61 degree.
11/12/2010
Tony Flaris
50
Paul Clark from Dive Outpost gave us a canoe ride to Telford. Vis 50 . Flow was moderate to moderate high as the river is down. Dusty as usual. Pentrated to the beginning of the Expressway. Safe Diving
8/4/2010
Steve Mann
35
nice long, low-viz swim up to the entrance, nice viz in the cavern, stayed on the main line. very evident that not many divers in the cave recently as there is accumulated silt on the line, arrows, etc. Viz was a little cloudy but easily >35'. Definitely not traveled a lot so slow 'n easy keeps the 35 . Max depth 58', average depth 38', time 1:09, turned on viz, back-mount dive.
8/1/2010
Steve Mann
35
nice long, low-viz swim up to the entrance, nice viz in the cavern, stayed on the main line. very evident that not many divers in the cave recently as there is accumulated silt on the line, arrows, etc. Viz was a little cloudy but easily >35'. Definitely not traveled a lot so slow 'n easy keeps the 35 .
1/13/2010
Kenneth Richard Sorensen
3
The viz was approximately 3 feet, just like a regular wreckdive in Denmark ;-) We dived for 7 minutets before we turned, as the viz wasn't getting any better.
12/26/2009
Iowa Cave Diver
0'
no flow present, river level was up, deep enough to run our boat over the spring. A slight syphon may be present. no diving today!
11/17/2009
Fed
50
Launched boat at the Suwannee river bridge and made the quick boat ride up to telford. Nice long dive, flow wasn't too bad after you entered. Vis was good with little silt visible, only a few small trouble spots. Flow did all the work on the way out, nice dive and one of the coolest entrances to a cave system I've seen so far. I recommend this dive.
10/25/2009
Paul Ludwick
30
Scootered up from the boat ramp. Hard work getting through the shallow and strong flow in the spring run. Flow stayed healthy throughout the dive. Swam in for 90 minutes and snapped the line clean whenever I thought about it. 30 minutes to swim out. A real nice dive. I recommend it.
10/2/2009
Sam
10-20
Scootered from boat ramp (in 0 vis) Made it to the run and crawled over tons of flow . once in the cave flow died down a bit but the particulate was wat up. vis down to 5-10 on the was out. Good dive just not great vis.
8/15/2009
Raphael Tremblay
30
Scootered from the boat ramp. Flow was high until 500' or so. Vis 30' about the same on exit. Line is buried in a few places for a few few at the most. Otherwise, in good condition. No locals on land.
7/5/2009
Tom Hundley
20-30
I did a dive with ARY on 07-04-09. Gene Powell and his wife showed up to carry our gear to the spring from the boat ramp with their boat. Gene was going to dive with us but had ear issues. It was great having surface support from him and his wife Cathy. I had not been there since land access was closed. We had strong current going in with quite a bit of the line full of debris from the last flood. There was a fair amount of silt and it looked like it had very little traffic of late. We went slow and removed stuff hung in the line and removed the line where it was buried. We made it to within about 100 ft of Ripple Cannon. I must say the first sink was about as pretty as I had ever seen it. Of course I did not have my camera.
3/14/2009
Craig Walters
60'
We used a kayak to reach Telford. This was my first time back since land access was closed and it was well worth it. Our dive was 90 min. and I'm not sure exactly where we turned, but far past the 70' spot that the map shows. Flow was significant, but not overwhelming and the ride out was great. Walls are covered with a fine, grayish silt indicating that not too many are diving there. Great rock formations, especially after the Gaunlet.
6/6/2007
Waters
15'-50'
I was out there Monday morning and the visibility cleared up after the two sinks. Flow was enough to make the drift out a quick one. I'm assuming that we made it close to the gauntlet since me computer was reading a max depth at 70 ft. Overall it was a very enjoyable dive.
4/29/2007
Eric Deister
50 ft
Nice sunny day and the locals were out in force. With 2 people and a attack dog pulling security, my buddy and I raced into the system. Turned at the Gauntlet and drifted out. Flow was low and vis was about 40 feet. Not may divers in there from the amount of silt everywhere.
4/23/2007
Patrick Waters
50 ft
The river level is way down with noticiable flow exiting the system. Visibility was pretty good until we went down a tight tunnel with some awkward turns and silted it out. I enjoyed the dive and was even more impressed by the locals that use this as a hang out.
11/28/2006
Barbara Dwyer
80-100
lovely in there---the only time I'd dived this cave before it was nearly under with tannin on top and murk below. We had clear water in the basin and slight outflow. Swam back to swiss cheese/Beulah Land. I'd like to get in further soon. A good time to dive Telford.
8/31/2006
Bob Overstreet
30-40
Flow is still moderate. Viz consistent throughout.
7/19/2006
Bob Overstreet
40ft
Entered at Telford Spring and jumped past both sinks going back to area that drops to 70ft. Moderate flow. Slightly Milky viz with particulates, but tolerable. Good dive.
7/15/2006
Walter Pickel
0'
Thought we would take it easy on ourselves and enter the system via Terrapin. Tied off on the log and found no entrance to the cave. The entrance was choked with logs, debris, mud, etc. We spent about 45 minutes clearing the debris and hopefully the system will be able to heal itself now.
4/9/2006
Jay Titen
25'-30'
Made a nice dive to about 2000' back. The flow was kicking. The run was crystal clear, but only about 30' max in the cave with moderate particulate. The third sink is currently gapped, so no need to run another line.
4/5/2006
Charles Read
10-20 feet
Telford must have cleared up recently - and I've gone back to the UK :( It was murky when I was there. Though not bad by British standards...
3/31/2006
Joe Tegg
40-50ft
First 1000' had decent vis of about 40-50ft. It started to get a little milky after that, still decent vis. Flow is up and river is held back pretty good. Locals are starting to skinny dip again, just wish they were better looking... :)
2/20/2006
Scott MacLean
0
Telford is toast. The system is pumping out tannic river water. Check conditions when getting nearby fills so we will know when it clears.
12/31/2005
SLIM
30
Water about 6-8 inches over small bridge. Spring run is clear, river starting to go down. The two sinks are still slightly tannic.
12/30/2005
Jason Brauhn
30ft
Same as Slim stated. Swam into the system for 48 minutes. I figure approximately 2000' feet back. Vis never got better than 30 ft. The water had a green tint to it as well. It's a shame that the vis isn't better in this system as there are really some neat formations as you get further back into the system.
10/15/2005
Walter Pickel
30'
River is pretty far down -- the limestone bridge is completely dry. Visibility is good throughout the system with limited cloudiness.

Telford and Terrapin Sinks are both pretty clear. Looks like Terrapin is clearing up nicely.
9/18/2005
Bob Rosell
20
The river is down and you can sit down right at entrance. Flow is significant with lots of debris in the water. Telford sink was fairly clear. Terrapin is nasty, it look like it might clear up slightly after terrapin, and on the land side, 6 to 8 ft of the bank has Collapsed to the left of terrapin 4' deep.
9/8/2005
Mike McAuliffe
20'
The basin/head pool is clearing up nicely and there is a strong boil. Flow in the system is significant but if you know how to navigate this cave it is not a problem. Telford Sink is pretty clear with a green tinge looking up from the cave, Terrapin looks nasty, brown and dark although it has cleared a bit from yesterday (Sept. 7, 2005). Vis in the system has dropped since yesterday from 30ish to 20ft.
9/7/2005
Mike McAuliffe
30'
Vis about 30', flow is up. I wouldn't go in via Terrapin, it looked down right nasty from below, I barely saw light as I passed by, had to cover my light and give my eyes a couple seconds to adjust to see any light at all at Terrapin, Telford sink looked good though. The flow slackens up after Terrapin.
Click here if you would like to contribute any information or resources for this system.
Sslect Search Radius:
| System | Depth | Cave | Cavern | OW | Last Report | Distance (mi) |
| --- | --- | --- | --- | --- | --- | --- |
| Peacock Springs - Peacock III | 214 | True | False | False | 3/12/2023 | 2.3 |
| Lafayette Blue Springs | 100 | True | False | False | 11/26/2022 | 3.8 |
| Peacock Springs - Peacock I | 175 | True | True | False | 11/17/2022 | 2.2 |
| Royal Spring | 50 | True | True | True | 11/15/2022 | 5.7 |
| Charles Spring | 80 | True | False | False | 7/30/2022 | 5.7 |
| Alligator Rescue Spring | | True | False | False | 5/20/2022 | 0.3 |
| Lafayette Blue - Kitty Sink | 100 | True | False | False | 5/9/2022 | 4.4 |
| Peacock Springs - Orange Grove | 175 | True | True | True | 3/30/2022 | 2.5 |
| Cow Spring | 110 | True | False | False | 10/10/2021 | 3.2 |
| Owens Spring | 45 | True | False | False | 10/7/2019 | 8.6 |
| Allen Mill Pond | | True | False | False | 10/11/2017 | 6 |
| Lafayette Blue - Trap Sink | 100 | True | False | False | 11/21/2016 | 4.4 |
| Suwannee Blue Spring | 40 | True | False | False | 6/28/2016 | 6.1 |
| Convict Spring | 30 | True | False | False | 11/23/2015 | 4.3 |
| Powerline Cave | 60 | True | False | False | 9/17/2015 | 3.4 |
| Mearson Springs | | True | False | False | 6/6/2015 | 9.5 |
| Peacock Springs - Peacock II | | True | False | False | 4/8/2015 | 2.3 |
| Peacock Springs - Waterhole III | 55 | True | False | False | 9/26/2013 | 2.2 |
| Bathtub Spring | 20 | True | False | False | 2/5/2011 | 4.2 |
| Crazy Horse Sink | 60 | True | False | False | 1/30/2011 | 3.4 |
| Peacock Springs - Baptizing Spring | | True | False | False | 8/15/2010 | 2.4 |
| Bonnet Spring | 48 | True | False | False | 8/15/2009 | 2 |
| Hidden Spring | | True | False | False | 6/1/2006 | 3.1 |
| Running Springs | | False | False | False | | 3 |
| Thomas Spring | | True | False | False | | 4.7 |