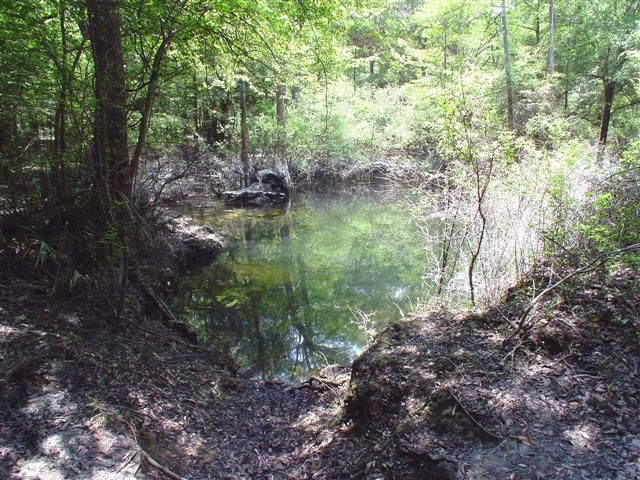 Portions of the following information were taken from Florida Geological Survey Bulletin 66.
From the intersection of SR 51 and 180th Street in Luraville, drive south on SR 51 approximately 1.6 miles to the bridge over the Suwannee River. Launch boat at the bridge boat landing and boat approximately 4.4 miles downriver. Cow Spring is located inland from Running Springs approximately 0.1 miles northeast.
Description
- Cow Spring has an oval shaped pool 66 ft long and 18 ft wide. The circular vent is in the center of the spring pool and is approximately 25 ft deep. The pool bottom is limestone with aquatic vegetation and a small amount of algae. There is no boil present on the blue-green water surface. The spring is currently flooded by the Suwannee River, however a discernable dry spring run bed leads 0.1 miles southwest to the Suwannee River. The run has abundant vegetation including shrubs and small trees growing in its dry bed. The northwest, northeast and southeast banks of the pool have exposed limestone extending up to 6 ft above the water surface. The southwest side of the pool slopes gently up into the surrounding woodlands. The spring is owned by the National Speleological Society and has an extensive, mapped cave system.
Date
Submitter
Visbility
Remarks
10/10/2021
Morgan (via CDF)
Clear
Clear vis and medium-low flow. The top two feet of the basin was turbid, but clear underneath.
11/7/2019
Jack Hammer
100
Flow manageable, able to pull one hand on ski ropes, cave is showing signs of people slamming into things. Overall great dive.
6/16/2018
Troglodyver
100'
Upstream Cow is GREAT right now. Lowest flow I've ever experienced in upstream Cow. You can swim most of the way without needing the tow rope. Viz 100' or more. Some small particulate coming downstream as I approached the turn point at 700 ft even though there was no other team in the cave. Low flow made downstream easy (easier than usual) to exit. Basin water level was above the third stair up from the deck. Slightly tannic on surface, super clear below that. Beautiful!
6/2/2018
Dominick
Really Good
Water in basin was covering the deck and the first step. Flow was REALLY REALLY REALLY LOW. The pull rope was laying slack on the floor throughout.
5/26/2018
NHubbard
Amazing
I've been diving Cow Upstream for the past few days. The visibility has been outstanding. Temperature is 71* F. Only complaint I have. I've noticed a lot of "scuffs/marks" on the floor and ceiling of the cave from cave divers with terrible buoyancy. Seriously if you are going in with back mount rebreather or tanks. Practice better buoyancy or stay out.
10/14/2017
WILLIAM RUBLE
35
Dove downstream Cow twice on Saturday the 14th. Went to EOL on dive #1 and Water temp was a steady 70°F (except for one small part of dive #2 that was 71°F), siphon was noticeable but not strong, visibility approximately 35 feet. Basin was clear and blue, with very little debris on the surface compared to some of the photos I'd seen in the past. There was some particulate in the cave when we entered but the water was a clear blue otherwise. Beautiful conditions for my first trip to Cow!
8/9/2017
Phreaticus53
60-plus
Cow is perfect right now...flow is down, (didn't really even need the "poor man's scooter" rope to progress in that area of the cave. Hard to believe some of the clay damage in a few places though....really bad technique, shouldn't be in that cave. Did a :40 swim upstream, then :20 back out, then poked around at 30 ft or so in the downstream tunnels during a short deco.
6/10/2017
Stanley Fatmax
100ft
Great dive at cow. Flow was moderate and VI's was great
2/11/2017
shellmoundal (via CDF)
5'
Today the Vis was less than 5 ft. The spring has reversed. COW is now closed until further notice.
9/27/2015
kidsdream (via CDF)
70
My buddy Chris and I had a very nice dive at Cow yesterday. Flow was light for Cow and the vis was very clean. Certainly a great time to go. One word of caution - lots of small ants on the tank bench. Put my tank down there and in a minute the reg was covered in ants.

This was my first trip to cow since the platform was expanded and the changing area was completed - great work!
5/24/2015
Niko
100
Fantastic visibility, flow is back up
4/11/2015
Niko
60
Beautiful time to dive Cow. No duckweed, flow is moderate (use the pull-rope) visibility is pretty good with some small particulate visibility goes up starting shortly before "Not My Fault". Downstream is slightly less vis (~30 ft), slightly siphoning, beautiful area.
1/5/2015
FW
< 1'
Cow is closed due to river intrusion.
12/29/2014
Larry Vrooman
100'
The basin is clear, but there is very little flow - 34 minutes to 1650'.
12/9/2014
Jack Hammer
70
Flow moderate, 10 mins to ski rope, 30 mins to not my fault. Low particulate, good vis more than 70'
12/9/2014
Jack Hammer
70
Flow moderate, 10 mins to ski rope, 30 mins to not my fault. Low particulate, good vis more than 70'
7/13/2014
Mer
50' (not a factor)
Slightly green. Upstream: chunky particulate on exit. Moderate flow (with backgas only: 10min to get to ski rope, 25 to Not my Fault).
12/31/2013
Scuba Gypsy
~50'
First time seeing the new steps and diver stand, awesome job!! Wonderful dive today with moderate flow and good viz. This is a special place indeed.
11/14/2013
Trey R (via CDF)
40'
Flow is moderate, vis was 40'. The new steps are great!
10/16/2013
Bluetickle
50 ft
High flow, decent vis, enjoyable dive.
7/6/2013
Louis
50
Flow is way down with only minor decrease in vis. Basin is a bit green. Love the new deck/steps!
5/16/2013
Vlada
40 ft
Flow is not as high as usual (did not need to pull, could swim against current) water in the basin is greenish.
1/25/2013
ltowles
50
Vis was great, no silt, and a clear pool.
8/11/2012
Mer
50'
Upstream to 1750': Vis is 50-60' (hard to tell, but cave turns before you lose vis), some large particulate in places. Flow up, about to Ginnie-strength in most places (exit time without kicking for us was 1/2 of swim in). Cave is mostly cleaned out of loose silt except in a couple areas past Change Up. There is some untumbled broken glass on the bottom in the first 100' of cave, especially in the 40-50' depth range-- watch where you put your hands. Surface pool is clear, no duckweed. Skeeters moderately bad. Some poison ivy near path and at edge of flat area near entrance.
5/28/2012
Riana
70'
Duck weed is actually worse, ticks are out in full. Otherwise still a great dive, the cave has really gotten more abused in the last 5 months since I was there. So many marks in the clay, rubbed spots on the rock a little disheartening. Flow is gone no need to use the tow rope. Five other divers has been in the system when we dove her but vis was still spectacular.
3/1/2012
Hunter Sutton
unlimited
Took my LP 45's up the two syphon passages for some wiggle wiggle wiggle time. Never dove downstream before. Some of those passages get pretty gnarly. One of them I couldn't get through and took my can light off and wiggled through eventually. I probably looked funny as hell swimming with the can and light head in my right hand while holding the line with the left. I ended up turning around not long after since the syphon is just bad enough the crap gets in front of you but doesn't clear if you wait a second. Just swam to the end of the other gold line and down the fissure crack. Same problem with crap flowing out in front of me where I couldn't see my gauge pressed against my mask and said eff it.
2/29/2012
Hunter Sutton
100
Cow is unlimited viz and very low flow for cow. I didn't even use the ski rope on the way in. I swam up to "not my fault" and went down the dead end jump line then turned around and completed the little circuit back to the gold line. One thing I noticed headed down the dead end line. A full foot print in the clay, I have to ask how in the hell do you make a full flat foot print in the clay when the cave passage is only 1.5-2' tall in that section? This person is more flexible than I.
12/24/2011
Brandon Cook
100
Duckweed, little flow but still very clear, pull rope not really needed. Beautiful dive.
12/16/2011
Capel English
100
Basin 100% covered in duckweed. Water level was as low as I have ever seen it. Flow was down and it was an easy swim.
10/26/2011
Jason
100
Basin is now 99% covered is a thick layer of duck weed. Only clearing was a small circle near the flow. Downstream Goldline passage was very clear, and definitely flowing.
10/9/2011
Jason
Clear in basin
Did not dive, but wanted to check out the site. The surface pool is now 75% covered in duckweed, but the water looked crystal clear underneath. Looks like it may be a chore to get in and out with the water level so low.
8/20/2011
Mer
100
Great vis both up and down stream. Flow down even lower after Not-My-Fault. Water level in sink down some. Basin clear with a touch of duck weed. Mid-day no bugs. Watch for poison ivy near path.
8/14/2011
Pete Gelbman
100
Water low, flow way down, crackling vis. Awesome
7/30/2011
Shirley Kasser
Excellent
Great time to dive Cow. The basin looked a little murky from topside, but at 3' below the surface, it cleared up beautifully. The flow is still relatively low and the viz is sparkling.
6/18/2011
Dave Jones
Excellent
Three of us had Cow all to ourselves and there was no evidence of any very recent visitors. Visibility in the basin and upstream cave was 80-100'. We turned at 'Not My Fault'. The flow was mild for Cow: while I pulled on the ski ropes I could've swam against the current as well. Bugs in the parking lot weren't too bad either.
4/24/2011
Steve M
80'
Basin was super clear and calm. Downstream, the line to left of downstream, and upstream all had great viz. Flow was down and was quite easy to navigate. Visibility was really good - clear back to about 200' past Not My Fault on the upstream side. Great dive!
4/15/2011
Mike Bartlett
Excellent
The basin was very calm. Several dead small fish around. Not sure why. Flow was low to medium. Followed the main line to the 1700' arrow. The line and the arrows for our last 500' or so are very black and hard to read. Wonderful ride out with the flow. Watch out for poison ivy and fire ants in the parking area and down the trail to the basin though.
2/4/2011
Tim Thomas
100
First time there great sidemount dive viz as far as you could see. Awesome! water temp 72
1/29/2011
Shirley Kasser
Excellent
Flow seemed down a bit, nice swim upstream a couple hundred feet past Not My Fault. We then swam downstream to the little passage to the left for a ways. Excellent dive!
1/29/2011
Shirley Kasser
Excellent
Flow seemed down a bit, nice swim upstream a couple hundred feet past Not My Fault. We then swam downstream to the little passage to the left for a ways. Excellent dive!
1/29/2011
Shirley Kasser
Excellent
Flow seemed down a bit, nice swim upstream a couple hundred feet past Not My Fault. We then swam downstream to the little passage to the left for a ways. Excellent dive!
11/27/2010
jeandiver
Excellent
Had a nice dive in Cow today. Viz was excelento and flow was low to medium. Really hard sometimes to read the distance arrows back past 1200ft or so. (Distance arrows have gotten pretty black as the line was too). I was able to rub off some of it on a couple of the distance arrows. No jumps , just up the mainline and back down it.
11/11/2010
Sandy Robinson
Excellent
Dove upstream and then downstream. Viz was great and flow was very low. Basin was crystal clear.
10/29/2010
Brian P.
Excellent
Did upstream twice and flow was down quite a bit and great vis. Found the carcus of a small dead turtle in the downstream cavern which was kinda funky.
10/17/2010
Shirley Kasser
Excellent
The basin looked nearly stagnant. The cave was sparkling though, and upstream flow was low enough to swim comfortably. The ski rope was nice but definitely not necessary. There was still plenty of flow for a free ride out, though. Great dive!
9/14/2010
wepiv
85
We did two dives at Cow this week on two different days and found conditions to be very good in the basin as well as in the upstream and downstream systems. On each day we were the only people there, which is always nice.
5/30/2010
Buhlz
40
Thanks Jean, Fred and Kev again. Flow was kicking per Jean though I'm not well to familiar with this system. Thank God for who ever put the rope in there! Made it to Not my fault and turned.. Kick ass dive! Nice job repairing clay! 60 min BT and no deco- went downstream w/ Fred and Jean and I turned do to bad communication on my part and worrying about Jeans "no Fly" time.. Thanks again. Look forward to coming back. Also. Water was up and clear..no tannic intrusion
4/8/2010
Larry Vrooman
40'
Slight update. Basin dropped about 2 ft, now almost no tannic intrusion, same with the upstream portion of the cave back to at least p 1300.
4/4/2010
Larry Vrooman
30'
The basin looks bad on the surface but viz is good once you get under the goo. The water is a bit tannic colored in the basin and in the cave. Viz is around 30' and slightly milky with just enough tannic color to make Marci's Faber's look pee yellow at about 10 ft. Flow is average or perhaps just a tiny bit higher than average and the water level looked to be up about 3 feet in the basin and that was confirmed with109' depths in places I normally see 106' in the cave. Temp was 70 degrees throughout the dive. There is lots of maiden hair in the basin and front portion of the cavern so take care to avoid stirring it up getting in.
2/24/2010
Forrest Wilson
1'
The river has totally floded the cave, it is closed to diving until furthur notice
1/16/2010
Pete Gelbman
Crackling
Flow is down a bit. Vis as good as it can be, but very, very nice. Go diving!
1/2/2010
Larry Vrooman
40 plus
Vis is great - slightly hazy in a few spots. Basin is a few feet higher than normal but it is clear. Flow is very low - very similar to P1.
12/20/2009
Phil
great
If I compare to last condition report, no moskito today! but the viz is as usual. Bassin is clear.
9/30/2009
Larry Vrooman
60'
Excellent visibility, flow is very slightly higher than normal. Basin is clear. The mosquitos are huge, numerous and blood thirsty. The recent flooding seems to have added some black silt to the formerly damaged areas on the walls making them less noticeble - with luck and care from divers we can keep it that way. I noted last March that the repaired "DIC" in the clay bank was washing out a bit and was becoming visible again, but 6 months later it is no worse and perhaps is slightly better due to some of the recent silt blending the colors slightly. It is not very noticeable going in but is a bit more noticeable on exit due to the angles of the light and perhaps due to the effect of the current on the softer filler material casting more of a shadow in one direction.
8/29/2009
Craig Gaffka
50
Flow is up a little, the cave has a lot of blackish silt built up on the walls. The viss seemed to increase at around 400' to a max viss of around 50'. The water still isn't back to blue but it looks to be getting there. On deco I noticed that the basin seems to be taken over by green hair algae.
7/4/2009
Tom Johnson (tj)
50
Back to almost normal. Great vis upstream. Downstream is cleaned out of quite a bit of sand. Great dive.
6/26/2009
Shirley Kasser
Nice
The basin is still higher than I'm used to seeing, and it's pretty murky down to just below the tree. Inside, upstream looked great, and the flow was up, but not ripping.
6/19/2009
Tom Johnson (tj)
40'
Basin is flooding and a mess.. full of tanic waters, but the upstream is flowing good and clear. Downstream not as good, maybe 30'. http://www.divetraining.net/pictures/2009_jun_19/DSC03677.jpg
4/2/2009
Bob Cree
0
River Levels on the rise and Cathy reported over the phone as I was tryiong to figure out where to go diving that Cow went under over night. A team tried to go in 4/2/09 and only found tannic water. Never made it to the main line.
3/13/2009
Buhlz
nice
Went to Luraville w/ Kev and Kyle for weekend!!! Thought we'd try Cow @ night on Friday the 13th! Well, the dive didn't turn well for Kyle, Jean and myself beause of O-ring failure and primary light. Thanks to my fellow friend Karl lending his 24w LED, we got to see a little of the entrance. Everything is still awesome though. Good company! Have to try it again soon 'on a differnt day than the 13th!''
3/8/2009
Tim Owens
60
Upstream to 'not my fault', flow manageable w/o using pull rope, remarkably clear.
12/28/2008
Phil
60
Verry nice dives upstream (2 today and 1 yesturday). We did a bit into the side passages were there is particulates eisily stired up but eaven after that the vis was great. Current is not too bad and looks a little bit moderate after 1400'. Did reach the end of the backmount passage (gold mainline) was great. Need to dive sidemount to try the other passages...
12/13/2008
Jean Nelson
Good
Wonderful dive in Cow yesterday. Water level in the sink is nominal. Vis was MORE than nominal. Flow was moderate.

The ONLY think that made me SOOO SAD was the new vandalism. I came around the corner and saw that (UFFDA).
12/9/2008
Billy Fowler
Excellent
Swam upstream past the 1700ft marker, then downstream to scrub off the 40min of deco Not much flow, water level is high, 3 feet more and it will be out of the banks. Viz was stellar
12/2/2008
Rick Palm
50'
We swam (and pulled on the rope) upstream to the vertical tiers of restrictions at about the 900 foot mark, and I turned the dive with 200 psi left to thirds turn pressure, and we swam back to the entrance. Max depth was 91' at the point of turning the dive, with an estimated average depth of 50'.
11/10/2008
Elisha Gibson
80
Visibility was much better than the last time I had been. It was a very sad dive for me. I saw the PY for the first time. The beginning section of upstream cow has been damaged severely since the last time I visited, in early summer. Rocks are freshly broken, there has been way more damage done to every piece of clay that exists in there. Towards the back (we went to 1600') there are a lot of white marks, none of which were there a few months ago. They had been covered by sediment from the flood. Something really needs to be done about this site before it looks like Ginnie.
9/14/2008
cavedvr
50ft
Dove upstream to 1200ft, viz was around 50ft, and flow is down from what my dive buddy told me (it was my first time).
9/1/2008
Jean Nelson
40'-60'
Did a dive this morning (09/01) in Cow. The Flow is DOWN and the vis was just dandy! Had no problem with viz in the deep section (Gnarly Way) or even past the Changeup. (could see 40-60 feet very nicely). There is enough flow to give us a nice push-out but to keep the deco down we had to kick a little. Had no trouble seeing the jumps / lines etc also. Poked around in Downstream a little to burn off some deco. There still a little siphon flow so the poofies cleared out when we turned around.
7/5/2008
Buhlz
30
First time in system w/ Chris, Kev, Alicia, Gene and many others including Burt from Tampa Scuba Sports. (Well, I haven't met him but he seems very nice). Excellant little spring. I have been rebirthed if ya know about this place. Kev took us around 500 feet in or so (thanks for the rope) and turned it. Upon entering though, Gene found it remarkably entertaining watching us go through the birthing canal. She was bubbling like crazy! Thanks Gene. After a short SS, Chris and I went downstream a little and checked out some stuff. Amazing place to say the least. Can't wait to go back!
6/9/2008
Dave
40-50
Found the conditions to be exactly what Mike found on 5/2. Only went to the Ski line and turned back on the upstream side. Didn't dive the down streams.
5/2/2008
Mike McAuliffe
40-50
Upstream: Visibility, I would call it 40-50, there is a lot of particulate still in the water. Flow is significant, I used the ski rope on my way out to slow me down in several spots The cave, as most of you know, is dark anyway. Currently there is a dark fuzz on all the walls from the flood making it even darker. The gold line in the upstream section of Cow Springs is dirty but perfectly intact as is the ski rope up to Not My Fault. My team turned it there so I can't report upstream of that. Downstream: I didn't have time to get in and look at either one of the downstream lines. I'm sure some of you instructors that use downstream would like a report so I'm sorry I couldn't get that for you today. Hopefully I can do that Sunday and report back. Mike McAuliffe NSS/CDS Cow Springs Safety Officer
2/25/2008
Elisha Gibson
1-6 feet
After seeing the basin earlier in the day and hearing a report from Paul Heinerth, myself and James from Dive Outpost decided to take a peek at night to see if Cow was diveable. After shining our lights we determined viz was bad, but not bad enough to keep us out of the water. We had about 4-6 feet of starting viz. James started the reel at the surface and we descended. Right where the ledge drops off the visibility got considerably worse (less than an arm's length) I could not longer see James' light so I returned to the surface. The water temperature also dropped here (not sure what the temp was, have to check my computer). About a minute later he showed up and we agreed to get out of the water. Major bummer for us, but hopefully the cave will benefit from this.
10/21/2007
Jim McMichael
100
Did 1st dive here, & would like to Thank James from Kathy's Dive Outpost for showing us around, We are still amazed with the clay formations.
8/9/2007
Narcosis
excellent
pool, and cavern area water is clear, dove this upstream and downstream. Vis was excellent.
7/21/2007
Walter Pickel
100'
Water is still very low and the surface pool reminds of what PI has looked like recently. Flow is still way down.
6/21/2007
Cwalters
100'
In spite of last night's rain, conditions are excellent and viz. basically unlimited. We dove upstream followed by a brief excursion downstream. Flow is as described in 2 previous posts. Great dive.
5/28/2007
Kristi Draper
100'
My first dive here. Dove only the downstream passage. Proceeded until it got too tight, then turned the dive and took our time heading back -- oohing and ahhing the whole time! What a magic place. Flow was very mild, barely noticeable. Favorite thing to do: turn off lights just as we approached the cavern zone coming out. An amazing sight! Water level very low. Makes for a tricky entry from shore. Watch out for the poison ivy along the trail.
5/28/2007
Walter Pickel
100'
As Kristi stated, the water level is very low. It makes for a difficult entry right now so be slow and deliberate.

Dove upstream to around 1500'. Flow is noticeably positive and just enough to keep you honest. Great time to go see the cow on back gas as no stage should be needed to hit the end of the line.
9/3/2006
Walter Pickel
80
Great dive! The surface pool level is still down making entry a bit more difficult. Te flow is a bit more positive than the last time I dove it but the viz is superb. The ski rope is really taking it's toll on the clay bank (where the rope rests on the brick). It is really getting torn up.
7/21/2006
Bob Overstreet
60
My first time in Upstream so I don't have a basis for flow, but it was rather stiff. The "tow rope" has frayed through a couple of strands near the furthest end. Water level is low and requires some careful crawling to get out.
5/29/2006
Tim
60'
The water level is still down; the flow is up. There was some light particulate in the water, reducing the vis a little bit. Otherwise, beautiful dive. The new line is great.
3/31/2006
Walter Pickel
50'
The water level is way down. The natural limestone steps that are usually submerged are at least 2 feet above the water now. Flow was mush higher than it has been recently. The ski rope is pretty bad shape at the end (where it crosses over the brick). I has a few strands left on it.
3/13/2006
TJ
100
First dive in Cow, vis was remarkable, flow was moderate. Great vis in both upstream and downstream passages.
2/25/2006
Tim
100'
Incredible vis both upstream and downstream. No particles or milkiness whatsoever. Flow is starting to be noticeable again, but just barely.
2/22/2006
Ken Clizbe
80ft.
Flow slightly more today than the day before. Swam 1500 ft. upstream with excellent vis. throughout.
2/19/2006
Andre Basso
100'
Excellent viz. Flow is down and very easy to dive. Downstream is clear and nice. I hear that if you want to dive the upstream (must be full cave) now is the time to do it. Low flow and great viz. No need to use the poor man scooter in the upstream tunnel.
2/11/2006
Tim
Clear - 80'
The water is high, depths are running about 10 feet deeper than normal, but visibility is great... and there is no flow at all.
9/23/2005
Rich
80
Cow was really clear, but pumping very hard...expect a wild ride out :)
8/16/2005
Walter Pickel
30'
The spring are is flooded and the water was very high. However, the system was clear and flow was moderate. We ended up doing about 1,500' upstream and to the end of the line on the downstream side.
5/23/2003
Admin
Unknown
Diver expired in the system. IUCRR Report
Click here if you would like to contribute any information or resources for this system.
| Description | Type | Date | Author | Remarks |
| --- | --- | --- | --- | --- |
| Dye Trace | Report | 1978 | Sheck Exley | |
| System Map | Map | | | |
| Video | YouTube | | | |
| Video | Vimeo | 2009 | Rusty Bachman | Side mount diving; video was created using footage shot during two days of diving. The first was a 2 tank (+deco) dive and the second was a 2 tank plus 1 stage (+deco) dive. |
| Video | MPG | 2007 | Ryan Eastman | |
Sslect Search Radius:
| System | Depth | Cave | Cavern | OW | Last Report | Distance (mi) |
| --- | --- | --- | --- | --- | --- | --- |
| Telford Spring | 80 | True | False | False | 8/17/2023 | 3.2 |
| Ruth Spring | 50 | True | False | False | 6/11/2023 | 11.1 |
| Little River | 110 | True | True | True | 4/30/2023 | 11.6 |
| Peacock Springs - Peacock III | 214 | True | False | False | 3/12/2023 | 1.6 |
| Lafayette Blue Springs | 100 | True | False | False | 11/26/2022 | 6.9 |
| Peacock Springs - Peacock I | 175 | True | True | False | 11/17/2022 | 1.7 |
| Royal Spring | 50 | True | True | True | 11/15/2022 | 2.7 |
| Charles Spring | 80 | True | False | False | 7/30/2022 | 8.2 |
| Alligator Rescue Spring | | True | False | False | 5/20/2022 | 3.2 |
| Lafayette Blue - Kitty Sink | 100 | True | False | False | 5/9/2022 | 7.5 |
| Peacock Springs - Orange Grove | 175 | True | True | True | 3/30/2022 | 1.8 |
| Troy Spring | 70 | False | True | True | 9/16/2020 | 9.8 |
| Owens Spring | 45 | True | False | False | 10/7/2019 | 6 |
| Allen Mill Pond | | True | False | False | 10/11/2017 | 8.7 |
| Lafayette Blue - Trap Sink | 100 | True | False | False | 11/21/2016 | 7.5 |
| Suwannee Blue Spring | 40 | True | False | False | 6/28/2016 | 3.1 |
| Convict Spring | 30 | True | False | False | 11/23/2015 | 1.6 |
| Powerline Cave | 60 | True | False | False | 9/17/2015 | 6.6 |
| Mearson Springs | | True | False | False | 6/6/2015 | 6.9 |
| Peacock Springs - Peacock II | | True | False | False | 4/8/2015 | 1.6 |
| Peacock Springs - Waterhole III | 55 | True | False | False | 9/26/2013 | 1.7 |
| Bathtub Spring | 20 | True | False | False | 2/5/2011 | 1.3 |
| Crazy Horse Sink | 60 | True | False | False | 1/30/2011 | 6.6 |
| Peacock Springs - Baptizing Spring | | True | False | False | 8/15/2010 | 2.4 |
| Bonnet Spring | 48 | True | False | False | 8/15/2009 | 2 |
| Hidden Spring | | True | False | False | 6/1/2006 | 0.3 |
| Running Springs | | False | False | False | | 0.2 |
| Thomas Spring | | True | False | False | | 7.6 |