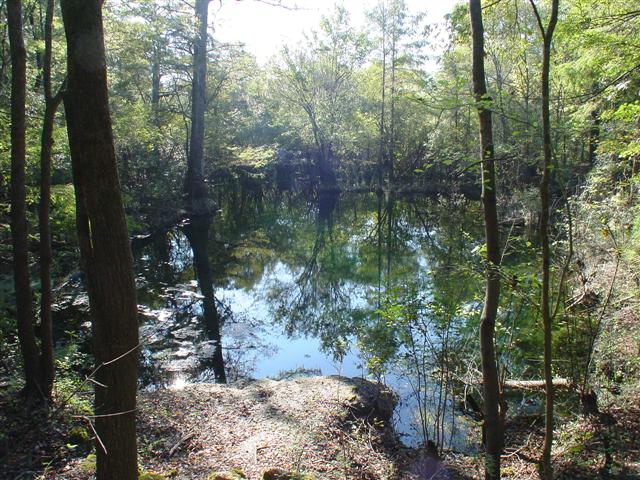 Portions of the following information were taken from Florida Geological Survey Bulletin 31.
Bonnet Spring is about 2 mi E. of Luraville. Drive 1.8 mi E. on paved road from State Hwy 51 near Luraville. Turn right onto the first dirt road past fence line and go about 0.2 mi to the spring.
Description
Bonnet Spring is in the headwaters of Peacock Slough, in a densely forested area. The banks of the pool are moderately steep and there are occasional cypress trees at the edge of the water. The surface of the pool is patched with lily pads, water hyacinths, and other aquatic plants. The pool has a diameter of about 75 ft, an average depth of 4 ft, and a maximum depth of 20 to 30 ft at the vent opening. The bottom is soft sand with some limestone rock exposed around the vent. The run has an average depth of 2 ft and flows into a swamp several hundred feet downstream.
| Date | Submitter | Visbility | Remarks |
| --- | --- | --- | --- |
| 8/15/2009 | Kelly Jessop | 0 | Basin is very muddy/tannic with not spring flow. Still have a resident gator who finds the poor basin visibility as an opportunity to submerge and hide |
| 6/22/2009 | Kelly Jessop | na | gator still finds the cave as his hiding place |
| 8/8/2008 | PSSP | Unknown | Bonnet is still closed. It is just a big mud puddle with a very big alligator in it that goes into the cave when she sees people. |
| 3/31/2006 | Walter Pickel | 60' (Low Particulate) | Did a nice dive up the mainline. Viz was very good. The water was a bit yellowish though. |
| 2/18/2006 | Lee Schoeppner | 50 | Basin is clear around the entrance, entrance leading up to the Z-Bend passage was somewhat milky; past that viz was nice and clear; went upstream past 3000ft. Swung by Amphipod room on way out, ceiling is tannic and cold. Headed downstream prior to exiting; contains good amount of river intrusion; colder, less viz, but had a sweet spot with clear spring water. |
| 10/29/2005 | Walter Pickel | 50' | Overall conditions were good. There was a nice flow throughout. We went straight at the 4-way split and ended up turning at the T to the Amphipod Party Room. Max depth was 44' with an average of 26'. The average temp was 70°F. |
| 9/29/2005 | Richard Blackburn | Excellent 75-100' | Easy flow, nice cave, max depth of dive 44' |
| 8/30/2005 | Jim Wyatt | 50' | Nice flow good visibility- Max depth 45 feet. |
| 8/29/2005 | Frank Lavallee | 25-30' | Outflow was moderate. Max depth reached was 43'. Travel time to 4-way split was 49 minutes, including 2 brief rest stops enroute. |
Click here if you would like to contribute any information or resources for this system.
| Description | Type | Date | Author | Remarks |
| --- | --- | --- | --- | --- |
| System Map | Map | | | |
Sslect Search Radius:
| System | Depth | Cave | Cavern | OW | Last Report | Distance (mi) |
| --- | --- | --- | --- | --- | --- | --- |
| Ruth Spring | 50 | True | False | False | 4/2/2023 | 13.1 |
| Peacock Springs - Peacock III | 214 | True | False | False | 3/12/2023 | 0.4 |
| Telford Spring | 80 | True | False | False | 12/1/2022 | 2 |
| Lafayette Blue Springs | 100 | True | False | False | 11/26/2022 | 5.3 |
| Peacock Springs - Peacock I | 175 | True | True | False | 11/17/2022 | 0.3 |
| Royal Spring | 50 | True | True | True | 11/15/2022 | 4.7 |
| Charles Spring | 80 | True | False | False | 7/30/2022 | 6.3 |
| Alligator Rescue Spring | | True | False | False | 5/20/2022 | 2.2 |
| Lafayette Blue - Kitty Sink | 100 | True | False | False | 5/9/2022 | 5.8 |
| Peacock Springs - Orange Grove | 175 | True | True | True | 3/30/2022 | 0.5 |
| Cow Spring | 110 | True | False | False | 10/10/2021 | 2 |
| Troy Spring | 70 | False | True | True | 9/16/2020 | 11.7 |
| Owens Spring | 45 | True | False | False | 10/7/2019 | 7.9 |
| Allen Mill Pond | | True | False | False | 10/11/2017 | 6.8 |
| Lafayette Blue - Trap Sink | 100 | True | False | False | 11/21/2016 | 5.9 |
| Suwannee Blue Spring | 40 | True | False | False | 6/28/2016 | 5.1 |
| Convict Spring | 30 | True | False | False | 11/23/2015 | 3.5 |
| Powerline Cave | 60 | True | False | False | 9/17/2015 | 5 |
| Mearson Springs | | True | False | False | 6/6/2015 | 8.8 |
| Peacock Springs - Peacock II | | True | False | False | 4/8/2015 | 0.4 |
| Peacock Springs - Waterhole III | 55 | True | False | False | 9/26/2013 | 0.3 |
| Bathtub Spring | 20 | True | False | False | 2/5/2011 | 3.3 |
| Crazy Horse Sink | 60 | True | False | False | 1/30/2011 | 4.9 |
| Peacock Springs - Baptizing Spring | | True | False | False | 8/15/2010 | 0.6 |
| Hidden Spring | | True | False | False | 6/1/2006 | 2.1 |
| Running Springs | | False | False | False | | 1.9 |
| Thomas Spring | | True | False | False | | 5.7 |