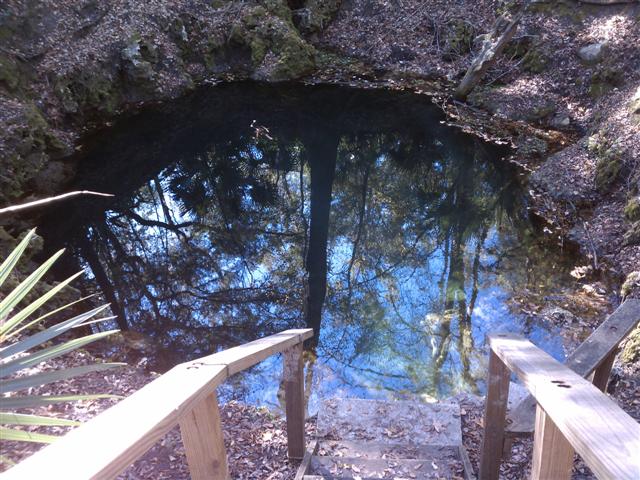 Data for this system is still being collected and analyzed. Click
here
if you would like to contribute any information or resources for this cave system.
Date
Submitter
Visbility
Remarks
5/9/2022
Jessica B
10'
Milky, dark, not an enjoyable dive.
6/13/2021
AndrewJ
15-30ft
The sink is crystal clear, water's about 18" below the last step - but no issues getting in /out. Going upstream past Clark sink, initially there's reasonable flow , 15-30 viz , sometimes better. Downstream there's flow and a lot of algae.
4/19/2020
Johan Fritzson
10'-15'
Milky and absolutely no flow.
12/31/2016
via CDF
40'
Summary: Good viz -- perhaps 40-ish feet. Low flow. This time of year, almost no mosquitoes. Great dive!

Details: We met in the woods by Kitty Sink. We planned to enter and exit at Trap Sink, BUT . . . The path to Trap was blocked by both a fallen rotten tree in once spot, and by some near-freshly cut logs and brush piled on the path at another spot. We couldn't park any closer to Trap. Since I didn't want to walk that far wearing heavy BM doubles, we elected to enter/exit at Kitty instead.

Kitty had clear water below duckweed cover. NOTE: The steps are in bad shape, so exercise caution. Water level is a couple of feet below the bottom step, so I had to kneel below the steps and crawl into and out of the water. Hard on the drysuit, but doable.

After descent down the line into the cave, we went downstream to Green Sink, back to Kitty, then upstream to Trap, and back to Kitty to exit. Interesting formations in the cave. Lots of fossils. Lots of critters. Plenty of places to get off the line for a closer look at the cave.

Conditions were unusually good due to recent dry months. That may change if we get lots of rain in the metropolitan Mayo/Luraville area.
12/31/2012
Xenia
5-10 ft
Dove upstream up to 500 ft. Viz did not get more than 10 ft. Turned and went downstream for another 300 ft. Siphon is pumping pretty well! Did a jump downstream at the spring tunnel. Viz was up to 50 ft. iN there. Lots of large crayfish. Plenty of percolation off the ceiling as I was heading back from the spring tunnel.
10/21/2012
Stefan
5'
Dark and Tannic.
3/2/2012
Hunter Sutton
5-15'
I did a few dives here, kitty to trap, trap and up the nostrils. Then I turned around and swam back towards sweet sink. Viz was 5-10' up towards trap and beyond, maybe a little better 10-15' towards sweet sink
12/28/2011
Steve
10'
First time diving the system. We expected visibility to be milky after the recent rain and got what we expected. At points you could get 15' but it was cloudy throughout. It improved slightly past Trap Sink for a short bit but returned to the same. We saw very little life and I turned the dive at about 38' due to bad visibility. Total Dive Time: 70 minutes Maximum Depth: 58' Average Depth: 35'. Average Depth: 58
9/3/2011
Xenia
3-5 ft
Dove upstream for about 500 feet. Visibility was hazy, no more than 3 ft. Turned up to sink and dove downstream hoping viz would get better but no luck. No more than 5 ft. Beautiful cave anyway, lots of worms on the floor, I think there's more life since I dove it on Christmas 2010.
7/31/2011
Shirley Kasser
Unsure
A new rope is across the road, and there are signs of hunters (tree stands, feeders). The sink is covered in duckweed, but a brief monkey dive underneath ensured that I'll be back there soon. Looks like a promising dive!
1/28/2011
Atedeschi
30-40'
First time in the system, very large. The line is old and real dark. Full report can be seen at http://narceddiving.blogspot.com/2011/01/hello-kitty.html
11/6/2010
Larry Vrooman
35-40
Dove from Kitty to Green Sink - enough viz to see the entire tunnel in the big spots, flow is low. Also dove upstream approx 2000' with similar viz and low flow. First tunnel in the floor down from Kitty is still very clear with noticeable flow, line heavily silted with a couple of repaired breaks evident. Tunnel is clear to the spider web left of the T but 2 of the 4 offshoot lines narrow down quickly due to sand drifting in the tunnels and a 3rd narrows farther in.
10/1/2010
Martin R
35ft - 15ft
Dived upstream and downstream from Kitty. Viz was not too bad (35ft) up to the Nostrils but it dropped quickly from there down to 15 ft at it's worst. (We spotted the line repair) Downstream was slightly better, flow was more noticeable than upstream. Did the jump (first jump to the left downstream from Kitty) into the deeper small tunnel - I'm sure someone can tell me if the tunnel has a name - which surprised us all with very noticeable flow and sparkling clear water - brilliant!
9/10/2010
wepiv
35 ft.
We did a dive upstream from Kitty and it was my first time there. I thought the vis was pretty good (35ish) from what I've heard through the years as this seems to be a good time to dive LB. The lines here seem to be pretty fragile at times. At one point the line broke a couple hundred feet or so up from Trapp and we had to repair it. Keep an eye on it when you go in more than usual.
7/25/2010
Tegg
30-40ft with some spots of 50ft.
This is the best visibility I have seen downstream of Kitty, ever. Upstream past Trap turned the "normal" milky and lower vis, but it was still slightly clearer then I remember. Downstream of Kitty the vis really starts to improve and I could see wall to wall for a lot of the dive. Great vis in there now.
Click here if you would like to contribute any information or resources for this system.
| Description | Type | Date | Author | Remarks |
| --- | --- | --- | --- | --- |
| Video | YouTube | 2011 | Mat Bloedorn | |
Sslect Search Radius:
| System | Depth | Cave | Cavern | OW | Last Report | Distance (mi) |
| --- | --- | --- | --- | --- | --- | --- |
| Peacock Springs - Peacock III | 214 | True | False | False | 3/12/2023 | 6.2 |
| Telford Spring | 80 | True | False | False | 12/1/2022 | 4.4 |
| Lafayette Blue Springs | 100 | True | False | False | 11/26/2022 | 0.5 |
| Peacock Springs - Peacock I | 175 | True | True | False | 11/17/2022 | 6.1 |
| Royal Spring | 50 | True | True | True | 11/15/2022 | 10.1 |
| Charles Spring | 80 | True | False | False | 7/30/2022 | 2.8 |
| Alligator Rescue Spring | | True | False | False | 5/20/2022 | 4.5 |
| Peacock Springs - Orange Grove | 175 | True | True | True | 3/30/2022 | 6.3 |
| Cow Spring | 110 | True | False | False | 10/10/2021 | 7.5 |
| Allen Mill Pond | | True | False | False | 10/11/2017 | 2.5 |
| Lafayette Blue - Trap Sink | 100 | True | False | False | 11/21/2016 | 0 |
| Suwannee Blue Spring | 40 | True | False | False | 6/28/2016 | 10.4 |
| Convict Spring | 30 | True | False | False | 11/23/2015 | 8.7 |
| Powerline Cave | 60 | True | False | False | 9/17/2015 | 1 |
| Peacock Springs - Peacock II | | True | False | False | 4/8/2015 | 6.2 |
| Peacock Springs - Waterhole III | 55 | True | False | False | 9/26/2013 | 6.1 |
| Bathtub Spring | 20 | True | False | False | 2/5/2011 | 8.5 |
| Crazy Horse Sink | 60 | True | False | False | 1/30/2011 | 1 |
| Peacock Springs - Baptizing Spring | | True | False | False | 8/15/2010 | 5.8 |
| Bonnet Spring | 48 | True | False | False | 8/15/2009 | 5.8 |
| Hidden Spring | | True | False | False | 6/1/2006 | 7.4 |
| Running Springs | | False | False | False | | 7.3 |
| Thomas Spring | | True | False | False | | 1.3 |