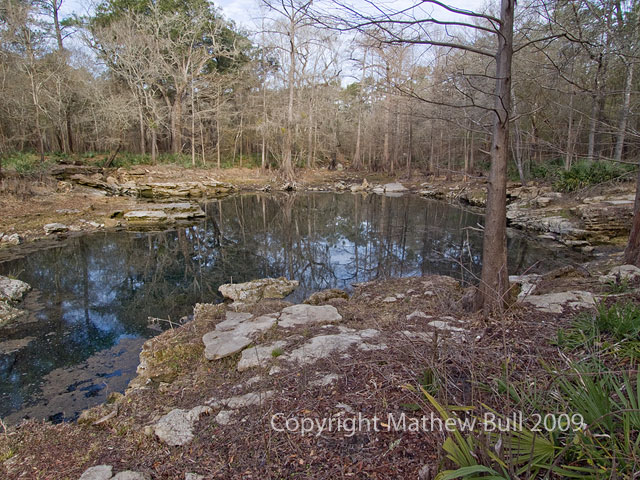 Portions of the following information were taken from Florida Geological Survey Bulletin 66.
Peacock Springs is located 2 miles east of Luraville in Peacock Springs State Park and is a popular place for cave diving. From the junction of SR 51 and Luraville Road in Luraville, drive east on Luraville Road approximately 2 miles to the Peacock Spring State Park entrance.
Description
– Peacock Springs has three vents in a pool that measures 150 ft long and 90 ft wide. Depth of the spring is variable, averaging 5 ft deep in much of the pool but reaching depths of 40 ft. The cave entrance, near the north end of the pool, is distinguished by wooden steps leading to a limestone shelf where the water is 20 ft deep. The spring water is clear and blue. The elongated pool gives way to a run 15 ft wide, 1 ft deep, and flows south approximately 1.5 miles into the Suwannee River. A steep 5 ft limestone ledge surrounds the pool, and levels out into a state-owned hardwood forest where a number of sinkholes can be found. Peacock Spring has an extensive cave network that connects to nearby sinkholes and springs.
| Date | Submitter | Visbility | Remarks |
| --- | --- | --- | --- |
| 4/8/2015 | Larry Vrooman | 40' | Good viz in the cavern and back to the balcony, but there is no flow and the floor is quite silty, like it was just before it reversed in January. There are loads of small catfish in the cavern. |
| 12/25/2010 | Don Six | 100' or more | Visibility seemed to be unlimited and there as no flow. We went up the Olsen line to the crossover tunnel and exited via the Peanut Line. Nice easy swim with just a little over an hour of bottom time. |
| 11/6/2010 | Larry Vrooman | excellent | Higher than average flow and the siphon is very noticeable at the last restriction when exiting from P3. Great viz, lots of plant material on the line (cleaned off but with the flow it will probably collect more in short order.) No catfish. |
| 4/4/2009 | Anthony Tedeschi | 80' | After my dive at PIII, I look the SM tunnel from PIII to PII. Nice passage, no flow, and huge school of catfish (50-100). |
| 3/21/2009 | Flyczek | 50' | Jumped across from PIII to PII as part of deco after Hendley's Castle. Neat little sidemount tunnel at average depth of 22' with today's water level. PII basin was very clear and the flow was not insignificant at the restriction. |
| 2/22/2009 | Mathew Bull | clear | Clear from the surface |
| 10/6/2008 | Bert Wilcher | 40 | Water remains a little murky. Flow very slight surface pool now clear again. Water level up over first step. |
| 10/30/2007 | Jim McMichael | 30-40 | Did Water hole & crossover to olsen , Great Dive 1:20 long- Dive Plan "swim around" was amazed at what not having a goal can do to improve RMV |
| 7/15/2006 | Walter Pickel | 10'-0' | Did the PII side to PIII...very interesting little tunnel. Definitively not dove often...Very clear but silts up in an instant. |
Click here if you would like to contribute any information or resources for this system.
Sslect Search Radius:
| System | Depth | Cave | Cavern | OW | Last Report | Distance (mi) |
| --- | --- | --- | --- | --- | --- | --- |
| Little River | 110 | True | True | True | 4/30/2023 | 13.2 |
| Ruth Spring | 50 | True | False | False | 4/2/2023 | 12.8 |
| Peacock Springs - Peacock III | 214 | True | False | False | 3/12/2023 | 0 |
| Telford Spring | 80 | True | False | False | 12/1/2022 | 2.3 |
| Lafayette Blue Springs | 100 | True | False | False | 11/26/2022 | 5.6 |
| Peacock Springs - Peacock I | 175 | True | True | False | 11/17/2022 | 0.1 |
| Royal Spring | 50 | True | True | True | 11/15/2022 | 4.4 |
| Charles Spring | 80 | True | False | False | 7/30/2022 | 6.6 |
| Alligator Rescue Spring | | True | False | False | 5/20/2022 | 2.4 |
| Lafayette Blue - Kitty Sink | 100 | True | False | False | 5/9/2022 | 6.2 |
| Peacock Springs - Orange Grove | 175 | True | True | True | 3/30/2022 | 0.4 |
| Cow Spring | 110 | True | False | False | 10/10/2021 | 1.6 |
| Troy Spring | 70 | False | True | True | 9/16/2020 | 11.4 |
| Owens Spring | 45 | True | False | False | 10/7/2019 | 7.6 |
| Allen Mill Pond | | True | False | False | 10/11/2017 | 7.1 |
| Lafayette Blue - Trap Sink | 100 | True | False | False | 11/21/2016 | 6.2 |
| Suwannee Blue Spring | 40 | True | False | False | 6/28/2016 | 4.7 |
| Convict Spring | 30 | True | False | False | 11/23/2015 | 3.2 |
| Powerline Cave | 60 | True | False | False | 9/17/2015 | 5.3 |
| Mearson Springs | | True | False | False | 6/6/2015 | 8.5 |
| Peacock Springs - Waterhole III | 55 | True | False | False | 9/26/2013 | 0.1 |
| Bathtub Spring | 20 | True | False | False | 2/5/2011 | 2.9 |
| Crazy Horse Sink | 60 | True | False | False | 1/30/2011 | 5.3 |
| Peacock Springs - Baptizing Spring | | True | False | False | 8/15/2010 | 0.8 |
| Bonnet Spring | 48 | True | False | False | 8/15/2009 | 0.4 |
| Hidden Spring | | True | False | False | 6/1/2006 | 1.8 |
| Running Springs | | False | False | False | | 1.6 |
| Thomas Spring | | True | False | False | | 6.1 |