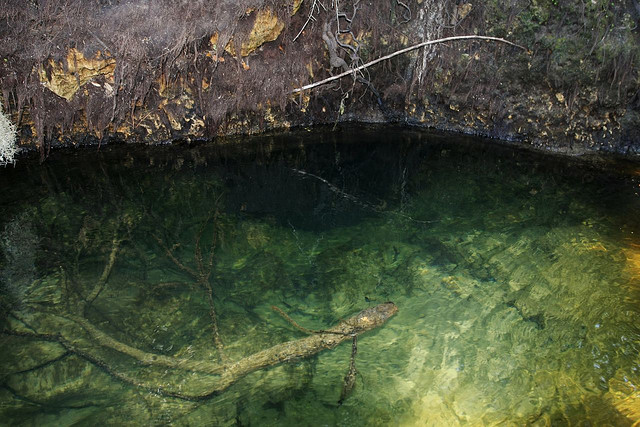 Name is because Woody Jasper rescued a baby gator here.
| Date | Submitter | Visbility | Remarks |
| --- | --- | --- | --- |
| 5/20/2022 | GUY BRYANT | 20-30 ft | Flow strong, lots of particulates in the water. Went back about 1000 ft and turned at the restriction just before popping into the sinkhole. Strong current was nice coming out, just float with the current. Due to high current any silt disturbed was quickly blown out. |
| 6/5/2021 | Andrewj | 30ft | Small boil on the surface and light outflow. Around 30ft viz going in, turned around 800ft. Line occasionally buried or fouled with river detritus, cleaned it up a little. Really nice cave, neat domes and huge vertical fissures. |
| 12/12/2019 | diver2 | 20 ft | Great dive today! Took out my kayak and found this easily as the river was down. There was a gentle flow going out of the cave. Visibility reminded me of P3 but smaller cave. Beautiful fissures and cave. Really shallow as well to only around 25 ft max depth! Got to a break down room and there was a large "air pocket" that I rose into (while keeping breathing from my regulator). Turned shortly after the breakdown room as this is a new cave for me and obviously not many people visit it. Line looks old but still sturdy. |
| 10/23/2015 | Ryan | 40-50 ft | The cavern was visible on the side of the bank with about 7 feet of clear water out into the river. The water level at the lauraville gate was 19.33. The cave was beautiful. It was good sized (for a side mount river cave) most of it was lots of twists and turns with some lower duckunders. There was a lot of fissure cracks. The line was in ok shape it was buried in a lot of places and required jump reels to bridge the gaps. At About 1000 ft in we ran into a large collapse that buried the line for at least 15 ft and it looked fresh. We went just a little further and we turned at another collapse. The cave was very soft and the walls would crumple in the back. The first 800 or so feet the cave was in a lot better shape. We had a low vis exit due to particulate but never had to get on the line. All and all a great dive. 30 minutes of penetration with a max depth of 27 ft with good flow. |
| 8/15/2015 | cavedivecamp.com | 25 | Barely found this as the river has come up. Immediately cleared up at cavern. Line is in great shape. Lots of particulate, typical of what comes out from Lafayette side. Flow very weak. Sandy bottom with layer of silt in main passage. Went in about 300 up main line. This is a big cave and the fissures go to surface where you can see soil up top of the cave in the beginning at least. Not deep but kept on going strong have to go back to this with bigger tanks and buddy or buddy bottle. |
| 10/20/2013 | Jason | 0 | Took a boat up the river to check it out. Still covered in river water, did not see a boil. |
Click here if you would like to contribute any information or resources for this system.
| Description | Type | Date | Author | Remarks |
| --- | --- | --- | --- | --- |
Sslect Search Radius:
| System | Depth | Cave | Cavern | OW | Last Report | Distance (mi) |
| --- | --- | --- | --- | --- | --- | --- |
| Telford Spring | 80 | True | False | False | 8/17/2023 | 0.3 |
| Peacock Springs - Peacock III | 214 | True | False | False | 3/12/2023 | 2.4 |
| Lafayette Blue Springs | 100 | True | False | False | 11/26/2022 | 3.9 |
| Peacock Springs - Peacock I | 175 | True | True | False | 11/17/2022 | 2.4 |
| Royal Spring | 50 | True | True | True | 11/15/2022 | 5.6 |
| Charles Spring | 80 | True | False | False | 7/30/2022 | 5.9 |
| Lafayette Blue - Kitty Sink | 100 | True | False | False | 5/9/2022 | 4.5 |
| Peacock Springs - Orange Grove | 175 | True | True | True | 3/30/2022 | 2.7 |
| Cow Spring | 110 | True | False | False | 10/10/2021 | 3.2 |
| Owens Spring | 45 | True | False | False | 10/7/2019 | 8.4 |
| Allen Mill Pond | | True | False | False | 10/11/2017 | 6.2 |
| Lafayette Blue - Trap Sink | 100 | True | False | False | 11/21/2016 | 4.5 |
| Suwannee Blue Spring | 40 | True | False | False | 6/28/2016 | 6 |
| Convict Spring | 30 | True | False | False | 11/23/2015 | 4.3 |
| Powerline Cave | 60 | True | False | False | 9/17/2015 | 3.5 |
| Mearson Springs | | True | False | False | 6/6/2015 | 9.4 |
| Peacock Springs - Peacock II | | True | False | False | 4/8/2015 | 2.4 |
| Peacock Springs - Waterhole III | 55 | True | False | False | 9/26/2013 | 2.4 |
| Bathtub Spring | 20 | True | False | False | 2/5/2011 | 4.1 |
| Crazy Horse Sink | 60 | True | False | False | 1/30/2011 | 3.5 |
| Peacock Springs - Baptizing Spring | | True | False | False | 8/15/2010 | 2.7 |
| Bonnet Spring | 48 | True | False | False | 8/15/2009 | 2.2 |
| Hidden Spring | | True | False | False | 6/1/2006 | 3.1 |
| Running Springs | | False | False | False | | 3 |
| Thomas Spring | | True | False | False | | 4.9 |