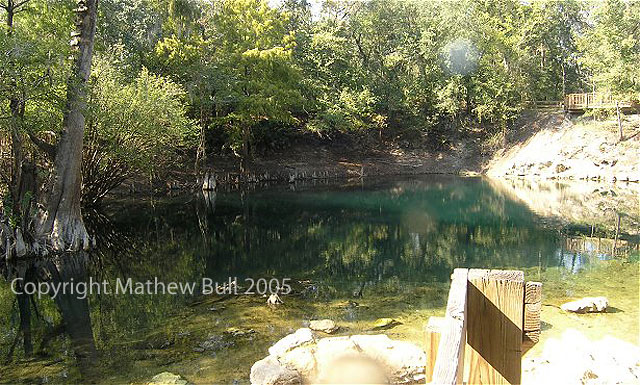 Portions of the following information were taken from Florida Geological Survey Bulletin 66.
From the junction of US 129 and CR 349 in O'Brien, drive northwest on CR 349 approximately 8.9 miles to the intersection with 198th Terrace. Turn west (left) onto 198th Terrace and travel approximately 0.7 miles to the intersection with 157th Lane. Turn south (left) onto 157th Lane and travel approximately 0.3 miles to the spring.
Description
- Royal Spring forms a spring pool 160 ft northwest to southeast and 105 ft northeast to southwest. The maximum depth is approximately 42 ft. The spring was not flowing during the September 2002 visit and the entire pool surface was covered with duckweed. The dry spring run forms on the northeast side of the spring pool, travels approximately 200 ft and enters the Suwannee River from the north. On the north and east sides of the pool, limestone and clayey sand walls rise 25 ft above the water surface. A set of wooden stairs leads down to the water on the north side of the pool. To the east are the remnants of an old cement retaining wall. The spring is surrounded by county-owned forested riparian corridor associated with the Suwannee River.
| Date | Submitter | Visbility | Remarks |
| --- | --- | --- | --- |
| 11/15/2022 | buhlz | 50 | Had DPV training with Paul H and Jay today- started out by doing drills and buddy breathing- towed Jay into the only tree in basin.. Some basic issues but over all good little place to practice- had place all to ourselves-- basically couple little dives buddy breathing and towing- Paul was getting sick--avg 27 foot- 17 min x3 dives |
| 12/30/2019 | Jack Hammer | 60 | Very little flow, basin is a few feet below bottom steps. A lot of algae in basin. |
| 8/31/2019 | Kole Kindschuh | 80 | Completely gin clear from top to bottom of the cavern. We were the only dive team, so it stayed that way. Did not go into the cave. |
| 8/4/2012 | Rick404402 | 80ft | Stayed in cavern zone and this spring is at it's best right now. It is flowing and actually has a spring run. Visibility was about the best I have seen it but still one fin kick away from a silt out. |
| 3/4/2012 | Hunter Sutton | 10 | Viz is about 10' and has a milky white haze to it. Cave itself has a very fine white clay type silt that sort of explodes when you get near it. Just gliding 12" over the top of it without kicking sends it up and your bubbles dislodge a lot of it from the ceiling as well. Over half my exit was done holding on to a line. Overall the basin and cavern are kind of cool but the cave is fairly boring, low entry viz and zero exit viz. |
| 8/9/2010 | JahJahwarrior | 50-60 throughought | Basin was nice and clear. Not quite as clear as Ginnie, but pretty close. Green muck covering all the bottom, it's not really flowing enough to clear the basin up, but the water is clear. Cave is clear, but very silty. Saw atleast 20 small crayfish and many more amphipods and things like that whose names I don't know. Quite a bit of locals swimming and using the rope swing. |
| 5/1/2008 | Tom Johnson (tj) | 20 | Good enough to dive but VERY silty |
| 3/9/2008 | JahJahwarrior | 0 | Water is up 8-10 feet. Visibility is almost negative....I swear I was looking into my own mind. Fortunately, I ran a line from the steps, or it would have been a horrible dive. We lasted 11 minutes in the 63* water with something like 1 foot of viz (beyond that, my 10w HID was eaten by the dark water) before calling the dive and heading to Manatee. |
| 5/13/2006 | Kovudalion | 60-70 Foot | Spring flowing heavily with the normally absent run now flowing to the river. Initial entry provided for 30-40 Ft. visibility with visibility increasing to over 60ft once below 20 feet. Minimal fish life in cavern with only 3-4 fish sited. Did not enter cave system due to level of training. |
| 10/31/2005 | Mathew Bull | 30-40' in OW and Cavern | 30-40' in the OW and cavern areas of the spring. Water was kinda milky and silt covered everything. I didn't go into the little cave so I can't comment on conditions inside. |
Click here if you would like to contribute any information or resources for this system.
| Description | Type | Date | Author | Remarks |
| --- | --- | --- | --- | --- |
Sslect Search Radius:
| System | Depth | Cave | Cavern | OW | Last Report | Distance (mi) |
| --- | --- | --- | --- | --- | --- | --- |
| Telford Spring | 80 | True | False | False | 8/17/2023 | 5.7 |
| Ruth Spring | 50 | True | False | False | 6/11/2023 | 8.4 |
| Little River | 110 | True | True | True | 4/30/2023 | 8.8 |
| Peacock Springs - Peacock III | 214 | True | False | False | 3/12/2023 | 4.3 |
| Lafayette Blue Springs | 100 | True | False | False | 11/26/2022 | 9.5 |
| Peacock Springs - Peacock I | 175 | True | True | False | 11/17/2022 | 4.4 |
| Charles Spring | 80 | True | False | False | 7/30/2022 | 11 |
| Alligator Rescue Spring | | True | False | False | 5/20/2022 | 5.6 |
| Lafayette Blue - Kitty Sink | 100 | True | False | False | 5/9/2022 | 10.1 |
| Peacock Springs - Orange Grove | 175 | True | True | True | 3/30/2022 | 4.5 |
| Cow Spring | 110 | True | False | False | 10/10/2021 | 2.7 |
| Troy Spring | 70 | False | True | True | 9/16/2020 | 7.1 |
| Owens Spring | 45 | True | False | False | 10/7/2019 | 3.3 |
| Lafayette Blue - Trap Sink | 100 | True | False | False | 11/21/2016 | 10.1 |
| Suwannee Blue Spring | 40 | True | False | False | 6/28/2016 | 0.4 |
| Convict Spring | 30 | True | False | False | 11/23/2015 | 1.3 |
| Powerline Cave | 60 | True | False | False | 9/17/2015 | 9.1 |
| Mearson Springs | | True | False | False | 6/6/2015 | 4.2 |
| Peacock Springs - Peacock II | | True | False | False | 4/8/2015 | 4.4 |
| Peacock Springs - Waterhole III | 55 | True | False | False | 9/26/2013 | 4.5 |
| Bathtub Spring | 20 | True | False | False | 2/5/2011 | 1.5 |
| Crazy Horse Sink | 60 | True | False | False | 1/30/2011 | 9.1 |
| Peacock Springs - Baptizing Spring | | True | False | False | 8/15/2010 | 5.1 |
| Branford Spring | 101 | True | False | False | 1/16/2010 | 12.5 |
| Bonnet Spring | 48 | True | False | False | 8/15/2009 | 4.7 |
| Hidden Spring | | True | False | False | 6/1/2006 | 2.7 |
| Running Springs | | False | False | False | | 2.8 |
| Thomas Spring | | True | False | False | | 10.2 |
| Double Sink | | True | False | False | | 9.2 |