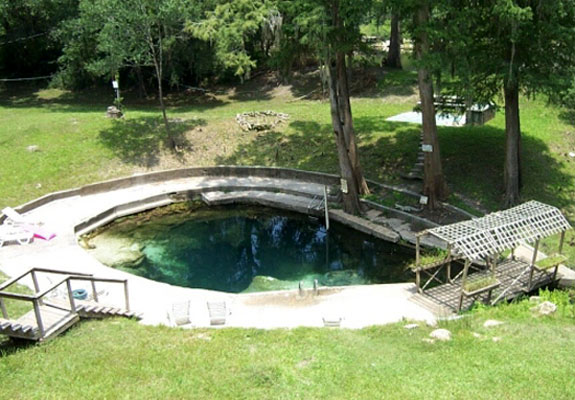 Portions of the following information were taken from Florida Geological Survey Bulletin 66.
Convict Spring flows into Suwannee River from the south 5.5 miles northeast of Mayo. From the intersection with SR 51 in Mayo, drive 4.7 miles east on US 27. Turn north (left) on Convict Springs Road and follow 2.4 miles. The spring is located within a park, River Rendezvous, at the end of this road.
Description
– Convict Spring has an oval shaped pool framed by a concrete retaining wall. Concrete steps and a slide lead down into the pool and there are two access ladders. The pool measures 60 ft long and 18 ft wide. The spring was not flowing during the November 2002 visit and neither the vent nor the pool bottom could be seen due to the stagnant water. Maximum depth of the pool measures 24 ft. The water is greenishbrown and murky, with a thin green algae layer. Limestone crops out along the spring pool edge. The dry, narrow spring run is only a few inches deep and runs 150 ft east to the Suwannee River. On one side of the spring pool, high ground rises to a picnic area. On the other side, a wooden boardwalk leads down to the spring. The spring is surrounded by grass and trees in a private recreation area developed for scuba diving, camping, and other recreational activities.
| Date | Submitter | Visbility | Remarks |
| --- | --- | --- | --- |
| 11/23/2015 | Ed lyden | 30' | I only penetrated 100' or so lots of silt falling from ceiling but the line was in good shape zero viz on the way out. They had a collapse about a week after my dive. I stay there in the campgrounds during the winter and dive mostly peacock. If you dive there be prepared for zero viz exit. The system seems to be changing and I think more collapses are in its future |
| 11/22/2014 | Peter | 20' going in 0' - 4' going out | Basin was fairly clear with moderate runoff channel. The mainline and silt stakes are in good condition. Very slight current inside which is good enough to clear any siltouts after several minutes. Cave is very silty, with low restrictions so siltout is probably inevitable. Very short dive, turned right before collapse at 400 - 500' |
| 2/16/2014 | Captain Bil (via CDF) | 10' | The spring pool was a little murky and the run was a little high. Viz never got better than 10' and was probably less. I went right at the 1st tee, following my normal route and hoping to find clear water. At about p.300 or so (11 minutes in to my ingress), I encountered a fresh collapse. This is a pretty big one. A large chunk of ceiling has fallen, covering the line and partially (at least) blocking any further progress. It does look passable however, I would just suggest waiting for a better day to check it out. Egress was uneventful. I was disappointed in the dive overall, but happy to be in the water. |
| 12/31/2013 | Bil Lindstrom | 40' | I dove Convict today. The viz was pretty good at around 40', manageable flow. Some warnings though: be advised that the line is buried quite deep in several sections, sometimes disappearing for 15 or more feet. I pulled it up where I could, but I think there are tie offs or silt stakes buried as well because I couldn't get it uncovered in many spots with gentle tugging. Also, the line was loose and flapping around in a few places. I re-wrapped as best I could so that shouldn't be an issue. The overall condition of the line is okay, but replacement or some serious re-routing is in order I think. There are several sections where the line is run that have filled in quite a bit over the years and a few of those spots might be quite challenging to keep hold of and make egress in a lights out situation. |
| 12/28/2012 | Xenia | 60 | Flow was pretty high. Beautiful cave very different rock. Went up to 1400ft in and viz was cracking clear. Lots of sand falling off the ceiling. It is an advanced sidemount cave. New owners are really friendly but you need to show experience with sm to dive. |
| 7/28/2012 | Jason | 20 | Basin is clear and the cave is pumping. Vis is probably 20' or so. |
| 3/28/2012 | Hunter Sutton | 20-40' | Spring run is flowing again after the flood, the cave had a strong siphon shortly after the flood and is still very full of tanic water. Viz in the basin was 5-10' but in the cave it was 30' or better in most sections with a yellow/green tannic hue. The silt is extra thick due to the recent flood. Viz is about the same 30-40' back around hard time passage to the noose. |
| 2/29/2012 | Hunter Sutton | unlimited | Current conditions: Near zero flow, unlimited viz all the way up through the noose and crooked way. This cave is very small and fragile. This is definitely not a cave for the faint of heart, low viz during exit is pretty much guaranteed in some sections given the current condtions. The floor, walls, ceiling are all covered with typical dark black syphon silt. This is not a "practice sidemount" dive site. |
| 3/25/2011 | Rodger Taylor | 15 feet | Did two dives here. Very silty, low and dark conditions. The line is dark brown and has been broken and fixed in several places. Sometimes the line is buried in the sand. Definently a solo dive. Very little flow. Very tight cave. |
| 1/27/2011 | Atedeschi | dark 15' | First time here, and will be back. Flow was low so if you touch anything vis will get worse. Prob best to dive solo. Check out http://narceddiving.blogspot.com for full report. |
| 4/27/2010 | Tom Johnson (tj) | 30 | Don F., new owner (1.5 years) of the Suwannee River Rendezvous, says Convict Springs is running clear and is open to experienced sidemount divers. Keep in mind, and Don knows, that Convict is an Advanced Cave Dive, and you'll need to sign your life away with their forms, but only after proving you have experience in sidemount and cave diving. Be safe! |
Click here if you would like to contribute any information or resources for this system.
Sslect Search Radius:
| System | Depth | Cave | Cavern | OW | Last Report | Distance (mi) |
| --- | --- | --- | --- | --- | --- | --- |
| Telford Spring | 80 | True | False | False | 8/17/2023 | 4.3 |
| Ruth Spring | 50 | True | False | False | 6/11/2023 | 9.6 |
| Little River | 110 | True | True | True | 4/30/2023 | 10 |
| Peacock Springs - Peacock III | 214 | True | False | False | 3/12/2023 | 3.2 |
| Lafayette Blue Springs | 100 | True | False | False | 11/26/2022 | 8.2 |
| Peacock Springs - Peacock I | 175 | True | True | False | 11/17/2022 | 3.2 |
| Royal Spring | 50 | True | True | True | 11/15/2022 | 1.3 |
| Charles Spring | 80 | True | False | False | 7/30/2022 | 9.7 |
| Alligator Rescue Spring | | True | False | False | 5/20/2022 | 4.3 |
| Lafayette Blue - Kitty Sink | 100 | True | False | False | 5/9/2022 | 8.7 |
| Peacock Springs - Orange Grove | 175 | True | True | True | 3/30/2022 | 3.4 |
| Cow Spring | 110 | True | False | False | 10/10/2021 | 1.6 |
| Troy Spring | 70 | False | True | True | 9/16/2020 | 8.2 |
| Owens Spring | 45 | True | False | False | 10/7/2019 | 4.4 |
| Allen Mill Pond | | True | False | False | 10/11/2017 | 10.1 |
| Lafayette Blue - Trap Sink | 100 | True | False | False | 11/21/2016 | 8.8 |
| Suwannee Blue Spring | 40 | True | False | False | 6/28/2016 | 1.7 |
| Powerline Cave | 60 | True | False | False | 9/17/2015 | 7.8 |
| Mearson Springs | | True | False | False | 6/6/2015 | 5.4 |
| Peacock Springs - Peacock II | | True | False | False | 4/8/2015 | 3.2 |
| Peacock Springs - Waterhole III | 55 | True | False | False | 9/26/2013 | 3.3 |
| Bathtub Spring | 20 | True | False | False | 2/5/2011 | 0.3 |
| Crazy Horse Sink | 60 | True | False | False | 1/30/2011 | 7.8 |
| Peacock Springs - Baptizing Spring | | True | False | False | 8/15/2010 | 4 |
| Bonnet Spring | 48 | True | False | False | 8/15/2009 | 3.5 |
| Hidden Spring | | True | False | False | 6/1/2006 | 1.4 |
| Running Springs | | False | False | False | | 1.6 |
| Thomas Spring | | True | False | False | | 8.9 |